Dr. Michael Brown Says He's Spent 8 Years Exchanging Texts and Emails with Andy Stanley, Who Has REFUSED to Condemn Homosexuality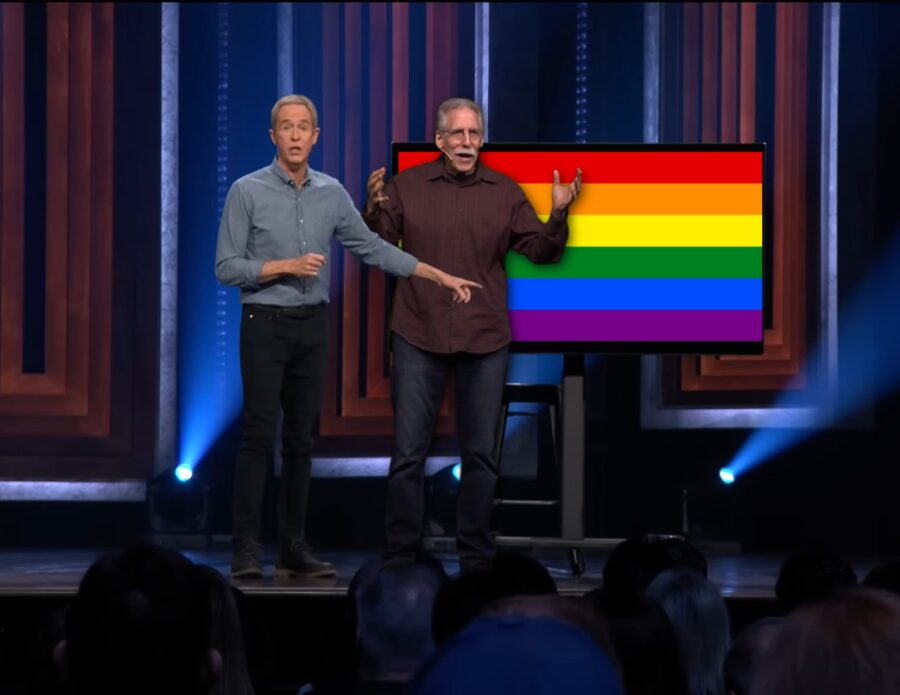 Charismatic Kingpin Dr. Michael Brown, host of 'The Line of Fire,' revealed in a recent episode of his show that for nearly a decade, he's been interacting "very intensely" with North Point Community Church Senior Pastor Andy Stanley on whether or not homosexuality is a sin. 
Brown claims that after exchanging "endless texts and emails" and despite Stanley being "fully accessible" to him, as far back as 2015, he has steadfastly refused to give Brown a simple answer, lending Brown to surmise that Stanley is indeed gay-affirming. 
We've been covering this extensively over the last two weeks, revealing that not only is Stanley gay-affirming according to multiple testimonies from his pastors and leaders, but that multiple pastors and leaders within his church are gay-affirming, and that the church is hosting along with pro-LGBTQ+ conferences and family ministries, as well as recommending LGBTQ+ resources to families.
Gay Man with a 'Husband' Scheduled to Speak with Andy Stanley At His Church's Family Conference
ALMOST ALL Speakers at Andy Stanley's Upcoming 'Christian' Conference are LGBTQ+ Affirming!
Celebrating Transgenderism?! North Point Church Staffers Rejoice After Man Comes Out as Woman
Audio: Gay North Point Church Leader Says Andy Stanley Affirmed Him in His Homosexuality

Did a Pastor at Andy Stanley's Church Just Out Him as Gay-Affirming?! Read the Excerpts
North Point Leader Recommends All-LGBTQ+ Queer Counselling Collective For Struggling Gay Kids
Contemporaneous Text Messages from 2019 Support Gay-Affirming Charges Against Andy Stanley Andy Stanley's Children Ministry Overrun and Led by Pro-LBGTQ+ Activists

North Point Hosting Conference With Founder of World's Largest LGBTQ Christian Advocacy Org
Andy Stanley's Church Hosts and Promotes Pro-LBGTQ+ Ministry
Surprise Surprise, Another North Point Church Leader is Gay-Affirming and Wildly Liberal
Brown is asked by a caller to comment on "the recent controversy surrounding Andy Stanley and his seeming drift on the issue of homosexuality…" and Brown replies:
Alright, so first, Andy Stanley. We have interacted very intensively on this. I have gone back and forth with him with endless texts and emails.

He made himself fully accessible to me eight years ago, when I wrote an article with some open questions for him and he jokingly said, 'why didn't you send it to me first?' Like oh, I didn't know you were that accessible. He gave me his phone number and email. So we've been in regular contact.

But for eight years, literally since 2015, he has not been willing to give me a simple answer on 'would you agree that according to the Bible, homosexual practice is always sinful, and no matter how loving, same-sex relationships are not blessed in his sight?'

For eight years, including me pressing him every way I knew how to press him (recently?) he has refused to answer that question.

And I've told him 'I just got to believe all the bad reports then, all the bad stuff I'm hearing. I got to believe it's true."