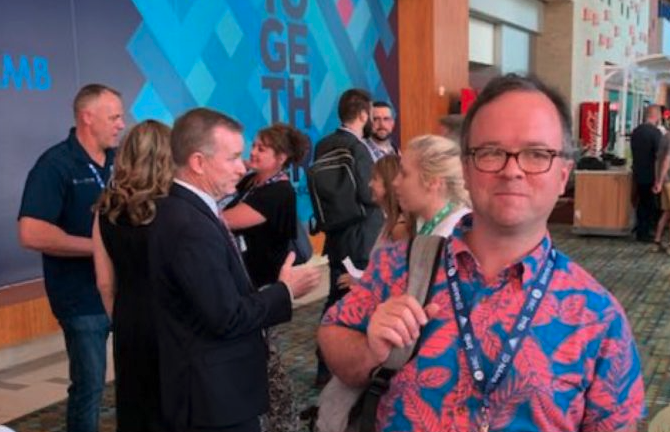 Despite the Southern Baptist Convention (SBC) denying requests for press passes from more than a half-dozen publications of Gideon Knox Group (including Protestia), some of our reporters still got though and are incognito, lest the SBC have the cops remove them like they did to Tommy Littleton two years ago or JD Greear did to a fellow preacher just two days ago.
In the former case, a credentialed reporter was forcefully removed by police after asking Russell Moore (in a Q&A, at the proper time and place) about Karen Swallow Prior's support for the LGBTQ Revoice Conference. In the latter, Greear was upset that a preacher asked him to repent. Needless to say, our reporters are treating Nashville like North Korea, and are staying undercover as best as they are able.
As Protestia explained yesterday, conservative SBC presidential candidate, Mike Stone, and his dear wife were approached by an alleged victim of sexual abuse. There is no indication that this abuse happened at the hands of the SBC, and there is no accusation that Stone had anything to do with the alleged abuse (or had even heard of it).
The woman, whose name will be withheld, had by all credible eyewitness testimony – a cordial conversation with Mike Stone. Then, she had an emotional, crying breakdown in the hallway afterward.
The #MeToo and #ChurchToo Movement has been successful in commandeering the cultural movement to take the heads of their enemies, such as when they successfully fired the last remaining conservative hold-out in the SBC seminaries, Dr. Paige Patterson. This play – the use of alleged (and sometimes real) sexual abuse victims against men who had nothing whatsoever to do with their abuse or cover-up – has been taken from the Democrat playbook.
And trust us, there are enough Democrats in the SBC to know this play and use it well.
Here are the facts:
The woman had free reign throughout the SBC convention hall, while our reporters were denied entry and JD Greear was calling the police on preachers who didn't have convention passes
The woman exhibits highly problematic behavior from her social media postings. We will happily admit that sexual abuse can certainly cause someone mental problems, but this alone should be a cause of caution when accusing a man of misdeeds who had never seen or heard of the woman in his entire life
The woman's social media demonstrates that she is at war with God, and is an active part of the "cancel culture" against conservative Christians
As Mike Stone testified, he had literally nothing to do with her experiences and treated her kindly and cordially
As Protestia's article demonstrates, those on Albert Mohler's left who claimed they witnessed the affair and Stone did something wrong (they have not said what exactly), photos show they are lying
Within minutes of the exchange, SBC leftists associated with those who oppose Mike Stone were "demanding answers" from him, accusing him of trying to cover up abuse, and impugning him for doing nothing but having to have encountered one of the thousand women wandering around the convention hall.
The woman instantly – far from being emotionally distraught – began to appear and comment in SBC groups, accusing Stone of some ill-defined, nebulous wrong-doing. I chatted with the woman briefly, before she ghosted the group and deleted her comments (see below).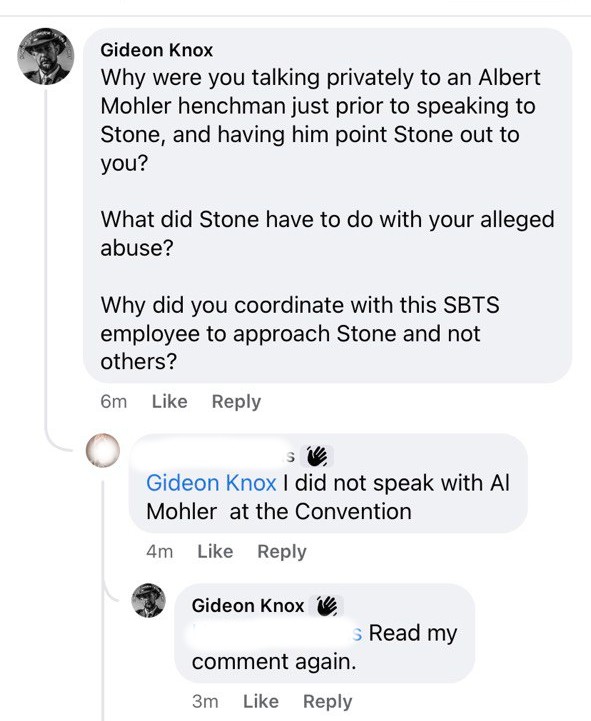 I was reached out to almost immediately by several men claiming they saw the woman speaking directly to Albert Mohler and a Southern Baptist Theological Seminary (SBTS) employee, and overheard them speaking about "optics with Stone." Reportedly, the woman needed help finding Stone and Mohler's "body-man" pointed her in Stone's direction.
She deflected and claimed – falsely – that people in that SBC group were calling her names (something she claimed that pastors were doing at the convention hall as well, which was an abject lie).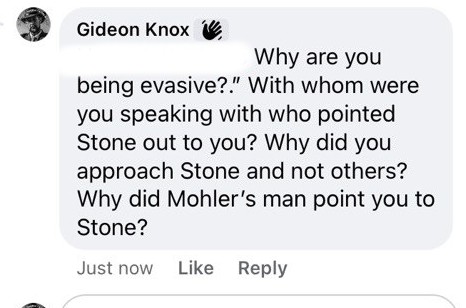 She then ghosted the group, instead of answering these very simple questions.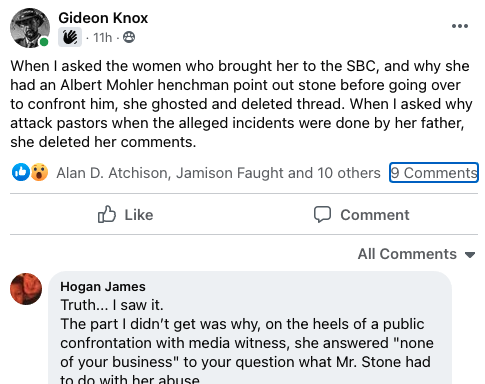 Despite all of this, she was brought to the microphone of the SBC and held up as a weaponized tool against the Conservative Baptist Network.
This evening, my regular podcast is delayed because I have a lecture with a church in Billings on "Critical Theory and Jesus," but if possible, we will have our eyewitnesses to the woman's interactions with "Mohler's man" and what appears to be a coordinated effort to smear Mike Stone with no logical explanation…except one.
The most likely scenario is that the men who oppose the candidacy of Mike Stone are using an alleged victim of sexual abuse as a prop for political purposes. These are wicked men. They do not care about sex abuse victims.
There are two types of men at the SBC. There are those who are fighting for their convictions, and therefore, their Convention. And then, there are men fighting for themselves, their jobs, their appointments, and their power.
Might God give mercy and repentance to those who use alleged sexual abuse victims as props. Or, if God prefers, might he strike them dead. I'm content however God best wishes to glorify himself.