SBC Credentials Committee Is Botching A Sex-Abuse Case Right Before our Eyes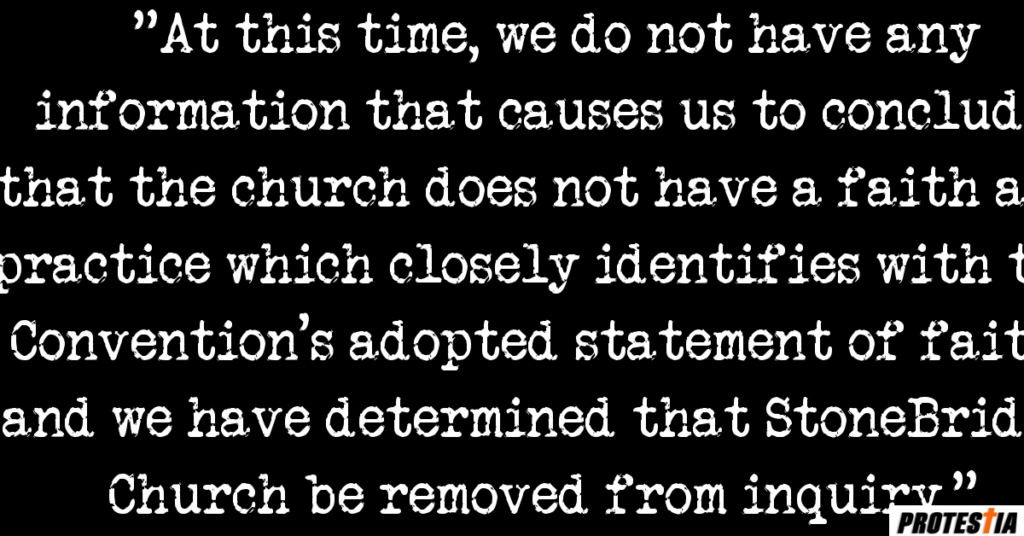 As the Southern Baptist Convention (SBC) grapples with sex-abuse scandals and pledges to do more, the SBC Credentials Committee is in the process of botching a high-profile case right before our eyes, behaving in a scandalously uncaring way, outright lying, obfuscating, and making further victims of the people they are supposed to be investigating.

THE BACKROUND
In 1998, a 17-year-old teenager named Jules Woodson was sexually abused by 22-year-old Andy Savage, the former youth pastor of Woodlands Parkway Baptist Church, now known as StoneBridge Church. This occurred after building up a relationship with her and grooming her to be receptive to his sexual advances. (Longer story here)

After the incident, she reported it to the Associate Pastor Larry Cotton. He tried to gauge how 'complicit' she was in the abuse, suggesting she may have been a willing participant in it, but ultimately chose to tell Senior Pastor Steve Bradley, about it and that the church would handle it.

They never did.

No further action was taken by the Church. Bradley did not go to the police, seeking to handle it "in house" and did not report it, as was his legal and fiduciary duty. Because of this, Andy Savage remained on staff and still lead Youth group for months after that.

Seeing that nothing was being done and no further actions were being taken, Woodson told her story to her female discipleship group, at this point emotionally distraught and hurting badly. With the information now out, it resulted in Savage leaving, with rumors swirling that perhaps he kissed a girl, but that it wasn't that big of a deal and many were upset that he was going.

Woodson explains, "The church, however, never came out with an official statement addressing what had happened and/or what was being done about it. Instead, they held a going-away reception for Andy at the church in which he was allowed to simply say that he had made a poor decision and that it was time for him to move on from our church."

In fact, years later the pastors and the deacons at the church, including Steve Bradley, contacted Woodson's parents and asked if they would be ok to bring Andy Savage back on staff – a request the parents patently refused.

Lest anyone doubt the veracity of the story, the associate Pastor Larry Cotton eventually moved on to a new church. After allegations of his involvement in mishandling the case, the church took the allegations seriously and put him on leave. He resigned from the pastorate shortly thereafter, releasing a statement, confirming that the events happened as described, and expressing regret at how it was handled and that he should have gone to the police.
Facing his own pressure, Savage was forced to address the sex crime from the pulpit at the new church he moved on to, Highpoint Church, where he minimized his actions, exaggerated his response, and kept on framing it as "an incident that happened 20-plus years ago." Because of the statute of limitations, he cannot be charged. Facing sustained pressure, he later resigned from the church, eventually acknowledging that his actions in the non-consensual sexual encounter were an "abuse of power."
THE UNCARING SHEPHERD
Now comes the time of reckoning for Senior Pastor Steve Bradley, still the pastor of Stonebridge Church decades later.

Woodson has reached out multiple times to Bradley, who has steadfastly refused to respond to her or even acknowledge her.

The only public statement Bradley has ever made is a comment in the Houston Chronicle, saying that the Church was "heartbroken 20 years ago when this happened and we remain heartbroken," but was clear that it is "simply not accurate" to say "that I or anyone else on the staff at StoneBridge Church participated in a conspiracy to cover-up this sexual misconduct."

So heartbroken that he has refused to talk to her or contact her in any way, shape, or form, despite her reaching out to him multiple times across multiple channels?

Again, he did not report it to the police, did not tell the congregation the nature of it, sought to keep him on, and sought to bring him back after he acts were exposed.

In 2019 she sent this letter to Bradley, which he has not responded to or acknowledged (please click the link to read in full), where she details the hurt she's experienced that he's never once contacted her or responded to her, despite the story going national. She says:
Your lack of compassion towards me as I have tried to seek closure and healing for the physical, emotional, and spiritual abuse I suffered as a member of your congregation has been reprehensible. This was my church and you, Larry, and Andy were my pastors and spiritual leaders…I trusted you all. You have no idea the despair, isolation, and self-devastation I've experienced because I was thrown under the bus, not just for Andy's sake, but for your sake, and the reputation of the church."
She asks him some questions that she has been struggling with for for a long time:
Why did you not immediately call the police when you learned of my abuse?
Were you/are you aware that in the state of Texas, clergy are mandated reporters of child sexual abuse?
Why did you not immediately pull Andy from his position on staff when I first reported my abuse?
Why did you allow Andy to resign instead of firing him?
Why were you not transparent and honest with the congregation that Andy had sexually abused a minor in the youth group?
Why did you, nor anyone on staff, ever reach out to me after I reported the abuse to offer support, help, or to ask me what I wanted and needed?
Why did you allow and/or think it was appropriate to throw Andy a going away party at the church?
And then she makes one final plea:
Though you have refused to respond to other people's attempts to dialogue with you regarding the ways you have mishandled my abuse, my prayer is that by reaching out to you personally, you will finally choose to handle things differently. I have been deeply wounded by your words and actions from 20 years ago and continuing to this day. I sincerely request that you respond to my inquiries not only with honesty but with empathy as well.
Bradley never answered.
THE CREDENTIALS COMMITTEE
In 2019, the Southern Baptist Convention put on the Caring Well conference. This was done with the stated goal of responding to and hearing from sexual abuse survivors, along with announcing the formation of a new branch of the Credentials Committee (CC) dedicated to dealing with allegations of sexual abuse. JD Greear wept tears from the stage, his voice shaky, promising to do better.
They told survivors they wanted to hear their stories, and that they could trust the SBC would respond accordingly, with the ERLC's Russell Moore saying, "We think this is going to be a hugely beneficial move in terms of empowering Southern Baptists to act with accountability and transparency on these matters."

Despite Jules Woodson being arguably the most well-known face of abuse in the evangelical church and in the SBC, she was not invited to speak.

Instead, in keeping with the SBC's 11th Commandment, all the women brought on stage did not report their abuser and did not name them. One wasn't even a member of the SBC, but rather the OPC. In short, they didn't invite anyone who reported their Baptist abuser.

After the announcement of the new committee, Woodson submitted her case, being one of the most visible SBC victims. After all, two pastors had to resign over what happened to her, with one of them acknowledging his complicity in the cover-up. For this reason, she was sure they would look into it. She got an email back saying that they had received her email, and inquired if she had further questions.

Upon hearing that the CC was investigating 16 Churches, Jules Woodson asked if Stonebridge and Steve Bradley were on that list. She received a response back from Christy Peters, telling her that the CC isn't designed to "investigate" but rather "inquire," and that the status of an 'investigation' was private, even to those reporting. It ended with Peters inviting her to submit any churches she feels she must. Which she had already done.

This revelation confirms that the Credentials Committee is a bureaucratic nightmare, with the one submitting not even being told if they plan to do anything with his/her information, or to what degree they have or will follow up. Furthermore, they are essentially toothless when it comes to what power they wield and what change they can bring about, due to the constraints of their purpose. In an article on the ERLC website: A guide to understanding the Credentials Committee proposal, this is made plain.

A year passes.

Nothing.

She does not hear from them and no one contacts her about it.

Woodson assumes that nothing came out of it, with no much time passing and no follow-up. It wouldn't take a whole year to ascertain the truth here, would it, with so much ink being spilled about it?
THE DAMNABLE LETTER
On November 16, a year after her submission, 2020, Jules Woodson received the following letter from Mike Lawson, chair of the Credentials Committee.

Parts bolded by us.
Dear Ms. Woodson,

The Credentials Committee desires to reach out to you personally and inform you of our decision regarding Stonebridge Church. As we have not been able to connect via phone or Zoom, please receive this letter in the spirit from which it was drafted: to sincerely thank you and inform you. Thank you for your patience as we have worked and prayed our way through this process.

First, we wish to thank you. Thank you for being willing to share your story and for drawing attention to the need for churches to make an intentional effort to prevent abuse and to care well for victims of sexual abuse. Thank you for the effort it took to provide us with all the information regarding your abuse. It helped provide an understanding of what you experienced and continue to face as a result. We want you to know that we read and grieved over the information available to us including: your blog, articles, and your interview with the New York Times that we watched in its entirety. We prayed for you and all the victims, and, more recently, for you and your mother as you care for her in these difficult days. Thank you, for your boldness and courage in coming forward with your story. We believe that you and others like you are making a difference in how churches respond to reports of sexual abuse and helping them create intentional policies and practices that will help prevent such things in the future.

Your story has been a particular force in transformative change at Stonebridge Church. In recent years, they have taken significant and extensive steps to improve policies, practices, and procedures to better serve their people. These steps are set up to offer increased protections and improved responses to reports.

Our committee has considered the information available to us regarding StoneBridge Church's relationship with the Southern Baptist Convention. Our committee's assignment as outlined in SBC Bylaw 8[1], is to consider the current relationship between a church and the Convention. Neither our committee nor the Southern Baptist Convention has any authority over another Baptist body as stated in Article IV [2] of the SBC Constitution. This committee's role is to determine if a church is in friendly cooperation with the Convention and make a recommendation to the Executive Committee when we determine a church is not currently in friendly cooperation with the Convention as described in Article III [3] of the SBC Constitution. At this time, we do not have any information that causes us to conclude that the church does not have a faith and practice which closely identifies with the Convention's adopted statement of faith, and we have determined that StoneBridge Church be removed from inquiry.

While the nine of us on this committee have a very limited and specific task, we care about you and other survivors. We requested and have been granted access to trauma-informed counselors. If you think they might be of any help to you as you continue your healing journey, we will gladly connect you to them. We know that receiving this information may be difficult, and we are sorry for any pain it may cause.

Sincerely,
The SBC Credentials Committee
We here at Protestia see a few things worthy of mention. The CC claimed to have "tried" to contact Jules Woodson via phone and Zoom, yet Jules has NO record of any such attempt. No one called her. No one questioned her further. No one called to get more details or information. Nothing.

Furthermore, the committee had her email address from when she submitted her grievance and corresponded with Christy Peters, and yet Woodson received no emails. That they would not speak to her about this at all is unconscionable.
The Committee further stated that they read her blog, yet she has no blog.

They affirm that Stonebridge has been "transformed" due to her story, and yet the Pastor has refused to talk to her or acknowledge it and the SBC's most famous victim. All this while protesting they did not cover up the sexual abuse, despite that being both demonstrably and factually false. How is refusing to speak to or acknowledge victims evidence of "transformation"?

Why should anyone believe Stonebridge would handle new sex-abuse claims in a serious manner, rather than just cover them up, if to this day the Senior Pastor insisted that they did nothing wrong 20 years ago? He was legally obligated to report it to the police and he buried it instead.

Ultimately the Credential Committee is saying that one can be in "cooperation with the SBC" despite having a proven track record of permitting and covering up sexual abuse, so long as they affirm the Baptist Faith and Message 2000. At this point it seems clear that there is no sexual abuse case that could be reported to the Committee that would result in a church being declared not in friendly co-operation with the convention.
THE NEWEST INFORMATION
Jules Woodson shared this on Twitter last week., about her ongoing issues with the Credentials Committee.
I am so livid at the SBC Credentials Committee right now I could scream!!!

Yesterday, a fellow advocate and friend, @writer_dee, spoke with Mike Lawson and Stacey Bramlett via a Zoom meeting on my behalf. One of the purposes for the meeting was to address their massive failures regarding my submission…Specifically their lack of communication and failure to speak with me.

Stacey made a point to say that their decision is final…that it's too late to go back and change anything. I find this to be extremely disturbing considering they really don't seem to know what they are doing. Remember, they never once made an effort to speak with me regarding my submission even though they claimed to have done so!!!

What training and/or guidance do they have in evaluating abuse in the church and cover-up, and how it relates to a church being in good standing with the SBC, as well as communicating/listening to survivors?

They then proceeded to tell Dee Ann that the reason they had such difficulty in making a decision regarding Stonebridge was because they never received an actual submission from me, it came from someone else so their hands were tied, so to speak.

This is completely false as well. I personally sent a submission by mail and received an email a short time later that confirmed they received my submission. [Editor's Note. See included picture.]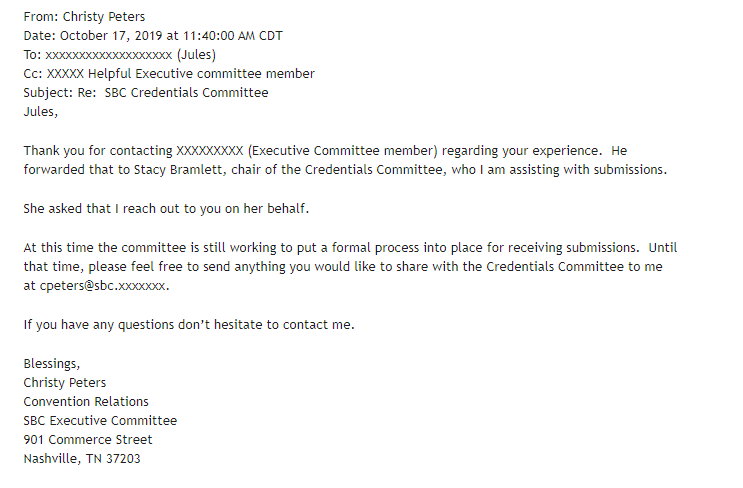 After the call Mike sends a short email to Dee Ann stating…'Thank you for your time. I spoke in error. It was in fact Jules who submitted to the Credentials Committee. My apologies.'

Is this a joke?!?! They had just spent all this time explaining to Dee Ann about how they were put in an 'awkward position' regarding Stonebridge yet their entire statement was based on erroneous information as it WAS me who presented the request.

They further admitted to basing their decision on the information they received after speaking with the church, yet they never once made an effort to speak with me!! Are you kidding??? They trust the church and pastor that covered up my abuse when I originally reported and who continues to deny wrongdoing or respond to my questions to this day???

Even after the Associate Pastor has admitted it was abuse – that it should have been reported to the police, and has since stepped down from any position of authority in his current church?

In summary, the SBC Credentials Committee is a total sham. They are NOT a safe resource for ANY survivor!!! They have lied on multiple occasions. They don't know their head from their ass and certainly can't keep their stories straight. They have ZERO training in how to do their jobs in any capacity and perhaps don't even know what their job is. SBC YOU MUST DO BETTER!!!
This is a terrible injustice. The Credentials Committee has botched and mishandled this case for over a year now, and they are continuing to drop the ball. Not only dropping it, but punting it clear out of sight. We pray it's out of incompetence and not out of maliciousness, but at the rate it's going, we can't be sure.

What we do know, is if this is how they are going to handle things they CANNOT be trusted with other victims and other churches and ought to be thoroughly and publicly repudiated.

We ask that you retweet this article and tag all these individuals, as well as anyone else you can think of, and keep on doing it until they listen.

@drmoore, @jdgreear @SummitRDU, @erlc, @FBCsherman, @SBCExecComm with @albertmohler, @edlitton, @pastormikestone #sbccrentialscomittee, and #sbc2021






A CALL TO ACTION
Enjoy our content? GREAT! Unfortunately, ad revenue for truth-telling websites has been severely hampered by censorship and de-platforming. This ministry isn't free to run, and finding people willing to support polemical theology is like trying to find a needle in a haystack.
So we have some great ways for you to EASILY support our work that will take less than 3 minutes of your time to do.
First, check our our page explaining this all at detail at
https://supportpolemics.com
But in short, you can support us on
Patreon
and get exclusive rewards like the FULL non-truncated episodes of the bi-weely Polemics Report podcast ONLY available on your Patreon app. It's super easy to use. Get exclusive updates from JD. Get all that and support our work for only $5.95 a month. You'll also get a PAID subscription to
'The Insurgency'
"banned news blasts" once a day for 50 news links to banned content you can't find in social media. For other patron tiers, you can join us live via zoom to interact with JD during the Bulldgomatic Bible study, get free theology books in the mail, and more.
Or, if you don't want to use Patreon and don't want the rewards, subscribe to 'The Insurgency' "banned news blasts" for free (three days a week) or $7 dollars a month (notice that's a dollar more than getting it through Patreon) or $70 dollars a year. Instead of you scouring the news, let our Gideon Knox News team do the news-hunting FOR YOU and it will save you time finding real news.
And finally, you can give a one time financial gift through
Giving Fuel
. It's also super-easy to set up and takes only minutes.
Because JD gets banned in Facebook a lot, you can also find him on
Twitter here
And if you're into politics, check out
Montana Daily Gazette
. If you just want his sermons, check out his
SermonAudio feed