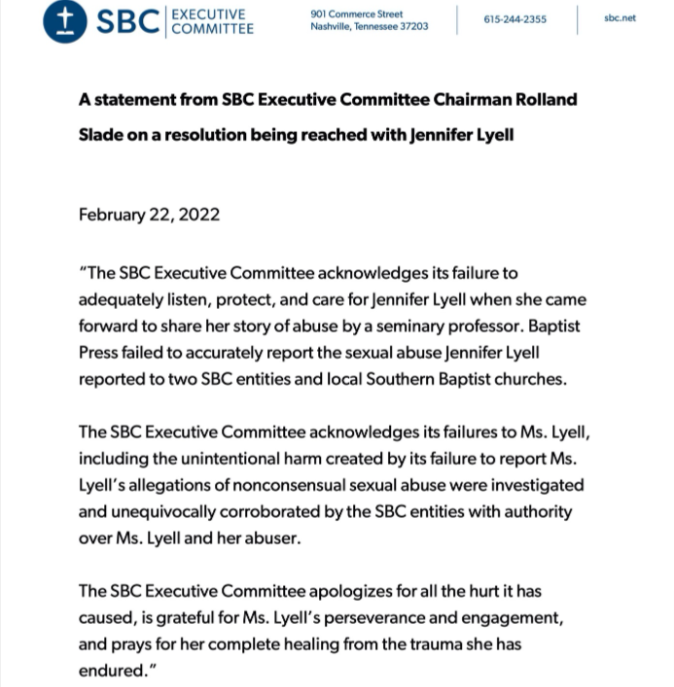 The SBC Executive Committee, in a rare move, has issued a personal apology to Ms. Jennifer Lyell for failing to "adequately listen, protect and care" for her after she came forward with allegations of sexual abuse by her professor, as well as acknowledging the "unintentional harm" they caused her by not properly reporting her case and framing what happened to her in a blameworthy and distressing manner, resulting in a confidential monetary settlement to Lyell.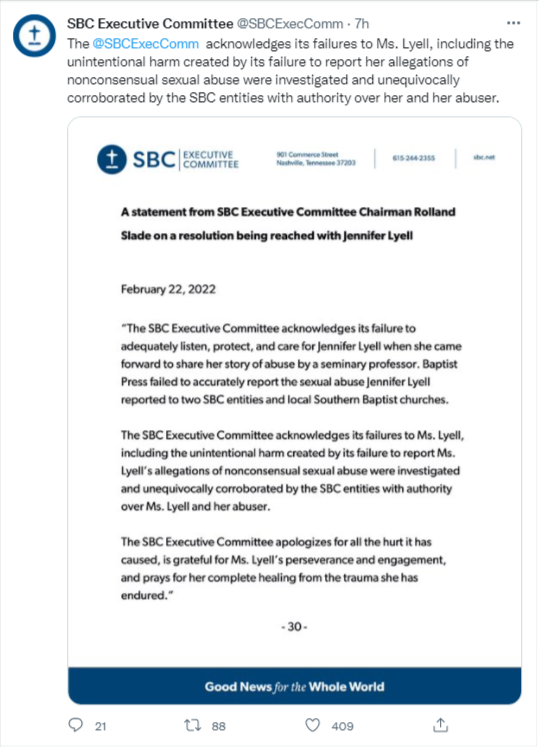 A couple of years ago, Lyell, then a vice president at Lifeway Christian Resources, admitted to being involved in a sexual relationship with Southern Baptist Theological Seminary professor David Sills for over a decade. She claimed that it was the result of him 'grooming' her while she was enrolled in a missions class at the seminary in 2004 when she was 26 years old, and ending a decade later when she was 38 and having long moved on. This resulted in his swift termination and right public disgrace.

The Baptist Press, which is overseen by the Southern Baptist Convention's Executive Committee, reported on the story but framed their involvement as a "morally inappropriate relationship" (repeating her words) with her former professor. Outrage ensured and the paper eventually apologized and retracted the offending article, but not before the damage was done to her reputation and people assigned a degree of moral culpableness to her by decrying her as 'an adulteress,' among other things.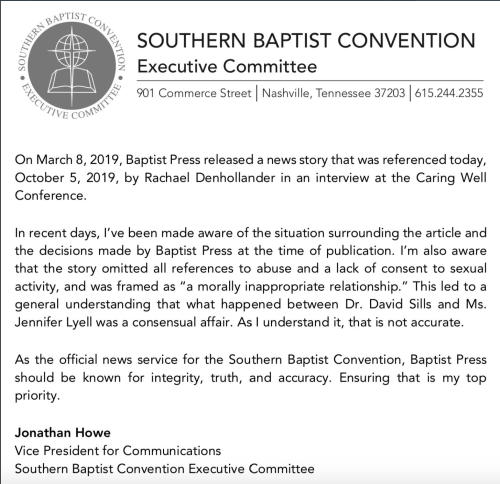 In March 2019, Lyell would write:
"So that day when I shared what had happened to me with my boss at LifeWay and then later with SBTS President, Dr. R. Albert Mohler, I was quick to also share the responsibility I bore for being compliant at times, for not telling immediately, and for so idolizing the idea of a whole family that I protected it despite what was happening within it. I am not a sinless victim. But I am a victim nonetheless."
A year later she would seemingly walk back any suggestion that she was guilty of any sin for the relationship, explaining in an update that just because she was 'compliant', it did not mean their relationship was 'consensual'. As her understanding of her role in the whole affair continued to evolve, she also appeared to dispel the notion that there was any sin on her part for which she ought to apologize, given that she was and remains a victim.

The SBC Committee apparently agrees with her, with their own release framing the 12 years together as one big long incident of "nonconsensual sexual abuse" between adults. Peter Lumpkins, commenting on the whole affair when it first broke, offers up these observations:

"Assuming a unilateral manipulative, exploitative, wrongful beginning ("grooming") of the relationship by the perverted professor, at what point does a 12 year voluntary but illicit sexual relationship between two grown adults, at times, miles apart, cease to be a unilaterally manipulative, exploitative, and wrongful relationship? Or does it? Are we to understand that a 38-year-old woman who is having a sexual relationship with a married man, and does so at long distances, is doing so because she is trapped in a sexual abuse scandal in which she cannot escape?
Listen to Lyell's words again, words she wrote to describe the fiasco, not words Baptist Press used to describe the relationship:
But a family relationship did develop. Over the years I spent weekends with them, my holidays with them, became an "aunt" to their grandchildren, and their grown children became like siblings to me. It looked idyllic on the surface. Except the pattern of inappropriate sexual activity continued throughout the relationship (emphasis added)
Lyell said she spent weekends with the family, enjoyed holidays with them, and became very close to their grandchildren. Apparently, Lyell must have been close to Mrs. Sills during this time. Friends. Except for one qualifying factor that made it different–Lyell continued the pattern of "inappropriate sexual activity" with her friend's husband.
Is it too much to suggest Mrs. Sills, her children, and grandchildren were victims of abuse in which Lyell herself would be, at least in some significant ways, morally accountable as the abuser? While I regret suggesting this possibility makes Lyell feel both uncomfortable and betrayed again, or even persecuted as she appears to indicate, it nonetheless seems to me one cannot escape the reasonably moral conclusion of the facts as they have been publicized.
Baptist Press caving into the pressure by Caring Well celebrities and conference attenders to both apologize for publishing and then retracting a story that fundamentally was correct remains a dangerous precedent for our news wire service.
More problematic still is the notion that the definition of 'nonconsensual sexual abuse' has now been broadened to include voluntary sexual affairs by two consenting adults. It's true that powerful people in authoritative positions can exploit, manipulate, and deceive others into an initially unwanted relationship. Granted. No one is suggesting otherwise, and we rightly condemn it when it undeniably takes place.
However, to argue that an illicit relationship between two adults that started by devious exploitation of one over the over while the other was under the manipulative person's authority but continued on years later after no such authority was present remains morally absurd."

This is not to say that the Executive Committee didn't do her dirty, only that there is an element to the story that raises a brow or two. Lord knows they've botched an investigation before, such as with Jules Woodson.

For Lyell, however, she is grateful for the apology, writing: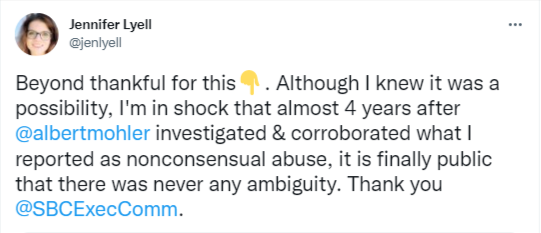 and in a statement:
"Finally, I must acknowledge and thank Pastor Slade, the EC officers, and trustees who agreed to resolve our disputes through their action today as well as their legal counsel who worked quickly to process four years of information. As I've shared with those to whom I've been able to speak and to their lawyers, although this by no means restores what I've lost, I am grateful because it is the only action I could imagine that may at least make the ongoing damage stop. My focus will now turn to my health and trying to build a future. I do so having accepted the apology offered by the EC in their public statement and with enduring gratitude for Rachael Denhollander as well as Russell and Maria Moore—without whom I cannot imagine still being here."