Exposed! NAR Founder C. Peter Wagner Mocked Pastors who Dislike Cleavage/ Scantily Clad Women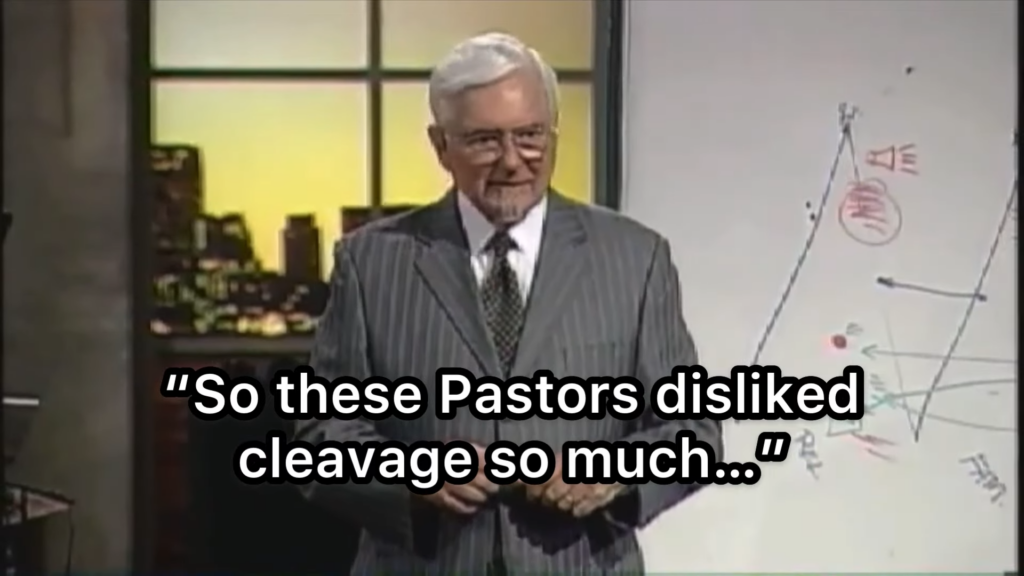 Content Warning: The following video contains several instances of scantily clad women. Viewer discretion
C. Peter Wagner is the granddaddy of the New Apostolic Movement. He's the granddaddy of Dominion Theology. He is basically the first person who named the movement and along with Cindy Jacobs, became the leader of it and developed the theology through his vast writings, authoring 81 books.

The leader of Global Harvest Ministries, he famously taught that the beginning of the second apostolic age began in 2001, when the offices of apostles and prophets were restored and renewed, and therefore the church in the 21st century would be ruled by them. Therefore traveled throughout the world promoting prophets and apostles into the church. In fact, one such of these was when he participated in the Charismatic Day of Infamy.
Basically, his role in the movement, (which includes Lou Engle, Bob Jones, Paul Cain, Bill Johnson, Mike Bickle, Rick Joyner, Cindy Jacobs, Ché Ahn, and Todd White) cannot be understated. He was the guy. He was the granddaddy of it.

And he was messed up.
In a newly unearthed video, Wagner is shown commenting on the uproar and controversy with Sun Ho. Sun Ho is a Christian pastrix who cofounded the megachurch City Harvest Church in Singapore, along with her husband Kong Hee. This church had more than 33,000 members when it peaked in 2010, and was one of the biggest churches in the world. For decades, there was a concentrated effort to make Singapore a 'Christian Country' by NAR folks, who invested a ton of their time and effort into nation-building.

Despite being the pastor, Sun Ho decided that she wanted a music career in Mandarin Pop. Despite having the opportunity to do so modestly, she chose the other way, which involved her dancing and writhing around in barely any clothes and using sexually charged lyrics.

This went on for years, and she gained a fair amount of success. Certain people began to investigate her, however, and it was later revealed that the church had misappropriated nearly fifty million dollars to help build, launch, and sustain her career, which ultimately resulted in all six of City Harvest Church leaders being indicted and sentenced to between 2-8 year in prison. According to Wiki:
The November 2016 appeal revealed the City Harvest Church leaders spent $24 million on Ms Sun Ho's musical foray into the United States which included a house in Hollywood that cost $28,000 a month in rent; a whole entourage of staff; a $1.9 million paycheck to rapper Wyclef Jean to produce the "China Wine" video; as well as another $500,000 to sweep up her albums when they tanked.

Over the course of the trial, the court heard that Kong Hee had set up a multi-purpose account where church members deposited "love gifts" that were used to pay for expenses between 2006 and 2010.

Examples of expenses included more than $300,000 spent on travel, more than $100,000 on food, and over $100,000 on make-up and medical costs. Ho's earnings of more than $400,000 a year came from these gifts, and Kong admitted in court that donors were unaware of Ho's earnings.
This is the context of Wagner mocking pastors who were upset at what she was doing; as Wagner explains that the dress and the lyrics are fine with him if that gains her influence on top of the "mountain of arts and entertainment."