Leaked! Audio of Venue Church Pastor Tavner Smith Being Confronted By Congregants over Mistress' Kiss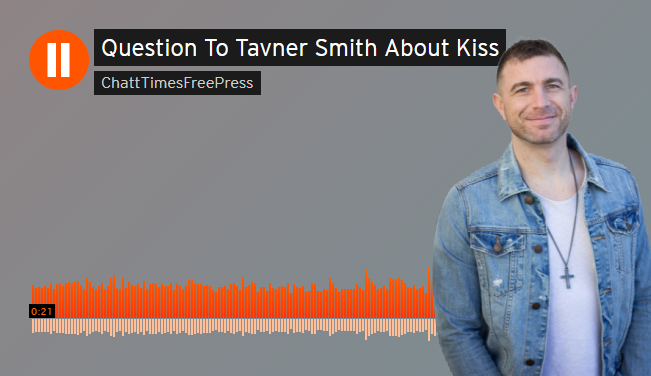 The Chattanooga Free Press has released leaked audio of church volunteers confronting Tennessee Megachurch church pastor Tavner Smith on December 17, 2021 over his affair with worship leader and employee Lexi Elijah, with Tavner explaining that he's been through a lot these last few years, that they've been kissing (but only after they stopped living with their spouses) and that they intend to marry.

Unsurprisingly, over the course of the meeting, Tavner claimed that he would be transparent and open, and yet repeatedly said that there was some information he couldn't share, and that people would feel different about their relationship if they knew the "whole story."
Just go through my life in the last two years, y'all (unintelligible) a pity party, I've been through a lot. Okay? And I just would like a little bit of a break.

I'm not going anywhere. I'm your pastor, I'm going to pass through this church. God called me here and nothing's changed about that. The vision has not changed. The promise still stands, what God spoke over this place is still going to happen.

I would just like a few weeks to breathe a little bit. I'm going to preach Sunday for Christmas, I would still love for you to bring all of your friends because regardless of anything, here's what I'll tell you. The gospel is going to be preached and it's an opportunity for people to get saved. And I don't know what you believe. I don't know what your theology is. But when there was somebody that was preaching Jesus to get the Apostles in trouble… Jesus said it this way, because Peters, like 'we need to shut them up'. And Jesus said this: "I don't care if they got the wrong motives, I don't care what their heart is, the Gospel's being preached, don't shut him up, because it'll still save people.

And Sunday, the gospel is gonna be presented on one of the two biggest days of the year that people can get saved. So I'm gonna preach. I've recorded for online already, and it is a word. It's a prophetic word over your life and your family's life, and it'll show on the 26, the 26 will be online only. And the first Sunday of the year, January 2, I'll be on the stage to share Vision Sunday and where we're headed for 2022 to the whole church. After that, I'm going to take a few weeks off.

I don't know how long it is going to be because in talking to people I have around me and counseling me, I didn't want to just make that number up. 'Oh, I'll take three weeks off, that sounds good.'

What I'm going to be doing is consulting licensed mental health therapists, physician, psychiatrist to say, 'this is what I've been through for the past two years, this is what I lead, this is what I'm walking through. How much time do you think I need in order to really get to a place where I can come back and be new in 22?"

I'll have that by the second, when we cast vision Sunday. I've already talked to some of the greatest preachers in this world. Already been on the phone with them. They know my story, they know everything going on here. They didn't just want to, they were excited to preach for me in those weeks.

Our church is going to be in good hands while I'm taking a little bit of a breather. I wanted you to know from the bottom of my heart, I'm sorry that I'll let you down.

I'm sorry (that/ when) I wasn't fully 100% transparent, I'm sorry if you put your faith and your trust in me as your spiritual voice and a man of God, and my humanity came out, and I apologize. I don't have any excuses. I just want to say I'm sorry and let you know that in the future that I'm going to be 100% transparent, and I'm going to walk this vision out as God's asked me to do. And I truly hope you'll join me.

As far as a statement goes, that's really all I wanted to say. At this point, I know probably that you have questions…
Question to Smith "I hate to say this, but I need to ask this question. You said that you guys haven't been sexual. Have you been physical? (Tavner: "meaning what?") Meaning have you kissed?
"Yes. But..a caveat… never in any time where either of us were living with our spouses. It was, at my point I was 14 months outside of living with Danielle separated and her point she was eight months out from living outside separated. So in no time while there was we… (audio cuts out)

Despite acknowledging the relationship, Smith rebuffed some criticism and refused to answer a question by one of the volunteers who asked him how he could insist it wasn't an "affair" in light of his actions. He also did not answer questions about the "chili and boxers" incident.

Of course, it is the height of scumbaggery to be pursuing a romantic relationship with an employee in the church who is currently separated from her husband. Not only is the whole thing not an 'affair' but rather CLERGY SEXUAL MISCONDUCT. The fact is that Tavner should have been counseling her and the husband towards reconciliation, not putting the moves on her and acting out his vested interest in seeing the marriage dissolve.
When asked who was going to hold him accountable, on account of his position over the overseeing board, who the church doesn't even know who they are, Tavner explained that most of the anonymous "big-name" pastors had abandoned him, but at least one stuck around:
"They know that they're a part of everything going on. That's been walking me through what I've been going through. Ron Phillips Sr, he's the pastor of Abba's House, he has been a mentor in my life. He's been one of (the men) I've met with over the past several years, a lot of times, and he really believes in me.

To be just fully transparent with you all, I had three big-name pastors that were on my board. And then all this, they stepped away because they didn't want to, nor did I want them to have their name tied to drama as we went through all of this, because I knew what it was going to be. I had a transitional season where I didn't have a board for a few months. And to be honest with you, through some people reaching out to other pastors who were friends of mine, who I would have asked, none of them wanted to be on the board. And so I really dove into Pastor Ron and he's the main…