Disgraced Megachurch Pastor Defends Joel Osteen Against Critics- 'They're Angry Idiots'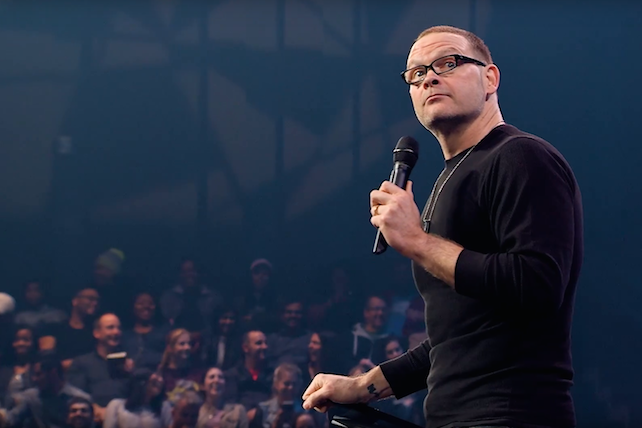 Former Megachurch Pastor Perry Noble has come out on social media bashing anyone who is critical of arch-heretic Joel Osteen, calling them angry idiots who are merely taking him out of context, while declaring he hopes the Lord continues to bless the famed prosperity preacher.

For many people, the last they heard of Perry Noble was back in 2016. At the time he was the founder and lead pastor of Newspring Church, an SBC mega-church with a daily attendance of 32,000. He was seen as a rock star in evangelical circles, headlining major conferences and sending social media ablaze with every new provocation from the pulpit.

He was also widely known for several minor scandals, such as playing AC/DC's 'Highway to Hell' for their Easter service, being rebuked by his denomination for bad theology when he called the 10 commandments "10 promises" and to a lesser extent being the foil to reformed folk and discernment bloggers alike when he rebuked congregation members in his church who said they wanted to go "deeper" and dismissed them as "jackasses.'
Then the story broke. Perry Noble had been kicked out of his church by his elders for his "posture toward his marriage and increased reliance on alcohol and other behaviors." (essentially being an alcoholic whose life and marriage was out of control.)
Unfortunately, reconciliation did not occur, either with the Church or with his wife. A year after he had been whisked away, the elders at Newspring still deemed Noble unfit for ministry, with lead Pastor Clayton King informing the congregation "Perry currently does not meet the biblical qualifications of a pastor, teacher, shepherd."

Since then, Noble followed in the footsteps of many disgraced pastors by returning to ministry right soon thereafter. He started a new church called 'Second Chance Church' that is now running nearly 1500 people every week, being on the cusp of megachurch status. Despite claiming at the time there was no hint of sexual immorality between him and his wife, he divorced her a few years ago and got remarried just a few months ago.
Consequently, Perry continues to take an adverse posture towards his critics. Years ago he famously told any congregants who arrive late to the service because they like the preaching but not the choice of secular songs, "I think you officially suck as a human being."
Now, he's coming out swinging, taking his usual aggressive posture towards anyone who may feel otherwise.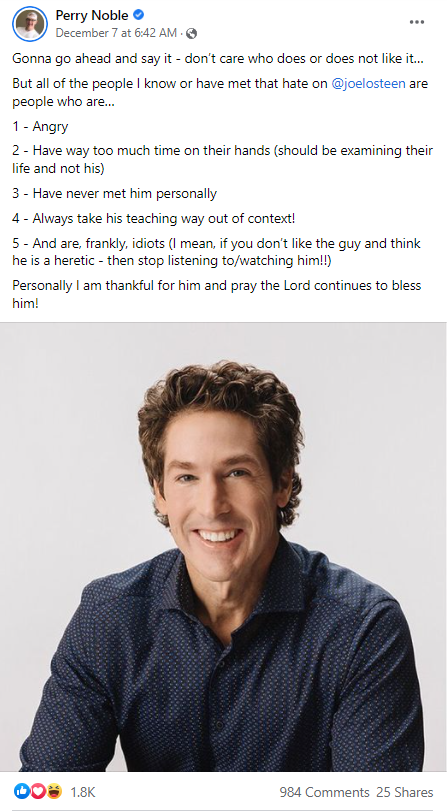 Thankfully, around half of Perry's followers gave him a round of condemnation for this view, with these comments representing well the level of dissent and incredulity his message received. This actually a little surprising in and of itself, given how low one's level your discernment must be in the first place to consider Perry Noble a qualified bible teacher and pastor. Even *they* can say a wwo
And our personal favorite: