'Twerking for the Lord?' Steven Furtick Laughs as TD Jakes Disgraces his Wife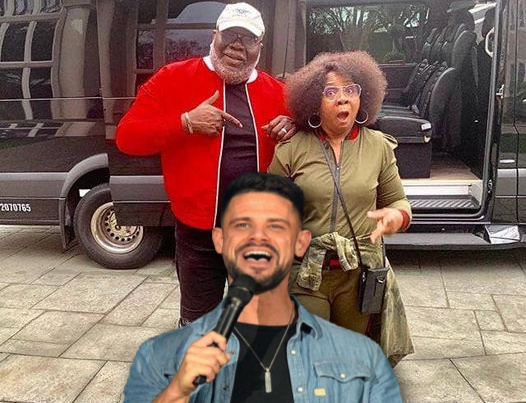 Speaking at Elevation Church after receiving a thunderous ovation and praise from the congregants, and after Steven Furtick gushed all over his Trinity-denying mentor while calling him his "north star," the heretical T.D. Jakes invited the congregants to gaze upon his wife and reveal that she can still 'twerk for the Lord.'
"My lovely wife celebrates you. Stand up Honey, show them I did good. You the finest grandmama I ever saw in my life. Five kids, nine grandkids and still rocking it. She can still twerk for the Lord, give God a praise."
This is gross behavior. Jakes invited his wife to stand up before the congregation and basically tells the crowd to evaluate her physical looks and attractiveness, asking the crowd if he "did good" while noting how attractive she was for her age and that she has apparently some skill in a particular sexual dance.
Though everyone is laughing uproariously, there is no reason for a so-called preacher to be talking about his wife's sexual writings from the pulpit. That is not the place for that. That is information that does not and should not be shared with the congregation publicly, and is functionally no different than telling the crowd what sex positions they like and what other activity they engage in in the bedroom.
In any normal church, that sort of comment would instantly cause the crowd to tense up and become incredibly uncomfortable, sucking the oxygen out of the room. But Furtick not only stands by as it happens, he laughs his head off at the funny comment, oblivious to how shameful and disgraceful it is to put one's wife out there like that.

Sadly, this sort of lascivious behavior is to be expected from false teachers.
---
Bonus. For the h/t and to watch an extended commentary, see this video by Colin Miller below, which was our source.