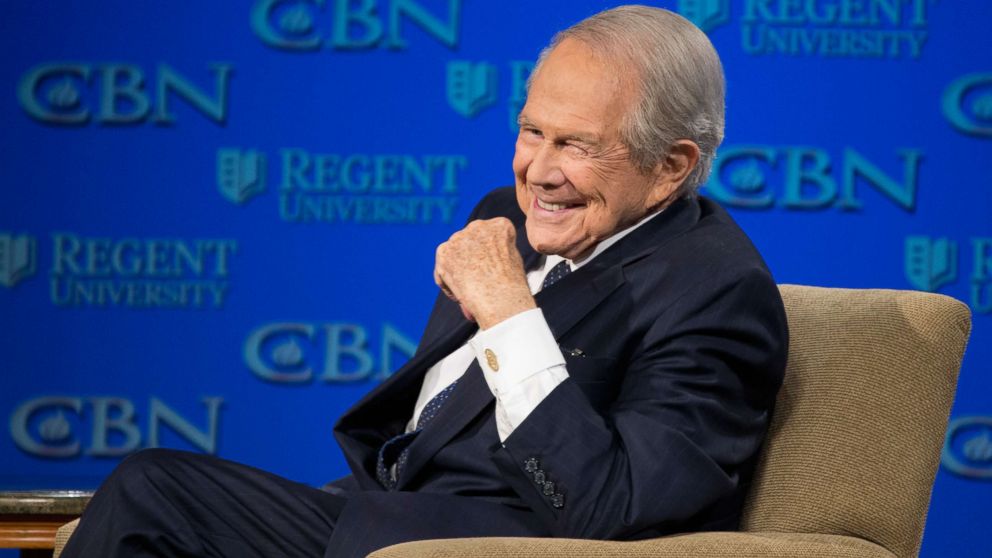 TBN's resident superincentarian pontificator, Pat Robertson, recently made fun of Christians for believing God made the world like the Bible says. Atheists and God-mockers are having a hoot over it. Robertson – who believes that he has the power to put up forcefields against hurricanes – doesn't believe God has the capacity to create the world ex nihilo or tell a story correctly.
On his 700 Club program, Robertson made the claim that it's "foolish" to think God made the world in six days.
Robertson said, "… I don't think most Christians are stupid enough to believe that other…The other is the Ussher theory…if you added all the generations from Adam until the current time, and you say, "Alright, that adds up to 7,000. Okay. And so, therefore, the Earth's only 7000 years old." Well, that's just nonsense."
He went on, "I mean, there are just too many geological factors, too many things that have happened on our Earth. The Earth is about 14 billion years old, and there's just no question about it."
Standing in the way between Christians and God's account of creation are…dinosaurs.
Robertson said, "You've got the dinosaurs. You've got all the things that have happened on this Earth. And there's too much geology, I mean, it's just established science. So the idea of having a 6-7,000-year Earth is just…It's just…Any Christians who believe that, just, I'm telling you that, they aren't very up on today's…I believe science! I mean, let's face it! You know, God didn't…This whole planet was set up for God's purpose. The universe is tuned for life. But it didn't get here in 6-7,000 years! It got here over…almost 14 billion years to get this Earth to where it is right now."
Watch below.
Of course, when Jesus made really good wine for his first public miracle in the Gospel of John, it would have appeared to one's taste-buds to be 6 or so years old (wine only gets better with time to a point, and six or seven years is the peak age for taste). One would presume if the wine was tested in a lab or placed under a microscope, it might have indeed appeared to have been six or seven years old.
But it wasn't. Jesus made it afresh with six vats of water (ahem).
If someone came upon Adam on the 8th or 9th day they would have presumed that he was twenty or thirty (or however many) God made him to appear. But he would have been only a few days old.
If someone saw Eve the day after she was formed from Adam's rib, they would have sworn she was a post-pubescent woman in her teens or twenties. But she would have been only a day old.
If someone came upon the world on the 4th Day of Creation and seen the mighty oaks and fruit trees and lush vegetation on the face of the earth they might presume it had been hear for decades or centuries…but they would have been wrong.
Likewise, Pat Robertson is wrong. And he's also a fool (on numerous levels).
Certainly not! Indeed, let God be true but every man a liar… (Romans 3:4)
[HT These godless yokels for the transcript]