SBC Megachurch Covers Kendrick Lamar's Dirty Rap Song for 'Sermon Illustration'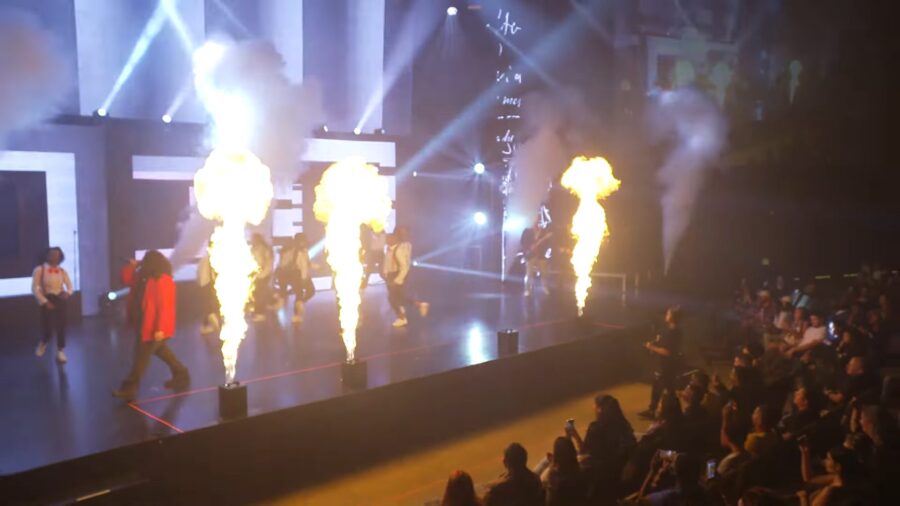 Church by the Glades in Coral Springs, FL, an 8000- member Southern Baptist megachurch continues its celebration of all things fleshly and sinful. Fresh off from doing a cover of Run D.M.C's sleazy and sexual song Walk this Way, they preformed Kendrick Lamar's N95, only cleaned up and sanitized for church audiences, removing the curse words and racial epitaphs.

It's not the first time the church has engaged in such shenanigans. According to the Dissenter:
(They) made headlines in early 2020 after its pastor, David Hughes, was selected by another Florida pastor, David Uth, to speak at the 2020 Southern Baptist Convention's annual meeting. Church by the Glades has been well known for its carnality, worldly appeal, and extravagant performances of secular dance and music including the Stormtrooper Dance, Disney Medleys, and covers of Beyonce's Freedom

Other world-worship songs selected by this church and its band include a cover of the pro-LGBTQ Mormon band, Imagine Dragon, and another of Shirley Manson's band, Garbage."
They also explain:
One of Lamar's most popular songs, We Cry Together, contains hundreds of cuss words including the F-word 76 times, the S-word 14 times, the D-word twice, the N-word 23 times, the B-word 43 times, the A-word 13 times, the P-word 4 times, and multitudes of other foul, sexually explicit words.
In this case, the song in question was performed on July 31, 2022 as part of a lesson from the book of Acts. Pastor Charlie Hughes preached the sermon using Acts 27 where Paul had the multi-day storm at sea to engage in an utter and complete narcegesis of the text. He explains why the church used the song:
"(when storms come) We have no choice, we have no other option but to do what this song we just listened to is saying. We must operate with an out-of-pocket outlook. We must approach opposition as opportunity. "
That is a poor and flimsy reason to include it if there ever was one. See the lyrics and video below. The text with lines going through it is what the church edited out, and the bold portions are the lyrics they added in:
N95
Hello, new world, all the boys and girls
I got some true stories to tell
You're back outside, but they still lied
Whoa, oh, oh, oh (yeah)
Take off the foo-foo
Take off the clout chase
Take off the Wi-Fi
Take off the money phone
Take off the car loan
Take off the flex and the white lies
Take off the weird ass high class jewelry
I'ma take ten steps
Then I'm takin' off top five
Take off them fabricated streams
And them microwave Instagram memes
It's a real world outside (take that shit off)
Take off your idols
Take off the runway
I take off to Cairo (take that shit off)
Take off to Saint-Tropez
Five day stay, take a quarter mil'
Hell Well, if I know (take that shit off)
Take off the false flag
Take off perception
Take off the cop with the eye patch (take that shit off)
Take off the unloyal
Take off the unsure
Take off decisions I lack (take it off)
Take off the fake deep
Take off the fake woke
Take off the I'm broke, I care (take it off)
Take off the gossip
Take off the new logic, that if I'm rich, I'm rare (take it off)
Take off the Chanel
Take off the Dolce
Take off the Birkin bag (take it off)
Take all that designer bullshit designer off
And what do you have? (Bitch)
Huh, huh, we louder you ugly as fuck
(You out of pocket)
Huh, two ATMs (hah, hah, hah, hah)
You steppin' or what? (You out of pocket, huh)
Who you think they talk 'bout?
Talk about us (you out of pocket, shoot, shoot, shoot)
Who you think they copy off? (Brrt, brrt, brrt, brrt)
Copy off us (get back in pocket)
The world in a panic
The women is stranded
The men on a run
The prophets abandoned
The Lord take advantage
The market is crashin'
The industry wants
Niggas and bitches (unintelligible) to sleep in a box
While they makin' a mockery followin' us
This ain't Monopoly
Watchin' for love
This ain't monogamy
Watch you get shoved Y'all gettin' fucked
Jumpin' on what the heck hell is that?
I gotta relax when I feel (huh, facts)
All of my descendants
They come in my sleep and say I am too real (huh, facts)
I'm done with the personal taking it sensitive sensitive takin' it personal
Done with the black and the white
The wrong and the right
You hopin' for change and clericals
I know the feelings that came with burial's cries (bitch)
Huh, huh, uh, we louder what you ugly as fuck
(You out of pocket)
Huh, two ATMs (hah, hah, hah, hah)
You steppin' or what? (You out of pocket, huh)
Who you think they talk 'bout?
Talk about us (you out of pocket, shoot, shoot, shoot)
Who you think they copy off?
Copy off us (brrt, brrt, brrt, brrt)
Servin' up a look, dancin' in the drought
Hello to the big stepper, never losin' count
Ventin' in the safe house, ventin' in the sa-, ahh
Can I vent all my truth?
I got nothin' to lose
I got problems and pools
I can swim in my faith
Camera's movin' whenever I'm movin'
The family suin' whatever I make
Money Murder is stackin', the president actin'
The government taxin' my funds in the bank
Homies attractin' the feds
When I'm brackin', look at my reaction
My pupils on skates (hold up, hold up)
Let's think about this for a second (let's go)
Tell me what you would do for aesthetic (let's go)
Would you sell your soul on credit? (Let's go)
Would you sell your bro for leverage? (Let's go)
Where the hypocrites at?
What community feel
They the only ones relevant? (Let's go)
Where the hypocrites at?
What community feel
They the only ones relevant? (Let's go)
You outta pocket, yeah, you outta pocket (this shit hard)
You entertain the mediocre, need to stop it (this shit hard)
You entertainin' old friends when they toxic (this shit hard)
What's your life like? Bullshit fake friends and gossip (this shit hard)
What the fuck Tell me what is cancel culture, dawg?
Say what I want about you people niggas
I'm like Oprah, dawg
I treat you crackers like I'm Jigga, watch I see you don't really know me but
I own it all
Oh, you worried 'bout a critic?
That ain't protocol (bitch)
---
h/t The Dissenter