Lesbian Christian Artist Releases 'World's Gayest Worship Song'- Will It Go Mainstream in Churches?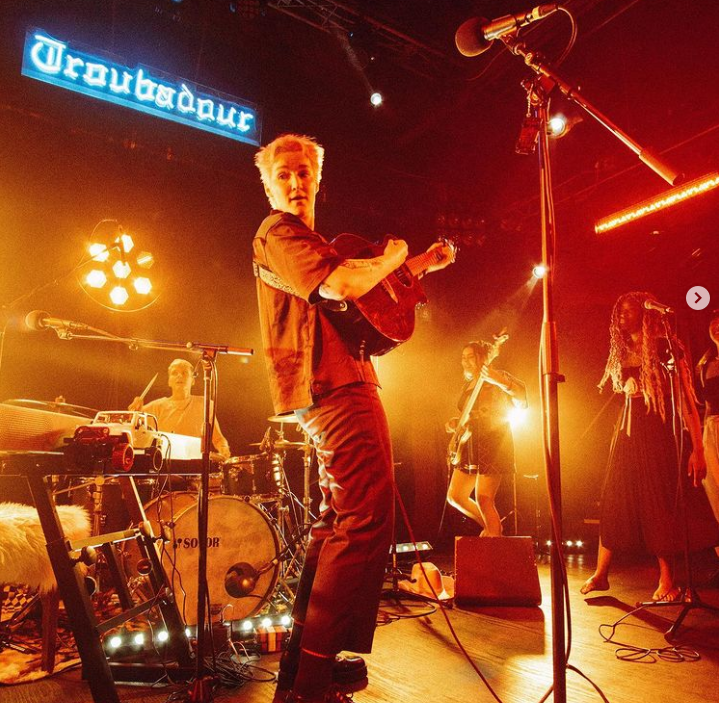 Semler is a queer artist and is a newcomer to the Christian music scene, gaining some publicity after her profanity-laced album briefly the top spot on iTunes Christian and Gospel charts. In the last few months, she's been touring with Relient K, the queer affirming former Christian band, gaining prominence and visibility on account of it.
Her real name is Grace Semler Baldridge, she's a butch lesbian who's married (now divorced?) to a woman while purposefully altering her appearance to look like a man—giving the impression she's about one upper chest surgery from becoming transgendered. She's not a Christian even a little bit, despite seeking to be seen as such.
Now, she's revealed on Twitter that she's written the "world's gayest worship song" after channeling the hurt of someone who "broke my heart for Jesus." While it's no coincidence that it was released at the start of Pride Month, due to the musician's skill and growing fame, there is a very real chance that this song could go mainstream within Christian churches, and would serve as the "in" she needs to dig her talons into the bride of Christ, as undiscerning and disobedient churches begin to play it mashed between Hillsong and Jesus Culture.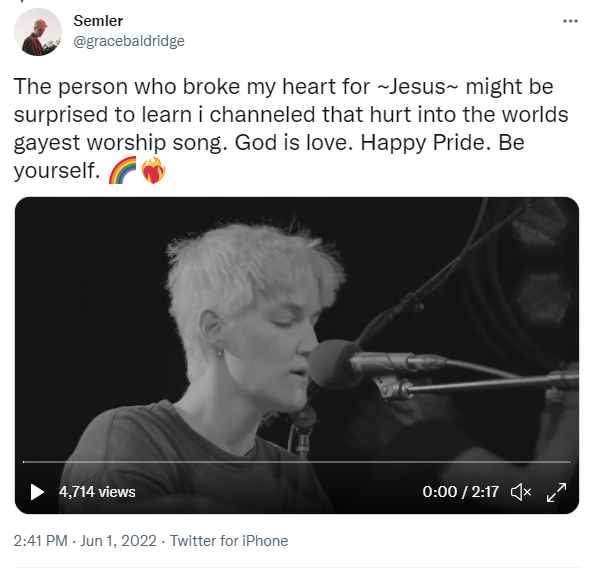 The song comes from her April 13, 2022 EP Songs of a Breakdown
Raise Up

Bring me your weak and weary
Bring me your strange and cold
I come for hope and healing
That you won't feel alone

So raise up, raise up, raise up
So raise up, raise up
So raise up, raise up, raise up
I have told you that

[Chorus]
I am the way and the truth and the life
I'm justice, I am all that is right
Carry on now, carry on
Carry on now

And there's a galaxy behind your eyelids
And there's a war in your house
And there's a meaning that is far beyond us
And there is courage in doubt

So raise up, raise up, raise up
So raise up, raise up
So raise up, raise up, raise up
I have told you that

I am the way and the truth and the life
I'm justice, I am all that is right
Carry on now, carry on
Carry on now
The song, which was released on her
---
Bonus content. The other songs on her album, are not so nice, such as "You're Not My Friend Anymore"
Check tape
You used a natural disaster just so you could go and ruin my day
Fuck sake
Like if I'm really such a heathen why can't you just stay the hell out my way?
Oh, I pray that Jesus Christ is revealed to you one day
You'd say the same
And text me back with ice inside your veins
I'm burning up
Thank God I know this bullshit isn't love (Oh)

[Pre-Chorus]
'Cause you're not my friend (You're not my friend)
And I think you fucking know it, you're embarrassed and it's showing (You're not my friend)
Yeah, you talk your shit in private; I go public, you don't like it