Roman Catholic Archbishop Bans Pelosi From Communion in Rare Show of Backbone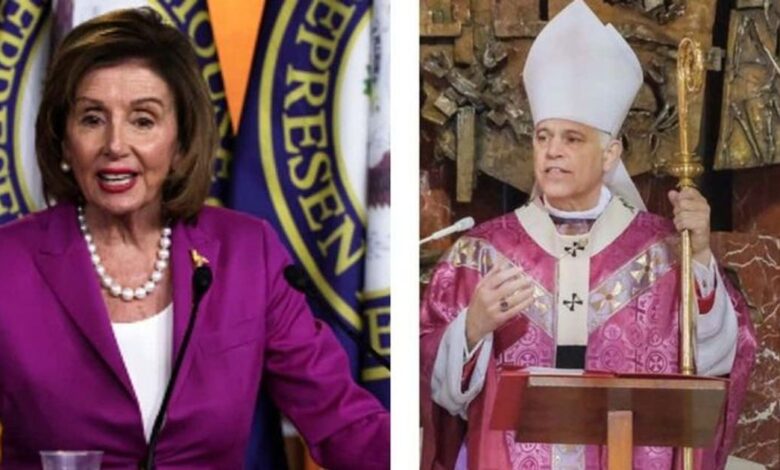 In a rare showing that the Roman Catholic Church, led by the insufferably heretical Pope Francis is not just a bloated corpse of mariology and malaise, American Archbishop Salvatore Cordileone, who leads the archdiocese of San Franciso where Pelosi attends mass, announced that she would be henceforth barred from taking the eucharist on account of her rabidly pro-abortion ways, which are considered known mortal sins within the Roman Catholic faith.
After numerous attempts to speak with Speaker Pelosi to help her understand the grave evil she is perpetrating, the scandal she is causing, an the danger to her own soul she is risking, I have determined that she is not to be admitted to Holy Communion. https://t.co/l7M85CyG86

— Archbishop Salvatore J. Cordileone (@ArchCordileone) May 20, 2022
Explaining that "Catholic legislator who supports procured abortion, after knowing the teaching of the Church, commits a manifestly grave sin which is a cause of most serious scandal to others." Cordileonie explained in a public statement that he reached out to her several times to address the issue but was constantly rebuffed, and told her if she didn't repudiate it, he was going to call her out, which he has now done.
"As you have not publically repudiated your position on abortion, and continue to refer to your Catholic faith in justifying your position and to receive Holy Communion, that time has now come. Therefore, in light of my responsibility as the Archbishop of San Francisco to be "concerned for all the Christian faithful entrusted to [my] care" by means of this communication I am hereby notifying you that you are not to present yourself for Holy Communion and, should you do so, you are not to be admitted to Holy Communion, until such time as you publicly repudiate your advocacy for the legitimacy of abortion and confess and receive absolution of this grave sin in the sacrament of Penance."

Again, a rare showing for the Catholic Church, which has taken a consistent cowardly and feckless approach to the plethora of pro-choice politicians in the country. In fact, last year, the decrepit pontiff Francis, whose theology makes the Banquet of Chestnuts feel like a holy gathering in comparison, has consistently affirmed that Joe Biden is a "good catholic" who he would not refuse communion, despite his own septuagenarian penchant for baby blood.

Given that Francis is so wicked, it would not surprise us to see him call out the archbishop and reverse his wishes. Still, it's nice to see at least some in the Catholic leadership wield some of that authority they claim to have.