Oklahoma Gov. Signs Bill Banning Most Abortions, But Is it all Smoke and Mirrors?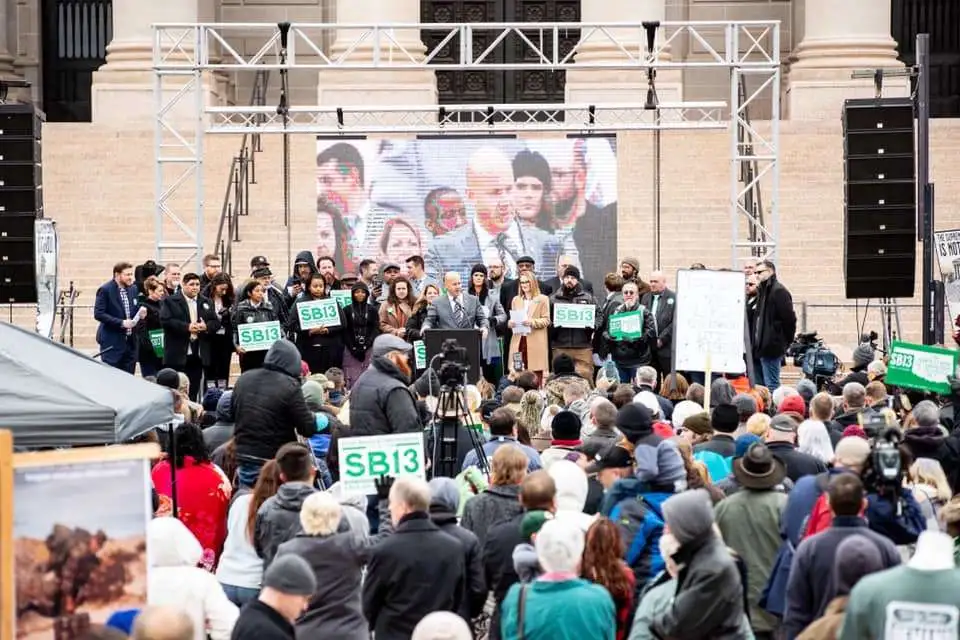 Pro-life advocates are cheering a new bill signed into law by Oklahoma Governor Kevin Stitt on Tuesday that they say is the most sweeping and restrictive abortion law in the country. Senate Bill 612 is now the law of the land and it bans nearly all abortions, including those done for rape and incest, with the only exception being if the life of the mother is at risk. Violators of the law could face up to 10 years in prison and fines up to $100,000.

For years Oklahoma has long been considered the most pro-life state in the nation. They have a professing Republican pro-life Governor, a Republican pro-life Lieutenant Governor, a Republican pro-life President Pro Tem of the Senate, and a Republican pro-life majority floor leader. They have supermajorities in the house and senate and the vast majority of these senators campaigned as "pro-life" and vowed to do all they can to "protect life" in Oklahoma.

After the House voted 70-14 , its passage was a done deal, and groups ranging from Roman Catholics to the Baptist General Convention lauded this bill as an answer to prayer.
The most important thing is to take a stand for the unborn and protect life.

Every life is precious.

As a father of six, that's what I believe and I know that's what Oklahomans believe. pic.twitter.com/VjmUz5QdOD

— Governor Kevin Stitt (@GovStitt) April 12, 2022
Abortion abolitionist groups are not nearly as excited about this, however, and they have a reason for skepticism. The same people who passed this are the same ones who for years have utterly and completely rejected and fought against abolitionist bills, and it doesn't take long for the devil in details to rear his ugly abortion-loving head.
James Silberman of Free the States explains:
There are a number of problems with this bill, the first being that it contains no language clarifying that the prohibition contained in SB612 is to be enforced in the face of judicial violations of the right to life. For instance, OK SB495, which was left pending in the Senate Health and Human Services Committee, establishes that "The Attorney General shall monitor this state's enforcement of [Oklahoma homicide statutes] in relation to abortion. The Attorney General shall direct state agencies to enforce those laws regardless of any contrary or conflicting federal statute, regulation, treaty, executive order, or court ruling."

Lacking this language, enforcement of SB612 is going to be enjoined and babies will continue to be murdered here in pro-life Oklahoma. This is exactly what occurred in 2019 when Alabama passed the Human Life Protection Act which also purported to outlaw abortion from conception. But when she signed the law, Alabama Governor Kay Ivey said, "No matter one's personal view on abortion, we can all recognize that, at least for the short term, this bill may be unenforceable. As citizens of this great country, we must always respect the authority of the U.S. Supreme Court even when we disagree with their decisions."

Planned Parenthood was so confident that the courts would not allow the law to stand they told the press they would be building a new mega-center in Birmingham a month after Ivey signed the Human Life Protection Act.

Governor Stitt has taken the same posture as Ivey. While signing a handful of pro-life bills last year, one of which (HB1102) also purported to end abortion from conception, Stitt said, ""We'll let the courts work out if any of those get overturned."

Of course, Stitt knew that all abortion bans prior to 20 weeks are considered unconstitutional by our rogue judiciary, so he was setting the stage for himself to bow to their whims. That is what is going to happen with SB612.
The bill also "explicitly protects birth control drugs which can cause abortion as long as the drug is administered before pregnancy occurs… and explicitly protects all forms of self-managed abortion by giving mothers full immunity in the murder of their child"

Because it also only insists on a 10-year maximum sentence for what is essentially first-degree murder, it sends an explicit message that preborn children are less valuable and their lives worth less than born children, which have higher maximum sentences.
Silberman and others believe that if they really wanted to abolish abortion and do so in a way that has no loopholes, they could have done so long ago. But because they have repeatedly killed abolitionist legislation that offered this very thing, in favor of pro-life incrementalism and now this bill, it betrays how fundamentally unserious they are about seeing abortion end in the state, despite their protestations to the contrary.
"Republican politicians will posture as if they just abolished abortion. The courts will enjoin enforcement of the law. Republican politicians will say "shucks," pretend they did all they could, and start the same process over again next year."