Charismatic Prophetess Reveals There's an 'Old West' In Heaven, and John Wayne Films Movies There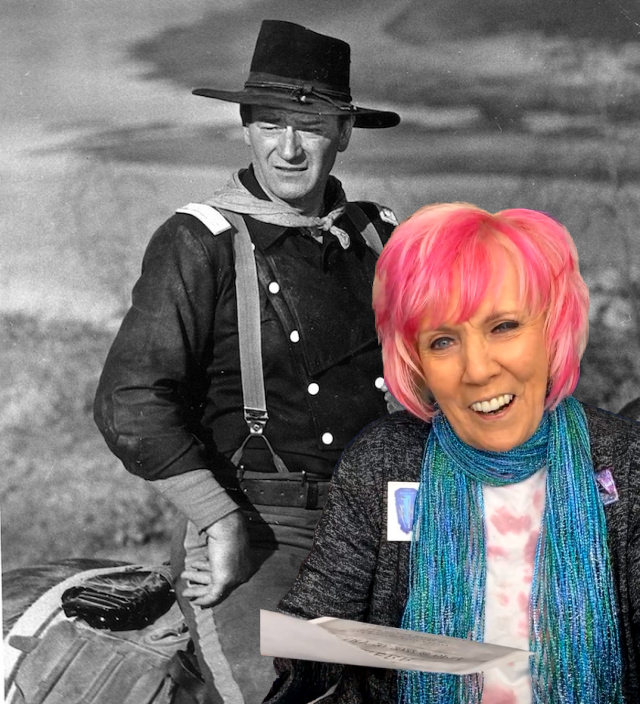 When Kat Kerr, our favorite pink-haired charismatic meme-bot and "Dr. Michael Brown-approved prophetess" isn't weaving an unbiblical tale of witchcraft and false theology by claiming that she has a picture of thousands of lioned-faced angels frog-marching chained demons across the sky in order to go to heaven for judgment, or that Miscarried Babies are Reincarnated For the Next Pregnancy, or even that there's a place called 'Jello-land' in heaven that contains chocolate waterfalls and candy houses, she's explaining that there's a place in heaven that looks like Texas, and that John Wayne lives there, where he spends his time in the afterlife making new western movies.

This despite that the only account we have of John Wayne converting is from his great-grandson, a Roman Catholic priest who says Wayne converted on his deathbed to the Roman Catholic faith, which would make him no believer at all.
Speaking with chief-enabler Steve Shultz on episode 58 of Steve and Kat:
But you would see certain things in Texas, in the state of Texas. There's a strength in Texas, there's a frequency in Texas itself that God made a freedom. He actually planted freedom in Texas.

…I've seen people who live in this western (part of heaven) that looks like the West. And not wild though. Maybe if the Holy Spirit would show up he'd be wild. But there are areas in heaven that look like the West. They just are. And someone in particular I have seen, absolutely in heaven, would be John Wayne. I don't mind dropping names people, I have seen him there.

What is he doing? Making cowboy movies. What did he do on the earth? You use your gift in heaven. And I saw him making a cowboy movie. In this place, it looks just like the West except there's no bandits, ok? You're not going to roast, get scorched, be bit by scorpions, none of that happens. So in your natural mind, you always go 'well, this is there.' And it's not there. It's a glorious, beautiful place. But it looks just like the West and I happen to know He lives in this part. John Wayne lives in that part of heaven."