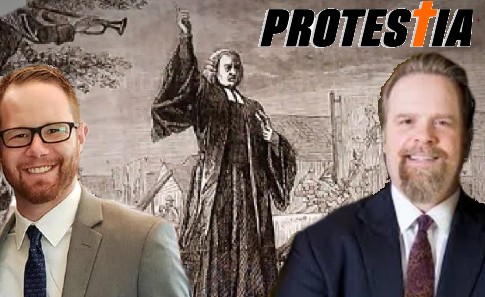 America's clergy have traditionally played an important role in balancing the power of the civil magistrate, who is not always easily dissuaded from usurping authority not belonging to them. However, a softer, kinder, gentler sort of clergy have in recent decades abdicated their prophetic responsibility to speak truth to power.
But this isn't the case in Iowa, where five pastors have issued their own edict to Governor Reynolds, who has constantly infringed upon the constitutional rights to religion and free assembly. And they aren't having it any more.
These five pastors, including Cary Gordon (above, right), Sam Jones (above, left), Keeton Wainscott, Michael Demastus, and Christian Shields.
Issuing their order "by the power and authority vested in us by God Almighty" ordered and directed that…
"unconstitutional and oppressive mandates that require the citizens of Iowa to cover the image of God by covering their personal identity with a mask and the mandates that abridge the citizens of Iowa from exercising their God given right to peaceably assemble…We recognize and uphold the Governor's right to strongly recommend actions be taken in the interest of public safety as the extent of her constitutional authority.
Their statement acknowledges that they resolve…
"To defy the Governor's unlawful decrees and to direct our churchmen to ignore her unauthoritative mandates by teaching that rebellion to tyrants is obedience to God."
Read more here…