Dave Ramsey Staffers Talk BLM and Racism. It gets Woke Really Fast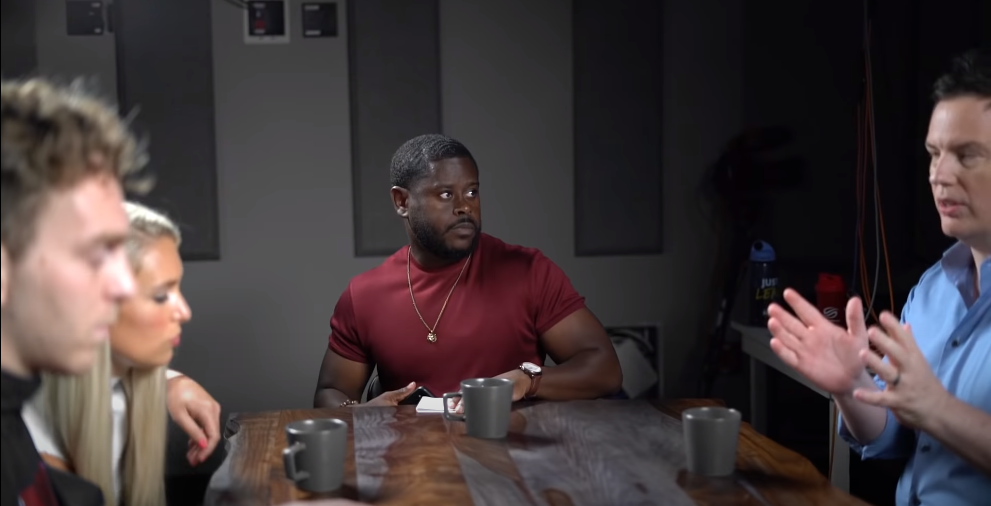 Anthony ONeal, best-selling author, speaker, and Dave Ramsey personality, recently invited several white folk to come on his show and discuss the topic of racism, white privilege, and Black Lives Matter. The panel was comprised partially or entirely of staff members and employees at Dave Ramsey's Solutions and far from being a genuine, raw discussion with differing viewpoints, the whole affair came across as a cringe-worthy, unified struggle session that would rival "the Dinner Party" or "Scott's Tot's," for how uncomfortable and apologetic it was. The hour-long interview might be likened to a zookeeper making the rounds, rattling the bars every now and then to get the animals to jump to attention and start dancing and performing, afraid they're gonna get zapped or whipped if they don't communicate how much they've seen the light, how much they love Black Lives Matter, and what great disgust they feel at their white privilege.

ONeal starts off by asking the panel to describe Black Lives Matter in 4 words. We get "of course they do." "Change, growth, evolving, offensive." "Courage, movement, equality, unity." "Black lives mater period." and "It's about time."
We would have said "Racist. Destructive. Marxist. Anti-Christ," and then revelled in the ecstasy of the silence and disbelief coming from the hosts and other panelists, offering a true counterpoint that reflects a biblical worldview. We've included a small sampling of quotes from different panelists, responding to ONeal's questions, who pensively sits back nodding his head and saying "Wow" and "Mhmmmm" over and over again. Here is a clip summarizing his behavior though the entire 6-part interview, holding court as lead interrogator. It is physically painful to observe.
Asked how things have changed:
So many things have evolved. Maybe like 5 years ago everyone would be like "Oh, I don't see color." And then now, I think as white people, we're learning that yes, we do see color. I think for so long we wanted to be like "Oh, I'm not racist. I don't see color. You're the same as me." And it's like, we are different, and we need to acknowledge that, and acknowledge that different races go through different experiences in life, and it discredits the experiences of other races to say "Oh, I don't see color, and it's like [you should]."
"For me, as a white male, it's like if someone calls me racist like, hoo! Like, that is scary…That's like almost on the same level as, like, being like a sex offender or something. Like it's like so like highly like vile, and something like you would never…like it's the first thing anyway one says "But I'm not racist..but I'm not racist." But we need to recognize that, hey, maybe some of the things I used to do were racist, and I'm growing from that. Or hey, maybe some thing that I'm doing now, and thank you for pointing that out to me, and how can I grow from that? I think that as someone who is privileged as a white male, it is our responsibility to continue this conversation because if we're the one in a position of power, we're the ones who have to change the culture."
How to make things better:

I hope this analogy works in my head. I still can't get out of my head that the solution that we're posing right now ends up with an all-white boardroom, of all white men, trying to fix a problem. And this problem and this level of injustice is not solved when everyone – it's not a matter of bringing black people up to be as comfortable as us, that's not how that works, right? It is that we're going to have to get off our addiction to comfort and get real messy man, right? It's a surrender. Otherwise, it's just a bunch of white people in a room trying to figure out how to help black people, that's not the – we've done that.
Anthoney ONeal: If there are no black people in the room, white people can't figure out how to help me. You don't know me. You hear me, but you don't know me. So it's there's no African American in the room, i appreciate the conversation, but bring me, or someone who looks like me into the room, and when we get into the room you do have to surrender, and you have to listen.
When asked about race and what they hope to pass on to their kids:
People of privilege are saying we're hearing you…how do we help? What do we do? What's my next stop? What's my next move? Because I have been making a lot of moves over the laat 10, 15, 20 years, and now I find I've been hurting people the whole way. I didn't know. So now what? I don't want to hurt anybody else. Where's help.. and when it comes to a legacy for my kids, my sons and my daughters have to know that they're privileged out of the can. They have to know the sidewalks they walk on are different for every kid who walked down that sidewalk.
I really struggle to come up with what I want to know because that again becomes about me. And what do I – teach me. Teach me. Honestly, I am just here to listen. What I want to learn is whatever you want to teach me…The part of you that you held back from me before, I want to see it. As far as my kids. I hope they know when someone is screaming and yelling and setting things on fire and acting ridiculous…there is a reason. There is a reason. And rather than looking at disqualifying someone for their actions, if you would just be patient enough to hang with it, and look for the reason why.
It's a mess, but as one panelists says "We want to be on the right side of history." For them, it would appear, history is only the present.