Hillsong Church Lost $2.6M After Shuttering Dallas, Atlanta Campuses Months After Opening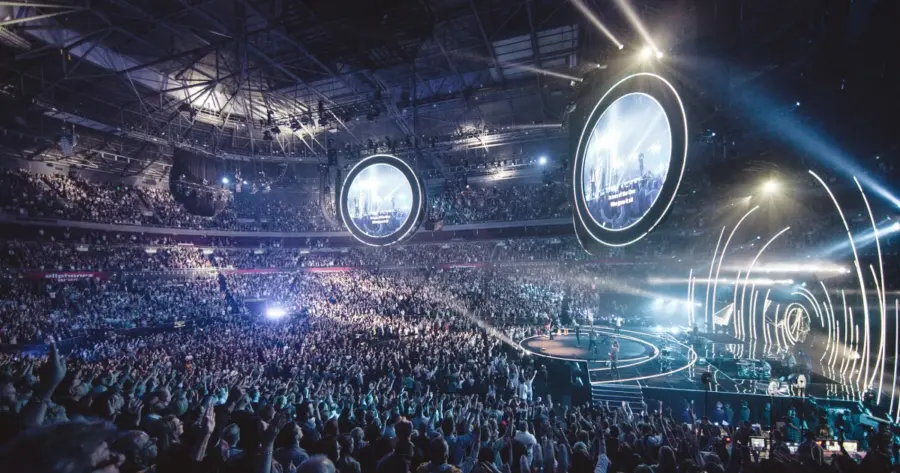 Days after a blockbuster report alleging that Hillsong Paid Hundreds of Thousands of Dollars to T.D Jakes and Joyce Meyer for 'Honorariums,' that they Charged Child-Sponsor Group' Compassion' $1,000,000 To Be At Their Events, and that Brian Houston Billed Church $150k for Three Day Luxury Vacation+ Other Crazy Expenses, it's been revealed that the embattled church lost $2.6M dollars in 2021 and 2022, after investing in and then being forced to shut down its Dallas and Atlanta campuses.
Hillsong has several dozen churches across the world, and each one has to pay 5% of its earnings to Hillsong Global which then allocates them. According to the whistleblower report, Hillsong Dallas, which opened in 2019, received $1,861,454 to build out the church and get the ball rolling.
In early January of 2021, Pastor Reed Bogard released a short, curt, prerecorded message during the January 3 service announcing that he and his "pastrix" wife Jess were resigning. It was later revealed that not only were they using the church to fund their lavish lifestyles, but that he left after being accused of rape. Behind the scenes, Bogard, while pastor of Hillsong NY, engaged in a months-long adulterous affair and was later caught. Church leadership never told the congregation, keeping it all hush-hush, and they instead promoted him in 2019 to lead pastor of Dallas. Eventually, the woman he had the affair with claimed that he raped her and Hillsong closed up the campus.

The nearly two million was gone.
Likewise, in late 2021, Hillsong Atlanta launched, with Sam Collier as pastor. Collier has a wild theological past, including spending years as Youth Choir Director in a church where the Senior Pastor was the openly pro-choice, openly pro-LGBT, heresy-spewing, Planned-Parenthood-endorsed Democrat Senator, Dr. Raphael Warnock, and then several years at Bishop Eddie Long's megachurch – a prosperity gospel heretic who preaches wretched blasphemies about name-it-and-claim-it, speaking realities into existence, little god theology, and multiple sex scandals. Later he joined up with Andy Stanley for several years until he was tapped by Hillsong head honcho Brian Houston to lead the new plant, even though Collier has no seminary training and a horrific Christian pedigree.
Hillsong gave them $762,000.
Once the news that Brian Houston was ousted from Hillsong, Collier also announced that he was leaving Hillsong and starting his own church, which he did three weeks later. Like seemingly every other Hillonsg Church, they too had questions about financial impropriety. The report reads:
"Although Hillsong Atlanta was intending to commence operations with only 5 staff members, $18.8k was allocated for the staff picnic/retreat. Yet, zero was allocated to CityCare Program Costs and zero for Bibles and Literature.

When Sam Collier decided to separate from Hillsong in early 2022 due to the Brian Houston scandal, the $762k USD Hillsong had invested into this fledgling campus was also lost. This included $82.5k in venue break costs.

Hillsong Atlanta's Year One budget was approved with an operating deficit of $608,646. This included a salary of USD 145K for Senior Pastor Sam Collier (more than twice of the salary of the COO), Sunday Catering expenses of $60k, and executive meals, travel and accommodation totaling $43k."
---
h/t The Christian Post