Pride Comes Before a Fall, Pride Month Comes Before Monkeypox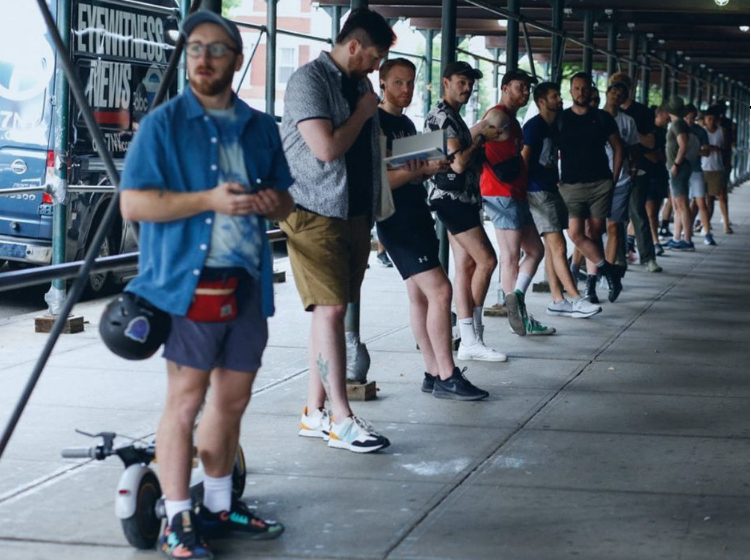 June 2022 was a particularly prideful Pride month, as sexual deviants of every particular letter of the "alphabet people" publicly boasted about their sexual identities while demanding that everyone learn their "preferred pronouns" and celebrate their society-destroying sinful lifestyles. Many corporations, even Christian publishers, honored sexual deviancy by incorporating the Pride flag into their corporate brand's marketing or donating to sexual deviancy advocacy groups. All of this was done in the name of "diversity," with the support of many leftist synagogues of Satan that masquerade as churches. Everyone involved in these festivities played the part of the fool, acting as if God is not sovereign and his word does not condemn sexual deviancy.
The fool says in his heart, "There is no God." They are corrupt, they do abominable deeds; there is none who does good. Psalm 14:1
Scripture clearly articulates that pride in and of itself leads to destruction. The type of Pride that pagans celebrate every June is actually the combination of pride and God-defying sexual sin that goes against nature, as described by the Apostle Paul.
Therefore God gave them up in the lusts of their hearts to impurity, to the dishonoring of their bodies among themselves, because they exchanged the truth about God for a lie and worshiped and served the creature rather than the Creator, who is blessed forever! Amen. For this reason God gave them up to dishonorable passions. For their women exchanged natural relations for those that are contrary to nature; and the men likewise gave up natural relations with women and were consumed with passion for one another, men committing shameless acts with men and receiving in themselves the due penalty for their error. Romans 1:24-27
God has clearly spoken concerning his judgement on proud sexual deviance. He destroyed Sodom and Gomorrah for such sin and judges those who refuse to repent.
Pride goes before destruction, and a haughty spirit before a fall. Proverbs 16:18
Recent reports regarding the rise of the Monkeypox virus in the United States indicate that current clusters of infection in the United States are almost exclusively amongst homosexual men. Look closely: where are the women?
100s line up at a pop-up Monkey Pox Vaccination site in Brooklyn NY#monkeypox #Brooklyn #vaccinepic.twitter.com/pn8nCflZuE

— Viral News NY (@ViralNewsNYC) July 17, 2022
In a July 17 interview with CBS's Face The Nation, former FDA Commissioner, Dr. Scott Gottlieb explained that a large portion of currently known cases of Monkeypox in the U.S. are concentrated in communities of "men who have sex with men" (i.e. sodomites). 
Partial Transcript of Face The Nation Interview
MARGARET: Give us a sense of the scale of this because the CDC numbers are out. They say they're only eight women within that. No children. You're saying this is a pandemic? That's not a word the administration is using yet, what level of emergency are we at?

GOTTLIEB: Yeah look, and I think they're going to be reluctant to use the word pandemic, because it implies that they've failed to contain this. And I think at this point, we've failed to contain this. We're now at the cusp of this becoming an endemic virus where this now becomes something that's persistent that we need to continue to deal with. I think the window for getting control of this and containing it probably has closed, and if it hasn't closed, it's certainly starting to close. 11,000 cases across the world right now. 1,800 cases, as you said, in the US. We're probably detecting just a fraction of the actual cases because we have a very, we had for a long time a very narrow case definition on who got tested. And by and large, we're looking in the community of men who have sex with men and STD clinics. 
Combine these statistics from another July 17 CBS News report on the Monkeypox outbreak to gain an even clearer picture of what is taking place.
Statistics from the city show that 95 percent of people testing positive for monkeypox identify as men. The rest identify as trans, gender non-conforming or non-binary.
Given that the women who tested positive identified exclusively as sexual deviants, the men who tested positive frequently admitted to taking part in acts of sodomy, and large swaths of infection were discovered during testing for sexually transmitted diseases, it can be safely concluded that while monkeypox is not officially considered an STD, it is almost exclusively afflicting sexual deviants. After insisting that monkeypox is not an STD, the CDC even created a webpage specifically designed for sexually active people that includes a graphic of two men cuddling in bed.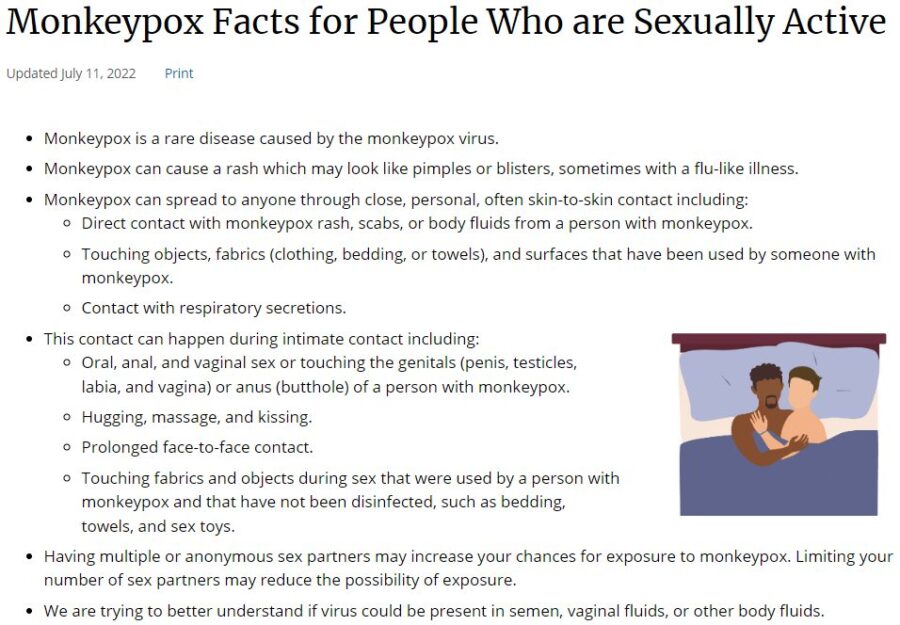 The judgement of sexual sin by God in the form of sexually transmitted diseases is a consequence of sodomy, and it is not a coincidence that an outbreak of monkeypox occurred in the month after Pride month. Those who live according to the Biblical sexual ethic prescribed by God, which limits sex to within the confines of a marriage between one man and one woman, have little to fear in regard to monkeypox. While the death rate of previous Monkeypox outbreaks has been 3-6% (a higher death rate than COVID-19), which may strike fear in the hearts of those sodomites who rush out to get a Monkeypox vaccine to continue their lifestyle, there is a form of judgement that should strike fear in the hearts of those who defy God and refuse to repent of their sins.
 And do not fear those who kill the body but cannot kill the soul. Rather fear him who can destroy both soul and body in hell. Matthew 10:28