Crisis Pregnancy Center Set on Fire by Pro-Choice Terrorists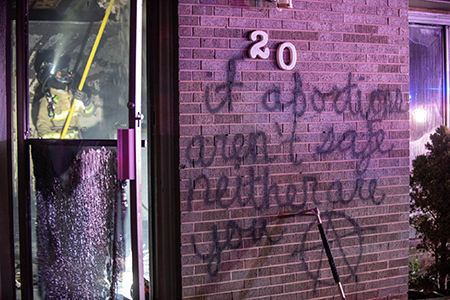 In what will prove to be just one in a long line of attacks on churches and crisis pregnancy centers, Life Choices Pregnancy Medical Center in Longmont, Colorado, was attacked and set on fire and vandalized yesterday morning, with the building sustaining fire and heavy smoke damage.

Along with the attempts to burn down the building, the arsonists spray-painted the threat "If abortions aren't safe, neither are you," which is the slogan of the far-left extremist group Jane's Revenge as part of their "Night of Rage" mantra.
Similarly, Blue Ridge Pregnancy Center in Virginia was also damaged and vandalized, with the culprits smashing windows and spray painting similar slogans on the building.

Jane's Revenge is a militant terror group formed immediately following the May 2022 SCOTUS leak and has claimed responsibility for a host of firebombing and acts of violence across the country, mainly targeting crisis pregnancy centers. The name is believed to come from the Jane Collective, an underground movement providing illegal abortions to women in Chicago in the 1970s before abortion was legalized.