PCA Denom. Bans Any Man Who 'Describes Themselves as Homosexual' from The Pastorate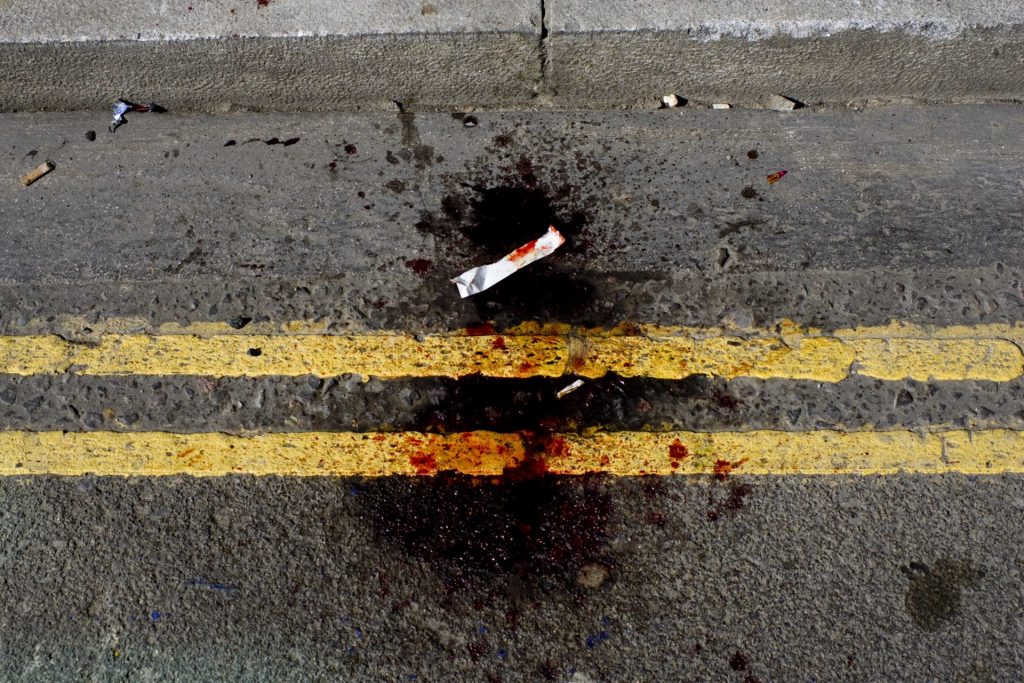 SBC take note. This week at the 2022 Presbyterian Church of America's General Assembly, members passed Overture 15, which squarely takes aim at pastors who identify themselves as being a 'gay Christian' or 'same-sex attracted' and yet still aspire to the office of the pastorate.

According to Scott Edburg of PCA Polity: "The authors of this amendment argue that ministers of the gospel are to be above reproach in their Christian character and self-conception. This amendment would disqualify a man from serving in ordained office in the PCA if that man identifies himself in terms associated with the LGBTQ+ movement or has a Gay self-conception." It reads.
"Men who describe themselves as homosexual, even those who describe themselves as homosexual and claim to practice celibacy by refraining from homosexual conduct, are disqualified from holding office in the Presbyterian Church in America."

Passed by a vote of 1167 to 978, it now heads to the Presbyteries for full ratification and to be included in the Book of Church Order. Last year the GA voted in support of a previous overture that did the same thing but then supporters needed the approval of 2/3 of presbyteries, or 59 of the 88, but failed to meet that mark, with 30 voting it down, effectively killing it.
It is hoped that it would make it all the way through.
In favor of making the minority report on Overture 15 the main report,

Dr. O. Palmer Robertson, Piedmont Presbytery
Part 1https://t.co/GWjUSj1MU6https://t.co/mD39gItxMh pic.twitter.com/9k1f15Hbrj

— G. K. Chesterposting (@graphiccons) June 23, 2022
This momentous vote is a teeth-shattering, cartilage-crushing, skull-splintering blow to the satanic scourge that is Revoice, with the General Assembly declaring that same-sex attractions in and of themselves are sinful, not just same-sex acts. Furthermore, any man who makes his sexuality part of his identity and affirms he'll always struggle with same-sex attraction; denying the efficacy of a new heart upon one's sexuality and denying that "such were some of you" is the normative expectation for Christians who are being sanctified by Christ, is not qualified to be Pastor.
This is a far cry from the Southern Baptist Convention, where the last couple of presidents of the SBC argues that the Bible only 'whispers' about homosexuality, and fully accepts and endorses celibate 'gay pastors'

Revoice founder Nate Collins, the subversive organization bent on normalizing the strangefire notion that is "same-sex attracted Christians" while introducing new language and phrases like "sexual minorities" into the Christian lexicon, has taken to social media to weave a false narrative of outrage and distress after being curb-stomped with cleats by the Presbyterian Church of America (PCA) General Assembly, who voted that everything he stands for and believes is wrong and will not be tolerated within the conservative Presbyterian denomination.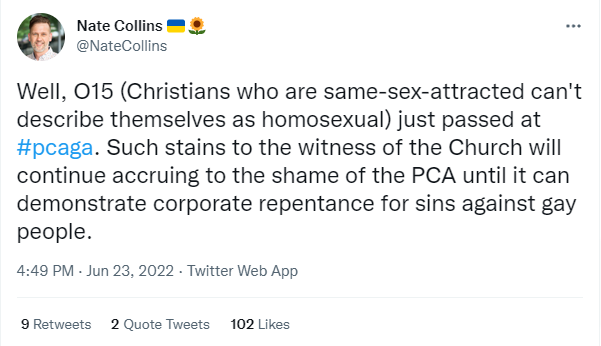 It's not a stain to the witness of the church, but rather a badge of honor. If the SBC has any hope of surviving, they need to do likewise.