'Drag Clown' Preaches Sermon and Says THIS about Muslims and Transfolk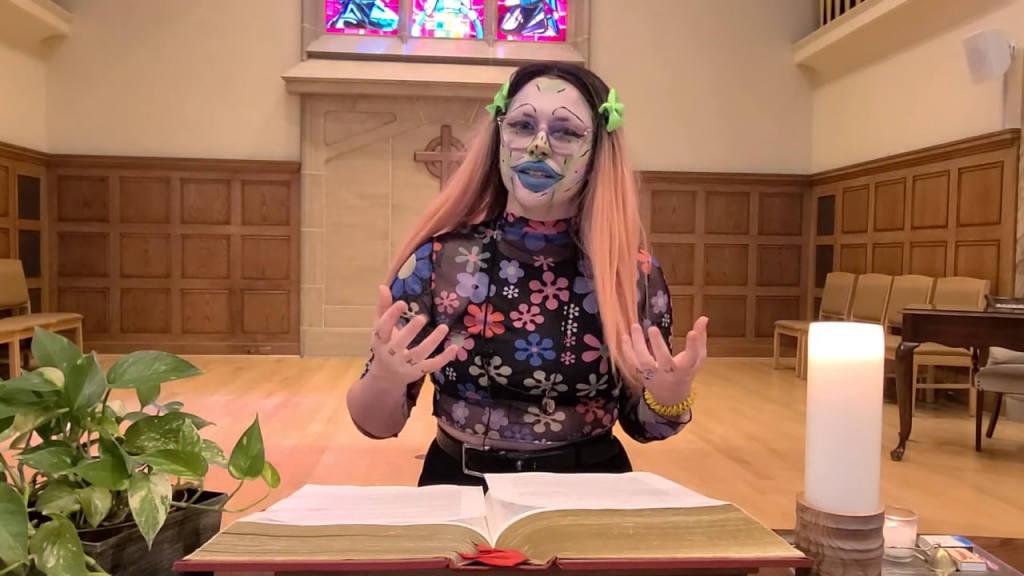 Eli Munro's 'trans name' is Julian Munro and her performing name is King Julez. Despite considering herself a non-binary They/them, we'll be using female pronouns.  Munro is an MDIV student and a non-ordained 'christian' minister who is a soon-to-be ministry candidate within the United Church of Canada. Her goal is to be ordained under as her 'drag clown' persona, specifically, so she will be able to wear her clown drag to every service. She's also the chair of @affirmunite, which is a far, far, faaaaaar left LGBTQ activist group within the United Church.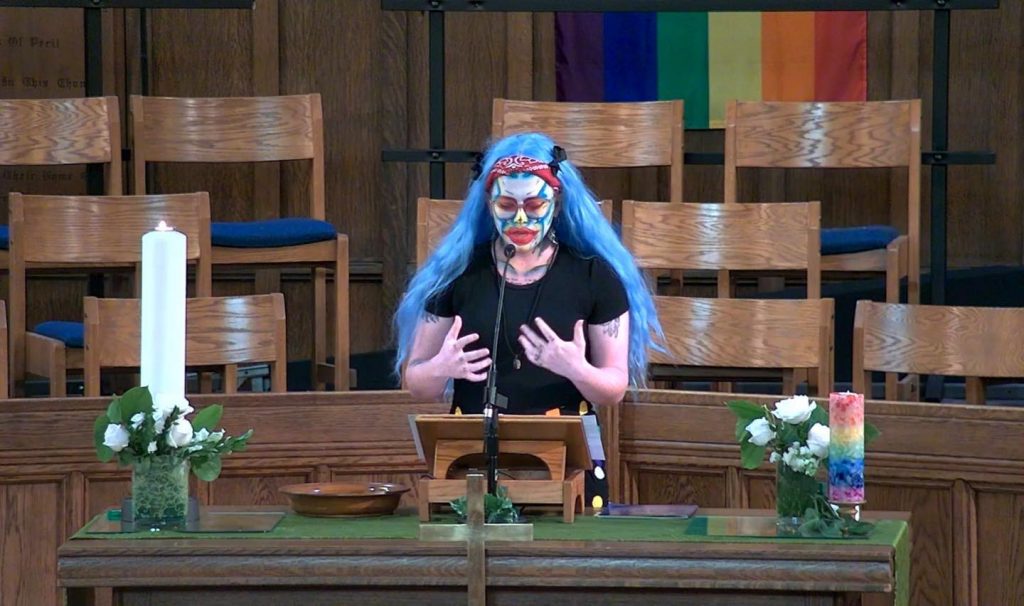 And she's been busy, making the rounds at UCC events. Just last week she led a breakout session for 150 religious leaders within her denomination on the importance of using personal pronouns, and she's posted prayer templates for transfolk, such as "prayers for your first estrogen pill and "prayers for your first testosterone shot"
.
Now, during a recent service, speaking at East End United Regional Ministry conference, Julez the Trans Clown, using these scripture readings, explains that the "one body" Paul speaks of in 1 Corinthians 12 is not referring to a body of Christian believers, but on all religions and sexual orientations.
You have heard it said you shall love your neighbor and hate your enemy. But I say to you, love your enemies and pray for those who persecute you, so that you may be children of your God in heaven. For God makes the sun rise on the evil and on the good and sends rain on the righteous and on the unrighteous. Matthew 5:43-45

Just as a body, though one, has many parts, but all its many parts form one body, so it is with Christ. For we were all baptized by one Spirit so as to form one body—whether Jews or Gentiles, slave or free—and we were all given the one Spirit to drink.  Even so the body is not made up of one part but of many.  Now if the foot should say, "Because I am not a hand, I do not belong to the body," it would not for that reason stop being part of the body. 1 Corinthians 12:12-15
Poorly exegeting what it means to all be part of one body, how the hand needs the foot needs the leg, her 'sermon' culminates with this summation:
…This now speaks to the Matthew reading. If we are all parts of the body that is creation, this includes the parts that we don't like, the parts that have needed some extra help, the parts that have needed some offsetting. The parts that are our enemies. The parts that persecute us.

Jesus describes in this reading a life in which all are children of God, and this is exactly the same body that Paul is describing in his letter (in 1 Cor 12) . God shines the sun on all parts of the body, good and evil, Christian or Jewish, Muslim or pagan or atheist, cisgender or trans, Conservative, Green, Liberal NDP or Bloc (Canada's political parties). We are all part of one body.