Former SBC Prez Pastor Johnny Hunt Accused of Sexual Abuse in Bombshell Report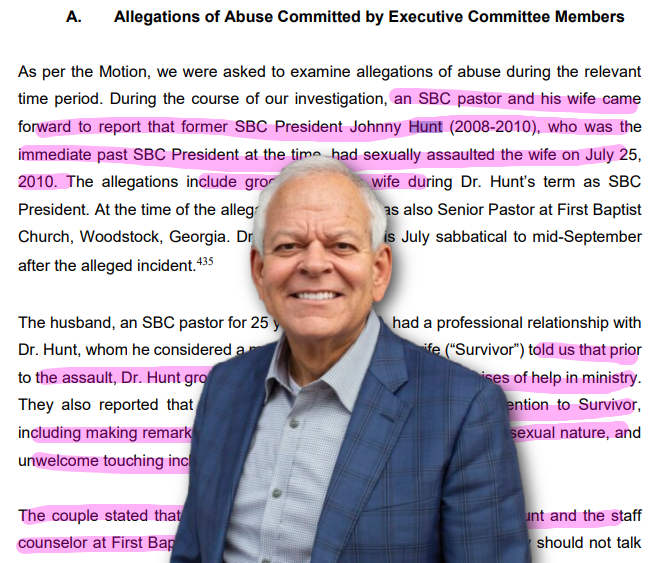 Pastor Emeritus of FBC Woodstock and Former President of the Southern Baptist Convention Johnny Hunt was named in the Guidepost Solution Report as someone who engaged in sexual abuse against a pastor's wife in 2010, citing testimony from multiple pastors, including Hunt's own staff counseling pastor.

The GSR reports that the abuse happened after Hunt invited the couple to vacation with him and his family at Panama City beach, ultimately sharing condos side by side.
The wife, known as 'Survivor; and her husband as 'Pastor' alleges that early on in the trip, Dr. Hunt was being a bit sketchy by kissing her on the forehead and making inappropriate comments about her figure and tan lines.

Later, while engaging in conversation from across the balcony, Dr. Hunt shifted the conversation "from ministry to flattery about her appearance, her clothing, and her perfume." At one point he remarked that he was hot from being in the sun, and the woman said he could come to under the shade on her balcony, assuming that his family was in the condo inside the doors.
Once in closer proximity, she recounts he asked her to put her feet on his knee, and then "he touched them while commenting on their beauty and size." After a short time, he said he was uncomfortable sitting outside and suggested they go inside.

Once inside her place, Dr. Hunt asked her about the ministry and church frustrations she and her husband were having at the church, when he began to manipulate her by asking her personal questions about her life, such as "if she was wild growing up?" She was confused and not sure of what he meant, at which point: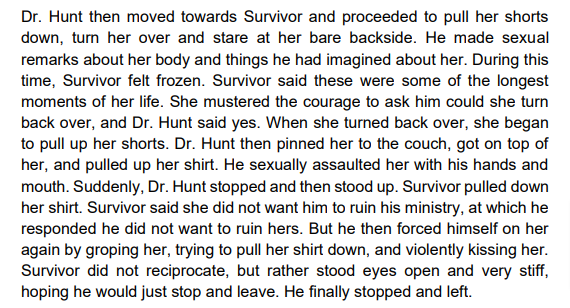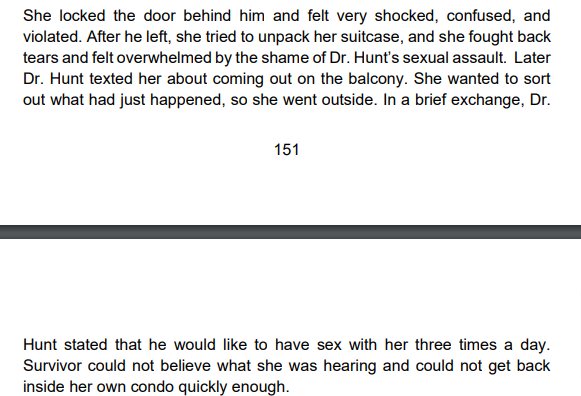 Hunt allegedly apologized the next morning and asked her to forgive him and not tell anyone what happened.

Blankenship suggested it was consensual and tried to close the book on it, "after all, it takes two to tango" and asked all parties to leave it at that. The woman recounts that "at the time she believed that, even though she did not consent to what Dr. Hunt did to her, she was made to feel it was consensual because she did not fight back."

Hunt and Blankenship quickly moved to bring a close to the issue, so it could not hurt or impact the 40,000 churches that Hunt presented. They had several counseling sessions where this was encouraged, and Hunt's wife was at a meeting between them during one of the sessions, where they were encouraged to forgive and forget.

But the couple carried it for a long time, and told others about it over the years. Guidepost reports that they were provided contemporaneous evidence during their investigation, such as:

The investigatory team ultimately contacted Blankenship two weeks ago. While he was very reluctant to answer, he confirmed that there was an incident where Hunt kissed her and touched her breast over her clothes, while claiming to have no memory of pulling down her shorts. He admitted that he was operating on the assumption that the sexual contact was consensual based in part on what Dr. Hunt told him .
Guideposts found the testimony credible, along with three other witnesses who are all SBC pastors that are "still very much involved and committed to Southern Baptist life and the Convention, such as this pastor, who has been in ministry for over 40 years.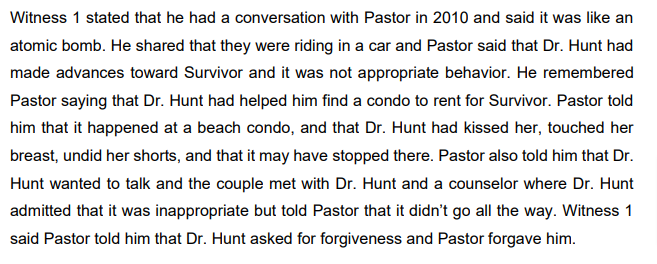 Neither of these pastors saw it fit to share or reveal their knowledge of the abuse.
Hunt for his part denied everything when contacted for an interview, yet did so in a way that the team felt was not credible such as initially denying he even knew the couple. As the news broke yesterday, he again denied it on Twitter, releasing a statement saying that he vigorously "denies the circumstances and characterizations set forth in the Guidepost report" and that "I never abused anybody."