Hillsong's Brian Houston Releases Apology: Is He Announcing a Comeback Already?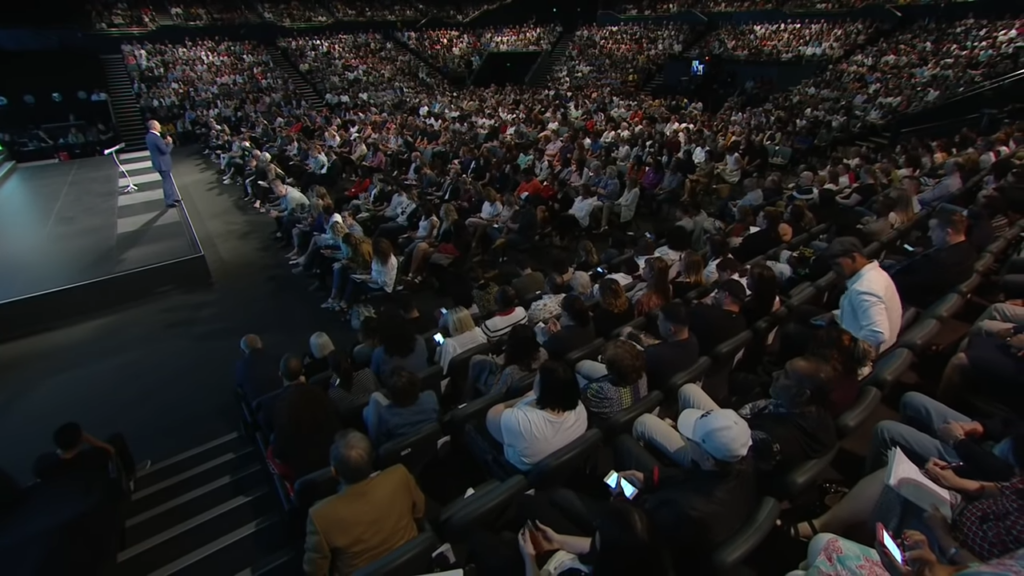 Former Hillsong Global Senior Pastor Brian Houston, fresh from his fall from grace, has sent an email out to all Hillsong Church members, apologizing for the actions that have brought such great pain to so many people.

The email apologizes to his wife Bobbie for putting her through all he did, while maintaining that despite his actions " I believe I am the person and pastor you believed me to be. Imperfect and flawed, but genuinely passionate about God, people, calling and life. I am determined that my mistakes will not define me."

He explains that the pressure and opposition from his critics, as well as the stress of his father's actions of sexually abusing a young boy and the subsequent allegations that he helped cover it up, have led him to not "cope very well" and use and abuse alcohol, something he's determined to not do again.

While most in his position would retire and leave the ministry, Houston has no intention of doing so. Along with flat out denying the suggestion that he would retire, interwoven through the entire apology are multiple instances where he promises he will continue to be active in the ministry in some way, repeatedly stressing that the best is yet to come, the final chapters of his life haven't been written, and that God isn't finished with him yet.

For this reason, we'll call it now- that Houston will either form his own church within the year- 8 months or so, or will be restored and welcomed back into Hillsong in some lesser capacity- again in less than 8 months. Because Houston is a wolf and fundamentally dishonest, and is internally raging at those who cast him aside and wanting to prove that he can do it all again even in his late 60's, our bet is on the former. He'll build something new, and it won't take him long at all.
He writes:
Dear Church,

Let me start with the words I want and need most to say — I am so deeply sorry.

To those impacted directly by my actions, I am sorry for the pain I have caused you.

To my wonderful, forgiving and gracious family who I love more than anything, I hate hurting you. Bobbie, in my eyes you are the most Christ-like, beautiful, loyal and faithful person alive today. It crushes me to see your heart breaking as we navigate this season, letting go of so much that is precious to you. I love my family and it pains me deeply to see you navigating these waters.

And of course, to every single wonderful person who has called Hillsong Church home, I have let you down so badly and sorry will never be enough to express my sorrow. As hollow as it may sound, I believe I am the person and pastor you believed me to be. Imperfect and flawed, but genuinely passionate about God, people, calling and life. I am determined that my mistakes will not define me.

This is not the way I imagined it to end. I believe the future is still bright for Hillsong Church, as you remain knit to Jesus, His Holy Spirit, His Word. Better days are coming as you continue to lean into His Kingdom on the earth.

And of course, first and foremost, to my Lord and Saviour, Jesus Christ. I am so grateful for Your amazing grace and forgiveness. Thank you that when we "confess our sins, you are faithful and just to forgive them." (1 John 1:9)

Thank you Father that "Your mercy triumphs over judgment." (James 2:13.)

Over many years of constant pressure, opposition, challenges, and attacks, accompanied by my personal turmoil over my father's evil, many people have asked – "How do you continue to get up, cope, and keep going?" And now we know the answer. I haven't coped very well at all. I openly admit that alcohol has been no friend and I am determined to relegate it to my past.

Please be assured, I accept full responsibility for my actions and I have no one to blame but myself for the position I find myself in.

It may be some time before we see light at the end of this tunnel, but I know God has not finished with us yet. And what now you may ask? We are living day by day right now. Bobbie and I are unified and we are believing together that this year will be a year of respite and restoration to our souls, as I continue to prepare to fight for my innocence in the legal proceedings ahead of me.

I still have a sense of bright hope for the future and I know God is not finished with me yet. We have no intention of retiring. As Bobbie would say, "the final chapters of our lives are not yet written".

We are grateful also to the many around the world, who have reached out to us, extending kindness and grace in this season.

Thank you for the immense honour of pastoring Hillsong Church these past 39 years. What a journey. What wonderful memories and joy. What powerful testimonies and stories of Christ's transformation and grace. I still believe "the best is yet to come"… and our prayer for your health, well-being and God's perfect Will in your life continues.

Much love,

Brian Houston
---
h/t Eternity News