Conservatives Urge Boycott of Disneyland During SBC Convention after Discounted Tickets Offered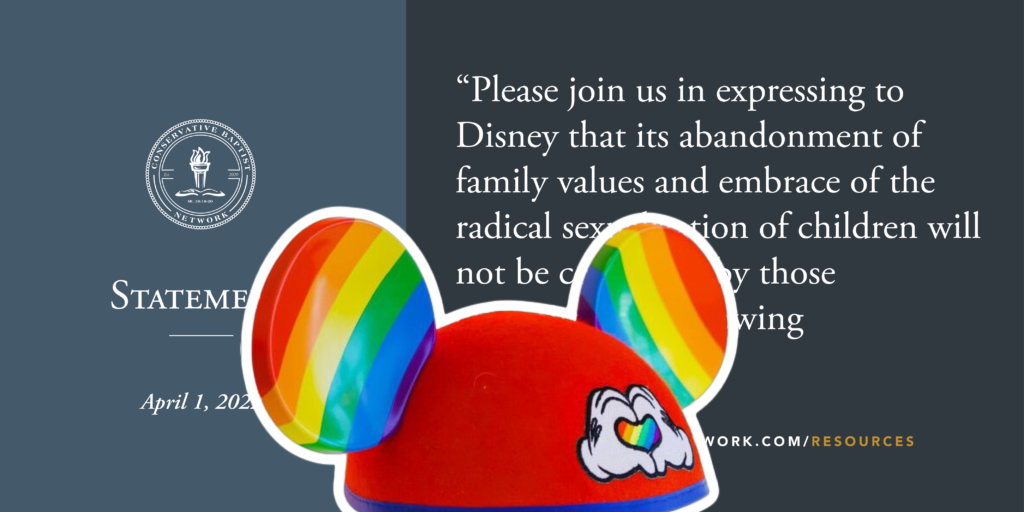 in 1997, the SBB voted to Boycott Disney over the revelation that they were offering health care benefits to same-sex partners and "gay-days" at the park. Richard Land declared at the time "when Disney crosses to the other side of the street, there's a sense of betrayal and outrage. You can't walk the family side of the street and the gay side of the street in the Magic Kingdom at the same time."

During the convention, they handed out pamphlets listing over 100 entities associated with Disney to boycott, including movie studios, trade journals, and theme parks. The vote to boycott Disney was so overwhelming that they didn't even bother taking a vote.

25 years and "there's no drift within the SBC" later, the SBC Executive Committee is openly promoting discounted tickets to messengers at Disney's theme park.

In fact, in a promo piece where Vice President of Communications for the SBC Executive Committee Jonathan Howe talks to a travel agent specializing in Disney tours, he prominently features a Buzz Lightyear action figure. This is ironic given that Disney just announced they are restoring a kiss by two lesbian characters in the new Buzz Lightyear movie that had been previously cut.
This is all being done while Disney goes to battle against biblical sexual ethics and against Florida's parental rights bill that prohibits teachers from indoctrinating young children with their sexual perversions. In fact, videos leaked featuring the megacorporation's executives saying that they want to make half the characters in their films LGBTQ or underrepresented and that there is a "not-at-all-secret gay agenda" and they are regularly "adding queerness" to children's programming. Furthermore, Disney announced that they are removing the words 'ladies', 'gentlemen', 'boys' and 'girls' from their theme parks, in order not to alienate or offend those who are transgendered and in further efforts to groom them.
Let's see if the #SBC issues a statement about #Disney's new direction. #boycottdisney pic.twitter.com/OFJSpDljJd

— Dr. Carol M. Swain (@carolmswain) March 31, 2022
In light of these revelations, the Conservative Baptist Network has released a statement urging "Southern Baptists to defend children against radical sexualization and gender confusion" by boycotting Disney, writing:
In light of recent revelations displaying a desire on the part of Walt Disney Company leadership to expose children to homosexuality and transgenderism….We call on Disney to reverse course and stop its explicit assault on parents' rights and its assault on children. Until then, we cannot, in good conscience and Christian witness, encourage fellow Southern Baptists to support a company bent on this ideological course.

…While Southern Baptist Convention leaders have announced an arrangement with Disney that offers messengers attending the SBC Annual Meeting in Anaheim discounted tickets to Disneyland this summer, the Conservative Baptist Network urges Southern Baptists to choose another family activity rather than support the anti-biblical agenda now clearly present within the Disney corporation.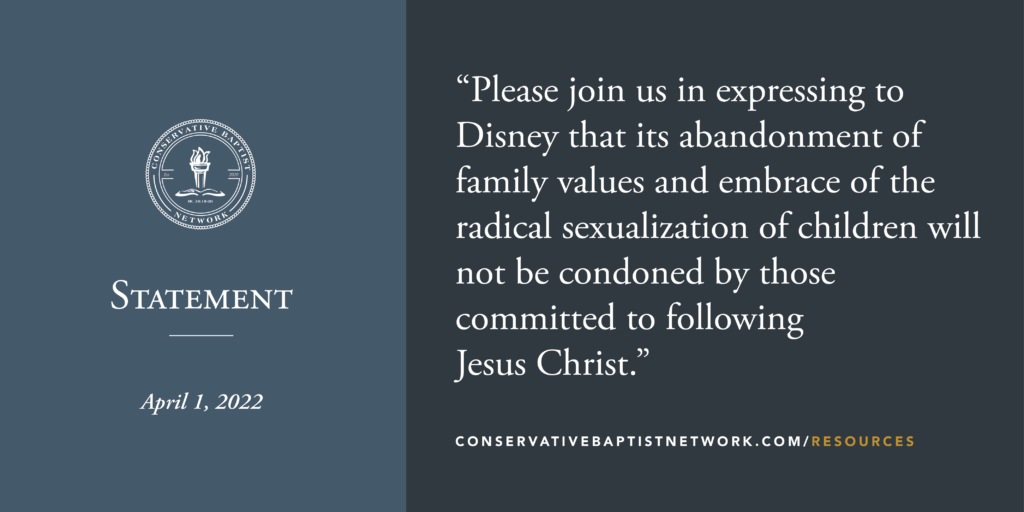 Let's see what the Executive Committee does Nest