Beth Moore Preaches Sermon At Church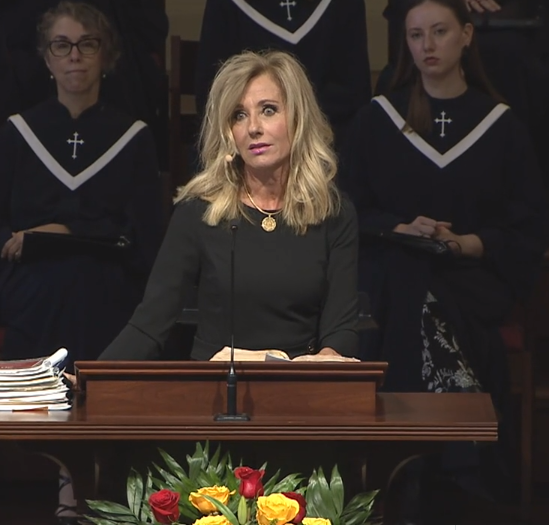 When speaking of her decision to leave the Southern Baptist Convention, Beth Moore frequently cites two causes- her denomination "giving Donald Trump a pass" after he made the gross "grab them by the p****' comments, as well as the outrage and blowback she received for preaching a sermon on mother's day at her church.

Though we've known about it for years, explaining over and over again that Moore has no problem with women preaching and supports the endeavor, critics have raked us over the coals for these claims, whining that we were reading into things too much and were being ungracious with our charge, even after pointing out that she's made a habit of preaching during the morning service.

To this point, earlier in the year she appeared on a podcast and pled her case that preaching on Mother's Day was completely justified. She claimed the exemption on this one day was allowable because she was, after all, a mother, whereas the pastor preaching is not and has never been, thus giving her the necessary qualifications on account that "there is not a man on the earth standing at a pulpit who has ever been a mother." She told him:
I need to tell you Marty because this is going to probably tell you as much about me as anything else. I spoke again last year on Mother's Day, and I'm speaking again in a few weeks on Mother's Day because by golly, there is nothing inappropriate about coming before a congregation and speaking to Mother's Day and speaking to mothers when I promise you there is not a man on the earth standing at a pulpit who has ever been a mother.
Well, Beth Moore has been preaching again, and she can't pull the mother's day card this time. Moore preached the Sunday Morning sermon at South Main Baptist Church in Houston, Texas on October 24, 2021-a church that left the SBC a decade ago, and consequently has several pastrixes on staff.
Given that Beth Moore is a good communicator but a wretched exegete, her sermon comprised of the usual fluff and theological hot flashes we've become accustomed to hearing from her. With the news that Moore recently became a member of a denomination that allows for women pastors and her own church frequently has women preach, there should not be any doubt left that Moore was lying for a long time about her views on the matter, and the influence and riches she was able to gain within the SBC by keeping them concealed.