Giveaway! Win 1 of 3 tickets to Stream New Abolitionist Film 'A Storm Comes Rolling Down the Plain'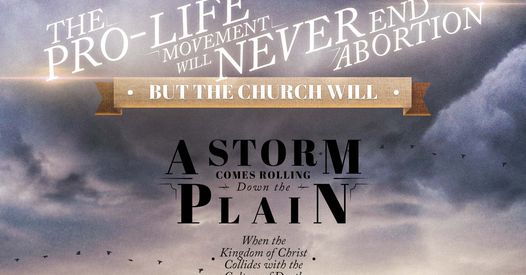 Rescue Those has released their documentary film 'A Storm Comes Rolling Down the Plain', a chilling and eye-opening documentary that recaps the history of the efforts to abolish abolition in Oklahoma and the plots over the years by the pro-life movement hellbent on stopping them.

It shows the journey of several key pastors who were once apathetic incrementalist pro-lifers, and their personal journey for them and their church into passionate, immediatist abolitionists and the impact they've had in the state and the rest of the country.

In many ways, Oklahoma has been 'ground zero' for the victories and momentum of the abolitionist movement in the last decade They were the grassroots force that helped candidate Dan Fisher who ran in part on a platform to abolish abortion to receive nearly 8% or 35k votes in the 2018 gubernatorial election primary (the top candidate only received 29%). They helped to nominate and achieve wins for other abolitionist politicians in the state. They spent years promoting Senate Bill 13 in the state. They host Abolition Day, and played a major roll in leading Oklahoma SBC Convention to pass a resolution calling for the immediate abolition of abortion.

This is all the while exposing the recalcitrant and sabotaging Pro-Life Movement in the state who have been nothing but thorns in the side of abolitionists and have done all they can to condemn and derail efforts to make dismembering, burning, and poisoning babies in the womb illegal in its entirety.

Of particular note is that recently, several of the men featured in the video were absolutely instrumental in passing and promoting the bombshell Resolution to Abolish Abortion at the 2021 SBC this past summer, including writing the language.

This film documents all that, and more. We don't endorse every person who participated in the film, but it is a fascinating insight into the struggle between the two movements, and important for every professing pro-life person to view.

For this reason, we are giving away 3 passes to download and stream this film. In order to enter the draw, all you need to do is share the trailer on any social media platform- Gab, Facebook, Twitter, Instagram, anything, and then screenshot your status update and post it on our Protestia Facebook page under this article. Winners will be chosen on Wednesday.
A Storm Comes Rolling Down the Plain from Rescue Those on Vimeo.