Andy Stanley says 'You Have To Offend White People' Or Else They'll Never Repent Of Racism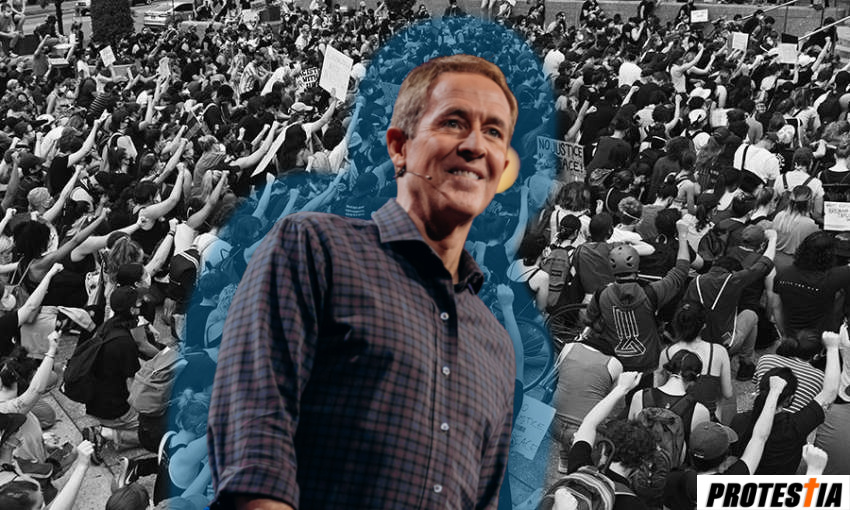 North Point Community Church "impastor" Andy Stanley continued his wretched job of smarmily assessing what's wrong with Christendom and then explaining why he and his church are nailing it 24/7- this time as it pertains to issues of race and racial reconciliation. Usually one famous for pushing the seeker-sensitive model, when it comes to topic he advocates for blunt conversation and an insistence on 'offending white people' in order so they can confront how racist they truly are.
Stanely has been on a roll since the pandemic hit, telling members that the "Foundation of our Faith is not the Whole Bible," that the Lord does not require them to meet for church, that George Floyd was "This Generation's Samson," and to "Sleep late and skip church" during Father's Day.

From the 400 Leadership Summit hosted by the OneRace Movement, when asked how he gets his church engaged in anti-racism work, given that his church is predominantly white and won't care about this issue, as it hasn't affected them much, he explains:
You have to offend white people with this topic [racism] to get their attention. It can't be stated in balanced tones or we don't even hear it, because no white person really thinks they're a racist and they don't even think they're prejudiced. We don't. And issues of reparations, all those things, it's like, "Well, that wasn't us and that wasn't you, and why are we even talking about it?"

I really am convinced you have to push harder on that topic to even get a white man's attention. And I know this from personal experience, in terms of things said in sermons, things that our other pastors have said in sermons that finally, you know it's only when we get negative email that I know, well, we finally got their attention. They finally heard what we were saying, because it is so it is buried, so deep, and it is so easily dismissed.

And especially for white men who have very few interactions with black men or have virtually no black friends who are in conversations within, which we can talk about in a few minutes.

so part of it is, you know, the scripture addresses so many topics, but when it comes to this topic, because virtually no white man thinks they are guilty, it's not enough to-, you have to push and push and push to the point where, "Hey. wait a minute. I think you're pushing an agenda." Well, you're finally listening. I've finally gotten to that point of your conscience that it's bothered by this.
---

h/t to WokePreacherTV for the clip and transcript.