Video: Police Arrest 3 Congregants from Doug Wilson's Church For Singing Hymns Without Social Distancing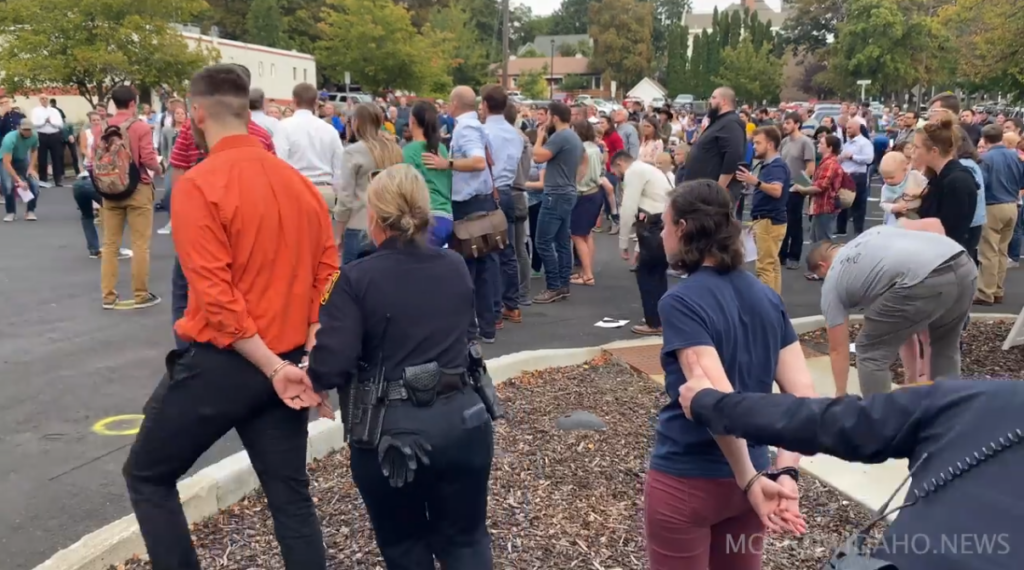 Police in Moscow, ID have arrested three members of Christ Church, the church led by Pastor Doug Wilson, because they were singing hymns in public without social distancing.

The arrests took place at a Psalm Sing event where around 150 people, mostly congregants, gathered to sing three acapella hymns and then the doxology at Moscow City Hall in an event organized by the Church on Wednesday afternoon.
There were 5 people in all who were cited for being in violation of Moscow's mask/ social distancing orders.
Moscow Police Chief James Fry said that they've been trying to be lenient with people not social distancing in public, "but at some point in time you have to enforce."
According to the Moscow-Pullman Daily news:
Of the five cited, two also were arrested for suspicion of resisting or obstructing an officer. The fifth, Rench, was arrested but not charged with allegedly refusing to identify himself to police, according to Fry.

Fry said the officer who arrested Rench knew who he was but that Rench refused to provide his identification after the officer requested it.
This Psalm Sing was not a one-time thing, however, as Christ Church holds similar events once a month at different venues and they usually last between 25-30 minutes.

Though it is not likely to be enforced to this degree, those who violate the order are subject to a misdemeanor, which carries a maximum punishment of six months in jail and a $1,000 fine.