Website 'ShowMeTheToes.com' Launches After Woman Claims Amputated Toes Slowly Regrown During Bill Johnson Sermon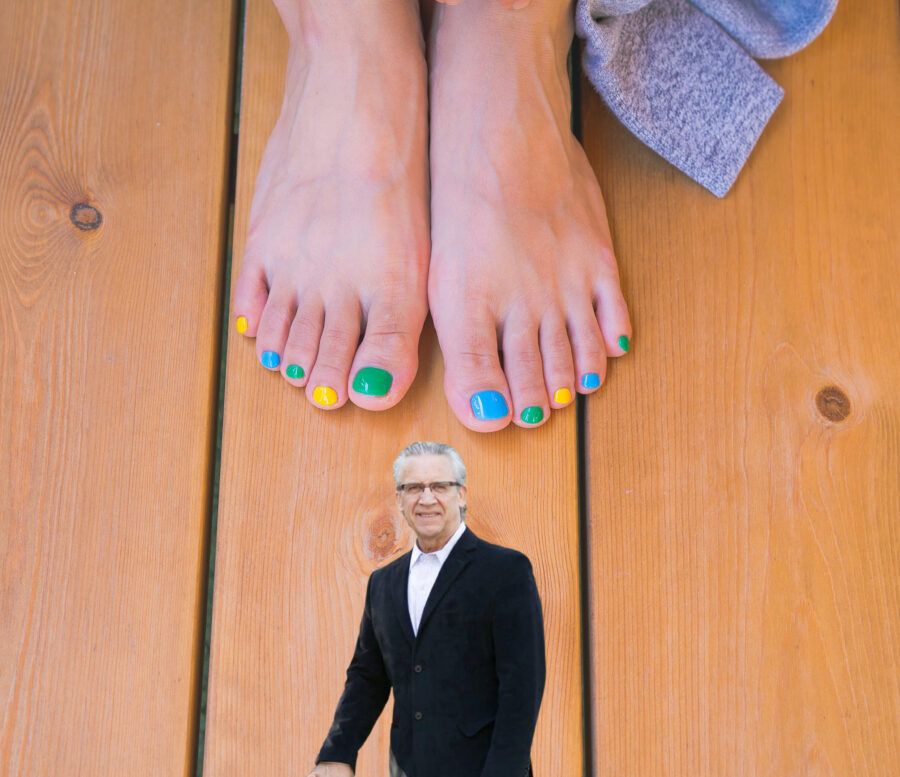 That's a weird headline.
Anyway. A woman attending James River Church's recent service is facing scrutiny and skepticism after releasing a video claiming that three of her toes that were previously amputated were miraculously regrown during a healing service. According to reports:
The services were part of the church's "Week of Power," which included services by guest pastors Bill Johnson Of Bethel and Randy Clark.

During the March 15 livestream, (pastor) Lindell said that during a service hosted by Johnson, "prayer team members" prayed over Kristian Dines. Lindell said Dines had three toes amputated after her then-husband shot her in 2015. In 2021, Stephen Thompson was convicted of shooting and killing Carissa Gerard and critically injuring Dines…

"As the ladies prayed for Krissy over the next 30 minutes, all three toes grew, and by that point, were longer than her pinky toe. Within an hour, nails began to grow on all the toes," Lindell said in the livestream.

The video where Dines shared her testimony about her toes growing back has since been removed from Facebook, but still exists on Twitter. In it, Dines said that she had three toes amputated in an accident, but after attending a service at James River Church where women prayed over her feet, she witnessed the amputated toes re-forming.

"Tonight, I can stand on my tippy-toes. Listen, do you understand?" Dines said in the video. "I can stand on tippy-toes. No, I couldn't do that because I didn't have toes to tippy on."
One attendee described the event this way: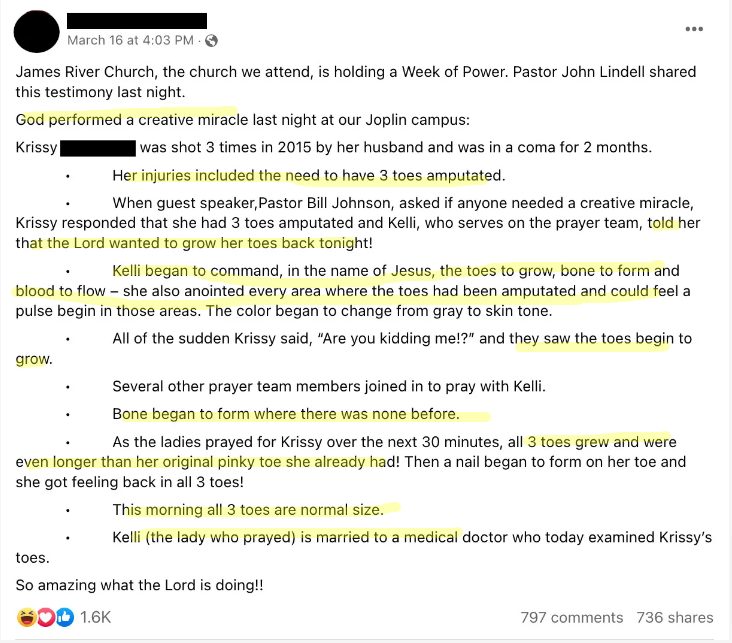 In Kristina's own words:
Despite the toes taking 30 minutes to grow back, slowly, slowly, sloooooowly forming blood, bone, and cartilage, no one thought to take a video, which would be the first time in the history of the world this would be caught on tape, and would undoubtedly provide almost irrefutable proof of the miraculous.
Following this news, the website ShowMeTheToes.com lauched, citing Luke 17:14: "And when (Jesus) saw (the lepers), he said unto them, Go show yourselves unto the priests. And it came to pass, that, as they went, they were cleansed" and urging anyone involved to show proof that this actually happened.
In a subsequent service, Pastor Lidell says he has no interest in talking more about it or providing proof to doubters, saying, "(I'm) protecting sheep who are vulnerable…that's my first concern, it's for her. So, you know, if that bothers you, I'm sorry."