SBTS Prof. Says Same-Sex Attraction is Not Sinful, and Those Who Disagree Sound like Satan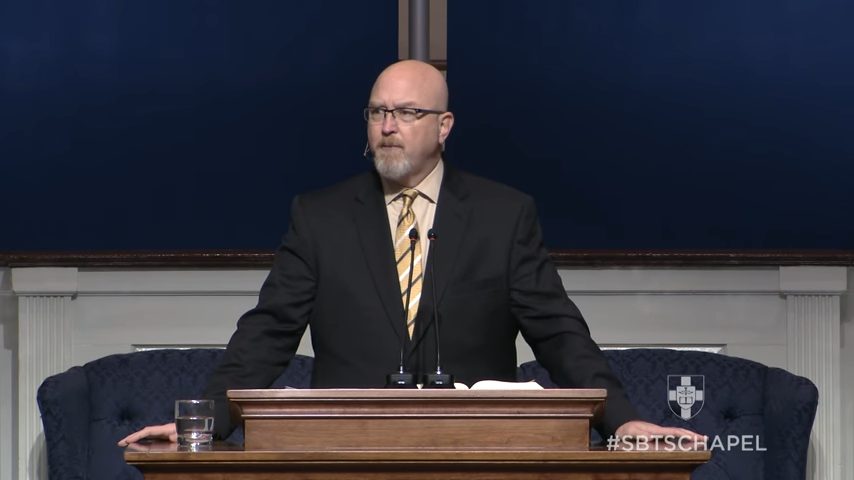 David Prince is a long-time professor at Southern Baptist Theological Seminary (SBTS) the 'Pastor of Preaching and Vision" at Ashland Ave. Baptist Church in Lexington, Kym and a frequent contributor to the ERLC. In an article on his website, Prince argues that same-sex attraction is not a sin and that if you disagree with him, you are acting like Satan.
Temptation is not the same as sin. Temptation can certainly lead to sin but maintaining the distinction between temptation and sin is vitally important. Getting this wrong destroys our Christology and creates a culture of unnecessary guilt in the life of a Christian. Misplaced guilt is one of the chief weapons of our serpentine accuser (Rev 12:10).

The discussion of how believers and churches should respond to brothers and sisters in Christ who struggle with same-sex attraction has led some evangelicals to argue that the attraction itself is sinful, even if the Christian remains chaste, and in obedience to Christ never yields to the temptation. Of course, same-sex attraction is simply one among many ways all believers are tempted to sin. How we answer the question of the relationship between temptation and sin has huge implications for every Christian…
In the comment section, when pressed, he adds:
…I am arguing that same-sex desires and same-sex orientation are in that category of groaning — waiting for the redemption of our bodies. Which means they are in the same broad category with all kinds of disordered bodies and minds and emotions. If we tried to make a list of the kinds of emotional and mental and physical brokenness of the human family, the list would be unending. And all of us are broken and disordered in different ways. All of you are bent to desire things in different degrees that you should not want. We are all disordered in our emotions, or minds, our bodies."
This act of theological malfeasance was discovered by Pastor Jared Moore, who offers commentary on it in a video, demonstrating how Prince gets it completely wrong. Later, Moore points out: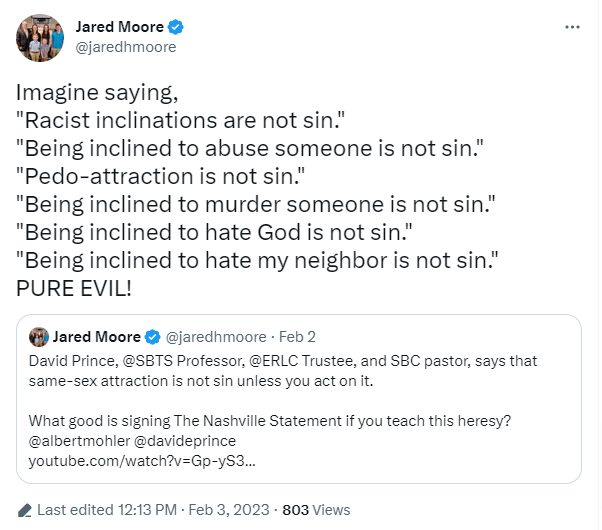 The Dissenter offers this commentary as well, pointing out that one thing is not like the other:
"Men desiring to have sexual intercourse with other men and women with women is not described anywhere in Scripture as an "emotion," but rather "πάθη ἀτιμ," which is translated as "dishonorable passions" in the ESV, "degrading passions" in the NASB, and "vile affections" in the KJV. Further, these degrading passions are described as a state of being demonstrative of a mind, body, and spirit that has been "given over" by God to the "lusts of the flesh." Sexual attraction is not described as an emotion, but rather thoughts and desires that can either be natural or unnatural.
And since homosexual attraction is described in Romans 1 as a mind being "given over" to the "lusts of the flesh," In the same chapter of Romans (chapter 8) that Prince cites to try to remove the stigma of homosexuality and redefine sexual sin as "brokenness," he fails to acknowledge that just prior that in verse 7, that "the mind that is set on the flesh is hostile to God," because it does not, and cannot, submit to God's law."