Pastor Mocks Those Upset About His Bad Preaching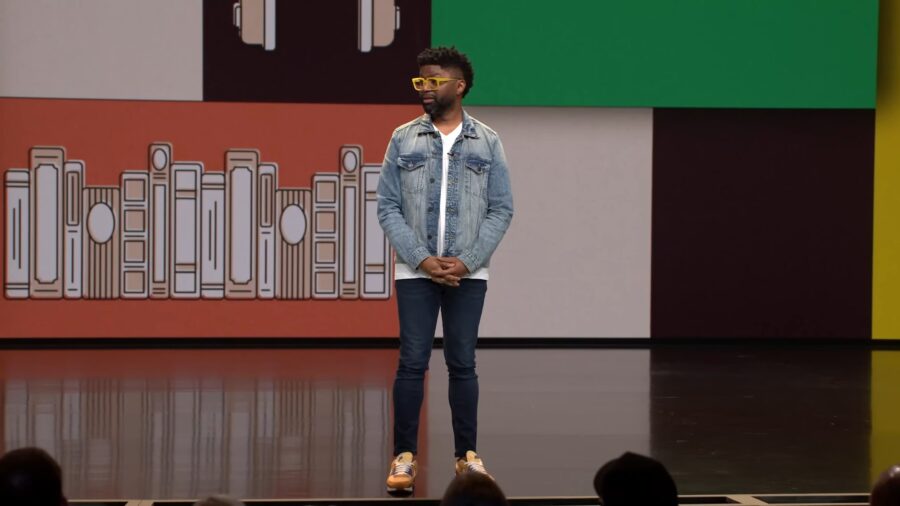 Life.Church is an 85,000 member, seeker-sensitive, multi-site based in Oklahoma that has nearly 40 locations. They use the attractional model to bring in unsuspecting potential parishioners, including the gimmicky seeker-sensitive Night at the Movies, metaverse online "church services", and motivational Ted Talk style preaching. With the church adopting egalitarianism and woke theology, the church's pastor, Craig Groeschel, has an eisegetical style that has best been described as "Joel Osteen lite
The church regularly hosts popular cultural Christian figures like financial adviser Dave Ramsey, Duck Dynasty's Sadie Robertson Huff, and Hillsong pastrix Christine Caine to give spiritual Ted Talks in lieu of Biblical preaching.

Recently, they had guest pastor Tim Ross of Embassy City Church, a sister church of Gateway Church, to preach the message. During the sermon, he engages in a little mockery of a group of Christians who were upset over a message he preached (and judging by this one, they have good cause.)
I've been preaching for 26 years, and I've gone some places and I've had people love what I've had to say, and I've had some people hate what I've had to say. I preached the church in Australia a few years ago, and afterwards all these people lined up to say thank you and they were blessed. And all these people came to Jesus, we had a massive altar call, it was awesome.

And there was a group that I noticed that was allowing everybody to go first before they wanted to come up and talk. It was about eight of them. And when you got so many people lined up saying 'great message, great message, great message, great message,' you can get encouraged. And so I was so encouraged. And I'm like, 'Oh my goodness!'

And so this group that had eight people, they waited to the end, I'm like, 'wow, they must want to say it in unison', and maybe they wrote a song about how great my sermon was. I have no idea how they wanted to do this, but let's hear it. And so I go over there, and the ringleader, the guy's arms folded like this.

And I was like, 'hey, guys. Like the sermon?' (he replied) 'No. As a matter of fact, I don't even think you were in the Bible. I don't even think your message was theologically correct. As a matter of fact, I doubt the validity of the people that just gave their life to Jesus, because I don't know if I just heard a sermon or if I was at a comedy show.'

I was like, 'Oh, wow. I can see that ya'll didn't like the message that much'. And I said, 'Well, it sounds like you're really passionate about Scripture, as am I, but it seems like we don't agree on the delivery. I feel like I did what I was supposed to do.
We don't think the delivery was the problem, but rather as the man states, the content.
And this guy said 'no, because you didn't preach against sin'. And I was like, 'I'm sorry, what'd you say?' (He goes) 'Yeah, you didn't like, tell them about their sins.' I'm like, Do you know how many there are? And like, if I was to read like the screen credits of every sin, how could I ever get to the good news?

At the end of it, he was way smarter than me, so he quoted like four chapters from memory. Then at the end, I just said, 'Hey, the enemy would love to cause division, can we just pray?' And this dude refuse to even unfold his hands to pray. To which everybody else in his group was like, 'Dude, we can't be that petty. I'm praying.'

…We post our stuff on Instagram and social media to have a team that does that, and we get all kinds of reckless stuff in the comments. People are like, 'yeah, that was a great sermon.' Somebody else is like 'you are the worst preacher I've ever heard. Click my YouTube link for the breakdown of how horrible Tim's message is.'

They have way more time than I do. By the time they're editing the video to talk about how terrible I was, I've just won three matches of 2k 22 NBA. Ya'll thought I was reading the Bible again- I have to have a break."
---
Bonus: In a recent promotional YouTube short from the same sermon "God Needs You," he says:
He needs you. I'm gonna say something to you that is going to be so sobering, but I hope it's encouraging to you at the same time. Do you not know that the Holy Spirit in you only has you for the time that you're alive to reach people through your personality and expression in a way that he's never had prior to you in human history, and will never have, after you go back to be with him forever. Which means for the time you're here, the worst thing you could do is rob us of you.

Later, he tells people they need to stop praying for their neighbors salvation and go greet them, because "(God's) like, 'as soon as you knock on the door and say 'hi,' I can upset their world.
While such a statement undoubtedly flatters the minds of tens of thousands of folk who gather together for a concert, movie, and Ted Talk at Life.Church every Sunday, God undoubtedly doesn't need anything from anyone, and his success in saving those whom he would save is entirely unrelated to "your personality and expression." God doesn't need anyone's permission or intervention before he can "upset somone's world". The idea that God needs anyone or anything is a blasphemous distortion of the nature and character of God.

As the Apostle Paul stated in his address to the pagans at the Areopagus a few verse after the ones he quoted from in his sermon:
The God who made the world and everything in it, being Lord of heaven and earth, does not live in temples made by man, nor is he served by human hands, as though he needed anything, since he himself gives to all mankind life and breath and everything. Acts 17:24-25
Perhaps He should have read the whole book book through.