Pastrix Says Jesus Called Syrophoenician Woman a 'B*****' + "Jesus Screwed Up, She Redeems Him"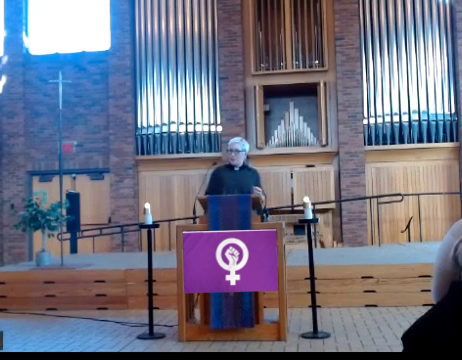 Augsburg University in Minneapolis, Minnesota, is affiliated with the morally and theologically decrepit Evangelical Lutheran Church in America (ELCA) at this point a foul-smelling holding pen for goats. During their March 11, 2022 chapel service, pastrix Andrea Roske-Metcalfe preached a message from the chapel series: "A Series on Female-Identifying Leaders Who Participate in Proclamation."

Totally eye-twitching stuff. It should not be lost on anyone that the series is not about "women preachers" but rather "female-identifying preachers" in order to include transgender and non-binary pastrixes. Metcalfe explains that Jesus really 'screwed up' when he encountered the Syrophoenician woman, but that she redeems Him in the end.
"This has been my favorite bible story for a very long time. It used to be because it's such a blatant example of the humanity of Jesus. He screws up bigger here than in any story I know. That's still the case, but this is my favorite bible story today because of the Syrophoenician woman's improv skills, because the Syrophoenician woman says, "Yes, and…"
and
"This woman is an outcast. Jesus does not seek her out. He never intended to talk with this woman, a Gentile. He slipped into an empty house to take a break, to get away from all the people. She follows him. She pursues him, she corners him.

Her daughter is sick, possessed, unwell. This woman has heard what this man can do. She is desperate. She has nothing to lose, so she asks him to heal her daughter. And Jesus responds by calling her a bitch.

He said to her, 'let the children be fed first'. He is referring here to the children of Israel to the Jews. So far, they have been the entire focus of his ministry, but then he continues, 'for it is not fair to take the children's food and throw it to the dogs'.

There's not enough to go around, he could have said to her, not enough healing, not enough blessing, not enough God for you or your daughter. That would have been hard to hear. But this Jesus is tired, he is frustrated, whatever is going on with him. He calls her people, dogs…this Syrophoenician woman, this marginalised, Outcast woman whose daughter is sick, she comes to Jesus for help. And he calls her a dog right to her face.

She could have slapped him. We would have forgiven her for that, yes? We would have understood. She could have told him off, yelled and screamed in his face, we would have forgiven her for this too. But she does none of these things.

Instead, she shifts to improv."
She concludes by saying that Jesus was caught off guard by the woman engaging in 'improv' by agreeing with her that she was a dog, in the same way that the Russian troops who bombed Turtle Island were caught off guard by the Ukraine soldiers allegedly saying "Go F*** yourself" And yes, she says the word in full.
"I would bet good money that Jesus wasn't expecting that. Like I don't care if he's the son of God. He didn't see that coming. This is the beauty of improv. This is what makes it so subversive. Nobody sees it coming.

…Jesus screwed up. The Syrophoenician woman used her improv skills to call him on it. Jesus changes course. And this story marks the beginning of His ministry among the Gentiles. Dear friends, I find my redemption in Jesus Christ, but on this day in this story, the Syrophoenician woman is the one who redeems Him, who calls Him back to Himself, who calls Him back to His calling."
---