Blast from the Past: Congregants 'Healed' after Doing the 'Holy Ghost Hokey-Pokey'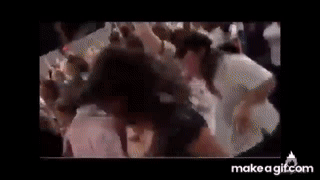 In February of 2010, during a service at MorningStar Church in Fort Mill, South Carolina- the charismatic enclave founded by NAR grandaddy Rick Joyner, Jerame Nelson took the stage. Nelson, a traveling evangelist and the founder of Elisha Revolution, told a packed crowd that there was such a thing in Christendom called the 'Holy Ghost Hokey-Pokey' an anointed worship and prayer song, and that several weeks prior 40 people were healed while they worshipped to it. This caused great excitement from the masses, who vigorously participated in it.

After this nifty little piece of strange fire was performed, several, alternating between tearful and joyous, folk came forward to testify of mighty healing miracles being performed on account of this jig, including, as enumerated by Jeff Doles:
A man who had pain in his knees for a couple of years (from jumping out of airplanes).
A woman healed of back pain.
A woman with back pain from scoliosis, totally healed of pain.
A woman with neck and elbow pain from a car accident is healed.
A man with pain in his left knee (from running) is healed.
Another woman is healed from severe back pain.
Nelson explains:
I'm gonna tell ya. Three weeks ago we did a Friday night 'School of Spirit; and we saw 12 healed (during) the 'word of knowledge' and 40 healed during the 'holy ghost hokey pokey'.

Let's just go ahead and do that- see what the Lord does. You guys okay to do a little holy ghost hokey-pokey? All right. Brian's going to lead us in the holy ghost hokey pokey.

Put your right hand in, you put your right hand out. You put your right hand in, you take your right hand out. You put your right hand in, and you shake it and you shake it all about…."
They would later go on to stick other parts in, including the legs and the "whole head" in and out, shaking it all about, so that Jesus could "heal your memories" and heal Alzheimer's via this process.
Much like the Charismatic Day of Infamy', we will never forget it.
---
h/t to Shawn of Revealing Truth for reminding us of it.