Andrew Cuomo Uses Pulpit as Prop: Tells Church 'God's Not Finished With Me Yet'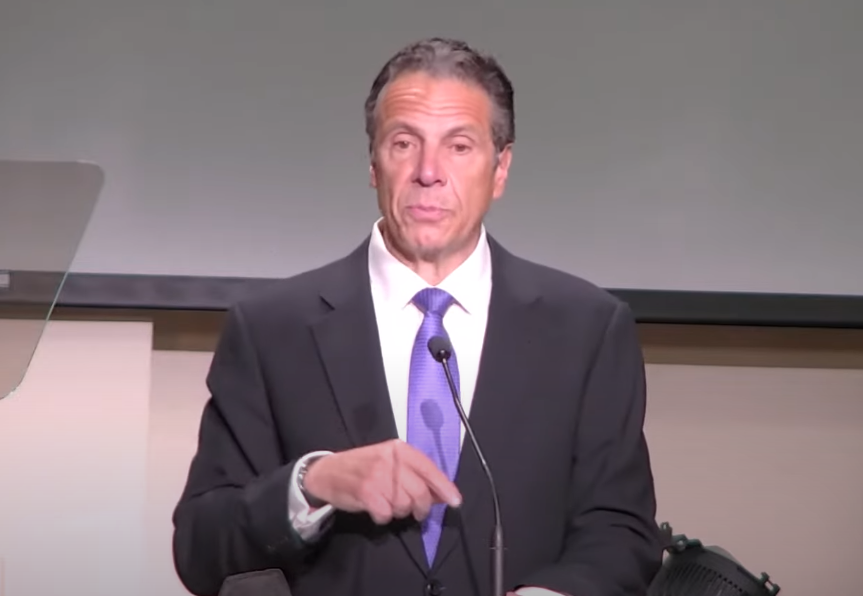 Former New York Governor Andrew Cuomo, a man who resigned in disgrace after dozens of allegations of sexual misconduct were brought forth against him by 11 women, took to the pulpit at God's Battalion of Prayer Church and spent 25 minutes citing scripture and defending his record from all critics and claims brought before him.
It was bizarre, but not unexpected to hear Cuomo declaring that 'God is good,' on account of being about as pagan and wicked as they come, both in his personal life and in the perverted policies he has been instrumental in implementing. Not only from the women come forward with claims of groping, unwanted kisses, and years of gross sexual jokes and innuendo constantly flowing from his mouth, but he signed into law the most extreme abortion-on-demand law in the entire nation, and then ordered a host of New York City landmarks to be lit up in pink to celebrate the occasion, which are the official colors of abortion giant Planned Parenthood.

Cuomo, who cites his extremely nominal Roman Catholic faith whenever he thinks it could be politically or personally advantageous, told the congregation:
"I want to thank you for having me here today as we celebrate the first Sunday of Lent. As you probably know, I've gone through a difficult period the past few months. I resigned as governor. The press roasted me. My colleagues were ridiculed. My brother was fired. It was ugly. It was probably the toughest time of my life. And it was the first time that I was glad that my father wasn't with us anymore, so he didn't have to see it."

Now I haven't spoken about it in public yet because I wanted to talk about it here with you because God's guidance is helping me through.

'Let go, let God.' I believe in life. God sends us challenges. Life will knock us down at some point. And then, the question is, what do we do in that moment? Do we get angry? Do we feel sorry for ourselves? Or do we learn from it and get up from the mat. But it is hard. It is very hard. It's a struggle. It's a bridge that one needs to cross, and it's a long bridge.

But the bridge goes from anger to acceptance, from resentment to reconciliation. I am now working to cross that bridge. And I believe that God has a reason for our path. I pray on it, and the Good Book has offered me guidance. Psalm 46 tells us God is our refuge and therefore we will not fear though the earth gives way."
Throughout the message that saw him pause several times for applause, he noted the importance of speaking "his truth." He thoroughly denied any responsibility for any claims against him, from the way he handled COVID in the nursing homes to his interaction with his brother Chris Cuomo of CNN, to the way he interacted with women. He bemoaned how politics have become so mean and asserted that he was simply a victim of cancel culture, that his behavior hasn't changed in 40 years, but instead it's the younger generation that has been too sensitive.
For some people, especially younger people, there's a new sensitivity. No one ever told me I made them feel uncomfortable. I never sensed that I caused anyone discomfort. I was trying to do the exact opposite, but I've been called old-fashioned, out of touch, and I've been told my behavior was not politically correct or appropriate. I accept that. Social norms evolve…but I didn't appreciate how fast their perspective changed."

"And I should have. No excuses. I am truly, truly sorry. I've apologized many times, and I've learned a powerful lesson, and I've paid a high price for learning that lesson. God isn't finished with me yet and every day I ask him for his guidance to help me grow and help me learn.
In response to the message, NY Attorney General Letitia James pulled no punches, remarking: