Popular 'Conservative' Egalitarian Argues the ESV is a Scummy Translation on Account of…'Line Breaks'?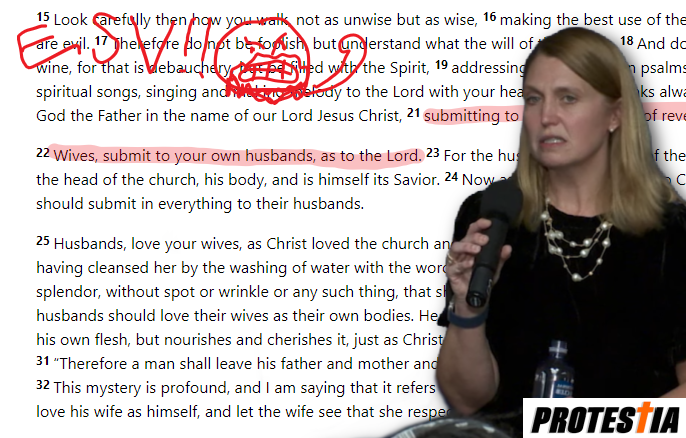 We recently told you about Beth Allison Barr, a prominent "conservative" egalitarian that thus far refused to affirm that the scriptures are inerrant, claiming that the term has been weaponized and she just won't say it.
Barr is Professor of European Women, Medieval & Early Modern England, and Church History at Baylor University and author of the best-selling book The Making of Biblical Womanhood, which seeks to refute the complementarian position and challenge the notion of "biblical womanhood" that is in fact biblical.

Berean Patriot, who has done a stellar book review of her work that completely dismantles it from top to bottom, notes that she writes on pages 50-52:
Likewise, Ephesians 5 can be read as a resistance narrative to Roman patriarchy. Many scholars argue that Paul subordinates his entire discussion of the household codes under verse 21, 'Be subject to one another out of reverence to Christ.'  When this verse is read at the beginning of the Ephesians household codes, it changes everything.
In a talk given to Baylor University students on December 8th, 2021 promoting her book, Barr reiterates this:

The ESV is not a bad translation, it's 90 to 95 percent the RSV. Seriously, all they did was change the RSV. And where they changed the RSV is what matters. And they changed it mostly in places regarding church leadership and women. That's mostly it.

…And so you can even think, like in Ephesians 5, what the ESV does, is it separates the verse between, you know, 'submit to each other as to the Lord' and 'Wives submit to your husband,' and that's an artificial separation, and it changes the meaning of the text.


Does it though? @WokePreacherTV shared a few examples of what these line breaks would look like, in order to uncover the massive, earth-shattering changes to the text the understanding that this gnostic knowledge brings:
So basically it nothing changes at all.

Thankfully, we had two commentators on Twitter who understand the game that is playing here:
---
Editor's note: H/T to @WokePreacherTV, primary source extraordinaire.