Cheating Pastor Tavner Smith Caught in November: A Tale of Boxer Briefs and Spilled Chili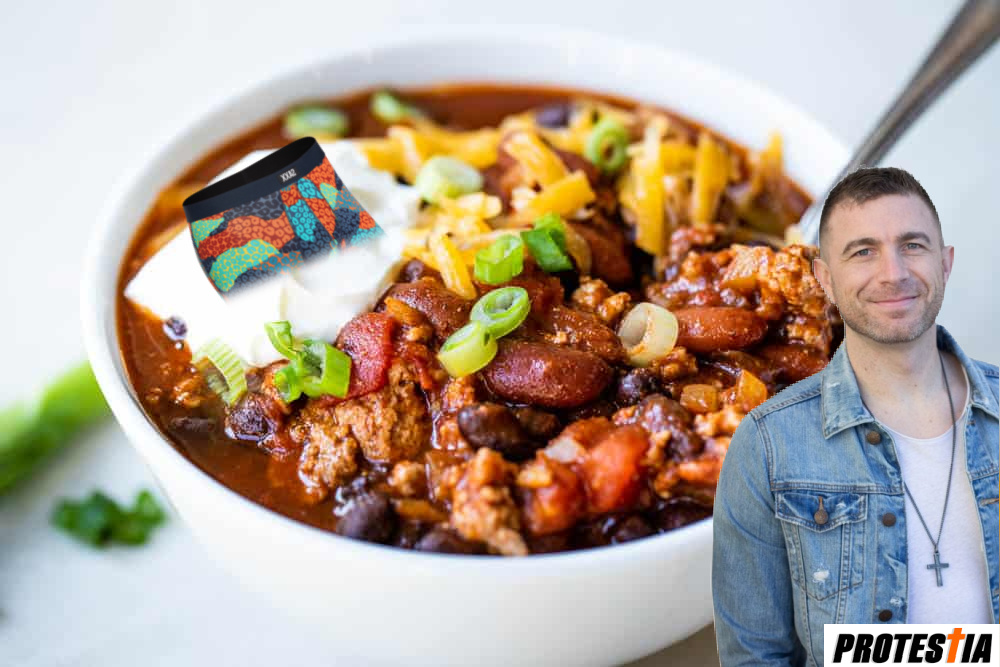 New details have emerged in the 'Pastor' Tavner Smith scandal, further demonstrating the power and control the disgraced impastor enjoyed for years over his flock, with the fact that he will soon be returning to the pulpit the further proof of the Driscollian hold he has over his congregation.

It's no surprise that Smith finds himself here. His theology is a jumbled mess of prosperity preaching, wretched theology, charismatic mumbo jumbo, vision casting, the pursuit of 'impossible dreams', an insatiable ask for money and seed-sowing, and constantly positioning himself as hearing directly from God and being the conduit to the heavens.
Like most cult of personalities, this led him to escape accountability. With no elders or guardrails, the structure was created to allow him to indulge in his baser passions without anyone being able to call him out on it, resulting in rumors swirling since early 2020 that he was being unfaithful to his wife.

It was during this season in the early months of the pandemic that he began to change his appearance. He started growing his hair out, got new tattoos and piercings, and started spending a lot more time with one of his female employees. They became inseparable and could be seen posting 'I love you" on each other's social media, but would deny any wrongdoing when confronted, claiming they were 'loving each other in the Lord'.

Last month, Tavner was caught sharing a dinner and a kiss with this very woman, and in response to this evidence of not just an 'affair' but rather of CLERGY SEXUAL MISCONDUCT, eight employees of the church quit, sending the 1000+ member congregation into turmoil and making the front page of many Christian news organizations.

That was in late December.

Let's talk about what happened in November that has not been reported.

A month prior, several volunteers headed off to Smith's home with the intent to raise his spirits in the form of a surprise visit, according to one of the party members speaking to TheDailyBeast. What they found was their pastor in his boxers and worship leader Lexi Elisha in a towel.
The charismatic 41-year-old hurriedly explained that the two of them had been making chili and hot dogs and gotten food on their clothes, according to one volunteer who was present. But, as the volunteer put it, "I don't think none of us was that dumb."

"If she dropped chili on her clothes, why are you in your boxers?" she recalled thinking. "Was y'all like, throwing chili at each other?"
At the time Smith was technically still married to his wife (whom he shares three children with) and his paramour married to her husband. For the volunteers, this confirmed long-held views by many in the church, given that effusive praise and attention these fornicators were lavishing on each other in the year leading up to this surprising revelation.

Despite catching them alone and literally in the near-nude alone together, this wasn't enough to bring him down, After all, they could not 'prove' his story false.

The video hit a month later, the physical evidence that this crop of staff needed to depart, and that's what made the news. But lest anyone think the only big exodus of staff happened last month, think again. In late 2020, a number of full-time staff members left as well, though this was not reported on.

In early 2021, Smith announced that he was divorcing his wife. Though he never said why, she was much more direct, citing "adultery" as the cause of their marriage ending.

After he announced his divorce, he was told by his board to take six weeks off from preaching in order to attend counseling and take a break. Tavner was back in the pulpit after two weeks, explained at God "told him to return."

Even now, despite the turmoil, Smith is raring to return and should be back in the pulpit in two weeks. His beloved worship leader has not resumed her duties during the morning service, though that may change once he returns. He hasn't completely distanced himself from his church, as he's still delivering customized greetings to his church that are played before the sermon, introducing the preacher to the congregation.

He hasn't publicly acknowledged the affair or confessed any wrongdoing, only announcing that he taking a sabbatical from church business in order to take some time to "fill up, spend time with God, and get some counseling" in order to come back "ready, refreshed and ready for the rest of the year."

With the way things are headed, and how they've shaped up so far, he likely has a long future ahead of him with this church.