Russell Moore Takes the Cash: Good Neighbor Exposed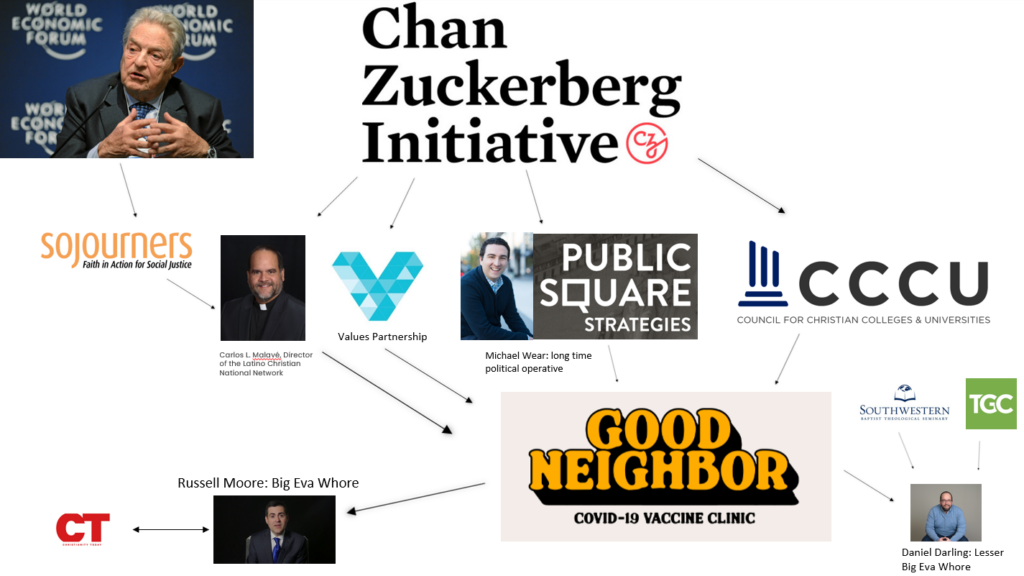 (Evangelical Dark Web) Not every figure in Big Eva is an enigma. Russell Moore is one of the simplest to understand as far as major influencers are concerned. And a webinar he did on December 16th had him peddling money to churches if they would become vaccination clinics for their congregation. The project, initiative, or organization is called Good Neighbor and they tapped Russell Moore and Daniel Darling to pitch this.
Daniel Darling is the director of the Land Center for Cultural Engagement at Southwestern Baptist Theological Seminary, and occasionally writes for The Gospel Coalition and mainstream outlets.
For an organization with deep ties, Good Neighbor is very open about it. Their website is a single page with a contact form that states:
The Chan Zuckerberg Initiative, in partnership with the Council for Christian Colleges & Universities (CCCU), Rev. Carlos L. Malavé, Director of the Latino Christian National Network, CVS/Walgreens, Values Partnerships, and Public Square Strategies, has established a partnership to support evangelical community and faith-based organizations that will host a vaccination clinic at their church, campus, or organization. The purpose of this effort is to ensure evangelicals have a convenient, familiar place to get vaccinated in order to protect themselves, their families and their faith community…

To continue reading, click here
---
Editor's Note. This article was written by Ray Fava and published at Evangelical Dark Web. Title changed by Protestia