Trump's Former Director of National Intelligence Attacks Sister-site Reformation Charlotte Over Anti LGBTQ Statements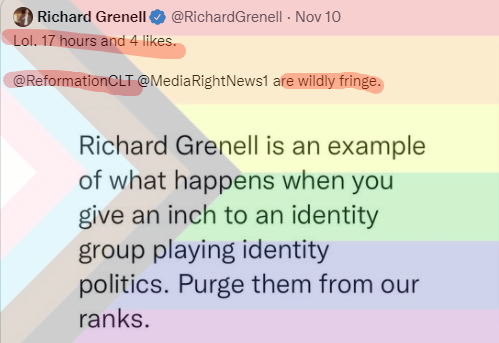 Yesterday Richard Grenell, President Trump's former acting Director of National Intelligence who himself is an open and out sodomite that famously called his boss "the most pro-gay president in American history," took a shot at Reformation Charlotte's Jeff Maples, our sister-site which recently was the cause of breaking the Ed Litton Sermongate scandal wide open.

After Grenell tweeted against Wendy Rogers, Maples retorted "Richard Grenell is an example of what happens when you give an inch to an identity group playing identity politics. Purge them from our ranks," which resulted in Grenell mocking the post and the fact that Grenell has over 600,000 followers compared to Reformation Charlottes 4000, and therefore illicit only a few responses.

Maples would later recount his reasons for writing, while displaying the uncompromising straightforwardness we've come to expect, writing over the course of several tweets.
(Grenell) wanted to demonstrate that few people agreed with me (I only have around four thousand followers compared to his 700 thousand). He singled out my tweet and called me "fringe… What's "fringe" is men sodomizing each other and calling it "conservative."

…The bottom line is that LGBTQ identity politics do not belong in the Republican party. Conservatism isn't about celebrating minority groups, normalizing aberrant behaviors, or advancing causes. It's about protecting the individual freedoms of all people and holding all people, individually, equal under the law. Do you think these people–who call themselves conservatives–are going to be okay with you when you speak out against LGBTQ indoctrination in your schools? No, they are not; this is why we can't be okay with this. This is nothing more than leftists attempting to move the Republican party further to the left.

No conservative, and certainly no Christian, should ever be okay with this.