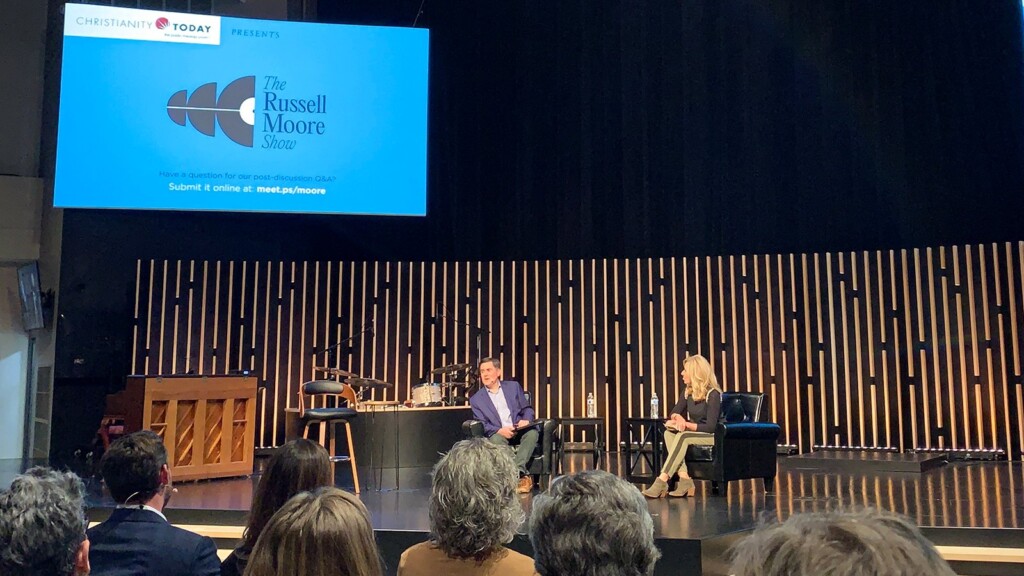 Former ERLC President Rusell Moore released the inaugural episode from his podcast reboot "The Rusell Moore Show." The show is part of Moore's new Public Theology Project, which he's doing in conjunction with Christianity Today, the progressive rag that he's found his new home at. This particular show featured a conversation between him and his fellow ex-Southern Baptist Beth Moore, spending the time in light banter while reminiscing about all the times they felt ashamed to be associated with their denomination and why specifically Beth left.
During the conversation, Moore claims that she was unfairly targeted and made a scapegoat so SBC pastors had something to deal with and focus on other than the budding sexual abuse crisis. Moore claims that she never desired the pulpit, and that she's never even heard of women wanting the pulpit in the SBC, despite 10% Of The Biggest Southern Baptist Churches Are Pastored By Women. She says:
I was very aware, in my young servanthood, of just your basic sexism, and accepted it because I truly believed until the autumn of 2016 that even though I found it very weird, and very off-putting and like, 'why would you be in an elevator with me and not speak to me? Why would you be in the same automobile with me? And not speak to me? Why would you not acknowledge that I'm even there? We're on the same team of speakers together'.

But I always thought, 'well, you know what, it's weird. But they, it's because of Scripture'. And then suddenly all of that unraveled and that was part of the trauma of it.

And so I had not been aware of flat-out misogyny until I got into the larger evangelical world. That was a shock to me. And I began to see what I felt like was a hard pull, where women that hate- you have to understand and I love to be able to tell people this because I think they find it shocking- you've got to understand as controversial as I have been, because I've obviously been trying to steal someone's pulpit, you need to understand that I'm telling you that 98% of my ministry has been to women.

I was called serve women. That's what I've spent my life doing. But what happened when the end came from me? And this is really the question that you're asking, I'm just taking a long way to get there. Two years ago May, I did something really, really foolish that I very, very much regret. And that is that I teased with someone on Twitter sometimes, you know, well, I'm a smart aleck. And so you know, I've kind of got a little sassy about something. And it was the late spring and Mother's Day was coming up. And she, my friend who is a speaker said something about it, she baited me a little bit, which she would admit to, and we would both get a little bit tickled over it.

But I (bit?) that date with everything I had. And I said, "Shhhh But I'll be speaking on Mother's Day, at my church" and I'd spoken on Mother's Day at my church for years. It exploded. To give you a little example, and for you to understand, for me, what is most injurious and what is less injurious is according to how personal it is.

For instance, when the big deal came out, where a very well-known figure (John MacArthur), in a very demeaning way, said that his reaction to my name to the name 'Beth Moore' would be go home. I mean, I didn't even have a big reaction to it. I stayed at a three of the whole time. Because it wasn't coming from my internal world. I was like, 'you know what? I'm not going home. You can't make me because you're not my boss."

But this one nearly killed me. It is the only thing in my denomination Russell that is ever nearly put me in the bed and caused me to pull the covers up over my head. I'm hard to put into that state because I'm buoyant. I am Tigger, I bounce back easy. But it absolutely exploded. And I've got hit so hard from my internal world, when I knew they knew better, and I felt like it was bearing false witness.

I knew that many of those pastors, there's many, many exceptions ya'll please understand that. I knew that most of those people that were spreading those rumors knew that it was not true.

I had never, ever been after a pastoral position in a church. Never. The most I would have ever spoken, In my church, it was when my pastor would ask me to which I, I felt you could find in the Scriptures for a woman to bring to be asked by her pastor to bring a word to the congregation, I'd only ever done it under those circumstances.

This was not someone trying to incite women to go take over the pulpit. This, I thought I have served your women for 35 years. You know, this is not true. And it's not fair. And it nearly killed me.

And you know people like to say to you in a situation like this. 'well, it was just a few'. This was not a few. There was nothing that was a few about this. This was not a loud few. No, it was like somebody blew a dog whistle. And it was like :attack. And it was explosive and almost nonstop.

And you need to understand it was at the peak of the biggest sexual abuse scandal in the history of our denomination. And suddenly, all anyone wanted to talk about was women trying to take over the pulpit of Southern Baptist churches. To this day, I do not know one. I saw again yesterday online 'these are the biggest threats to the denomination' and it was listed as one: "women coming after senior pastor roles"

Where? I need someone to turn me in a name. I need- I'm begging someone to turn me in a name. I don't- Russ I don't know one. Did I go too far?

So that, to bring that back around, that our inability to be able to look in the face of the sexual abuse situation, because we're going to defer to something that's much more palatable, where we can hold our heads up and have some dignity. So let's go for this over here, women trying to take over the church.

Women were not trying to, women are not trying to take over it, not in that denomination. Let's mourn and grieve. James says it's such an odd thing for him to say, when he says, 'grieve and mourn.' This is not when you have joy. This is when you grieve, and mourn over what is happening. And instead of doing that, we just deferred over here and let's like 'women are becoming a threat to the pulpit.'

No, no, no, no, no, forgive me. But the pulpit had become a threat to women. And it was terrifying.


Moore concludes by Asking Russell if she went too far, and he assures her that she did not.