Beth Moore Follows 'tHe ScIEncE' and Demands Unvaccinated Mask-Up if They Love Jesus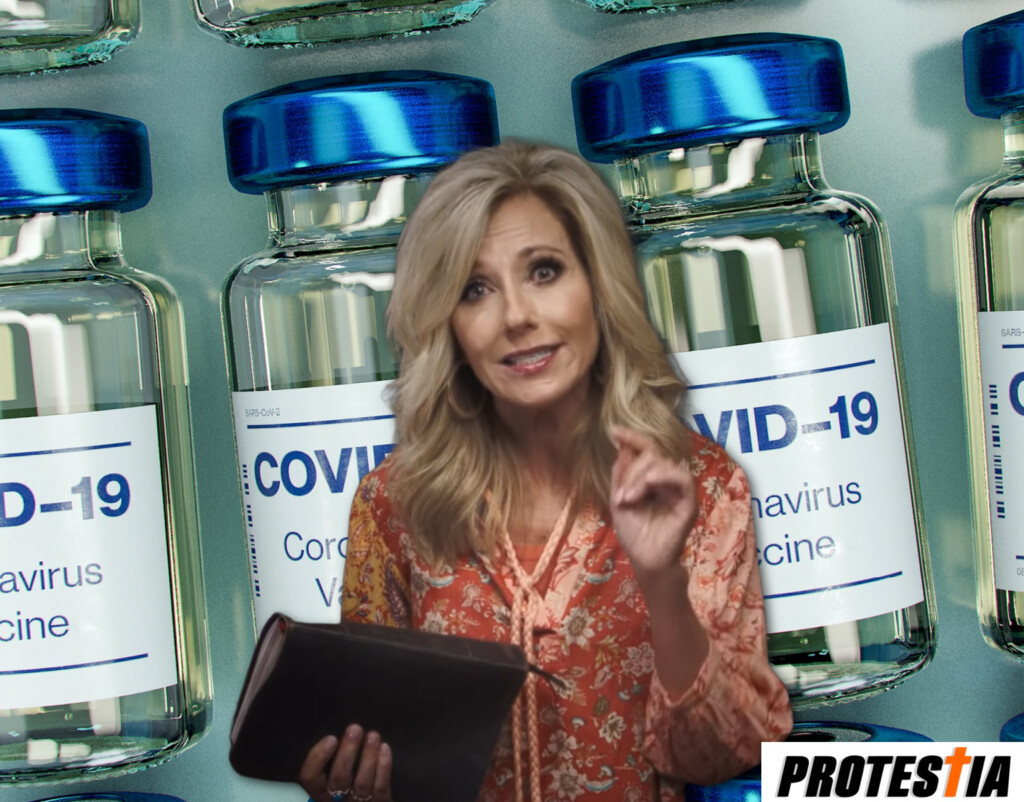 Beth Moore, feeling extra peevish ever since she threw off the shackles of the expectations of the Southern Baptist Convention, took to social media to explain that a refusal by unvaccinated people to wear a mask around "vulnerable people'- which themselves may or may not be already vaccinated- is sinful and unconscionable and is basically a sure sign that you care more about your freedoms and rights than their life.
Moore, for the uneducated, has notoriously led the charge into full-blown liberalism by the SBC for over 10 years, becoming more and more egalitarian, ecumenical, and brash in her disregard for scripture. Her theological ineptitude and outright horribleness is the stuff of legends, as she has routinely claimed direct revelation from God (like her famous tale of God telling her to brush a guy's hair instead of witnessing to him), affirming so-called woman pastors and those who affirm LGBTQ+, labeling her entire denomination racist, and claiming white supremacy is "running rampant" in the church. She has liked tweets dissuading believers from sharing the Gospel at BLM protests, resulting in her recent event in Monatan to be protested by Protestia supporters and it was recently revealed her ministry was hemorrhaging money.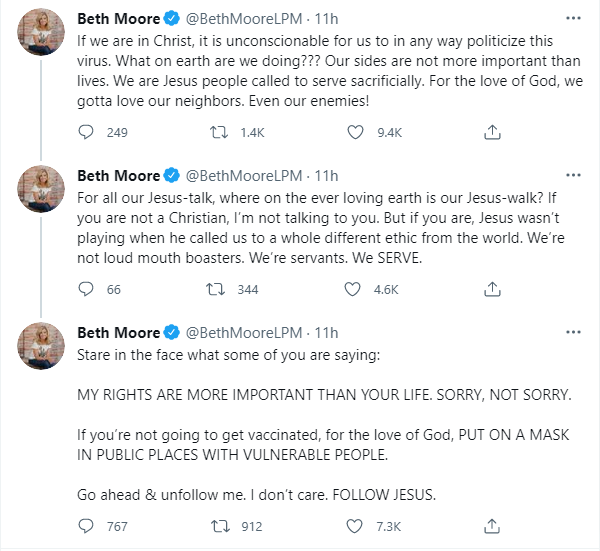 She goes on to say that refusing to wear a mask as an unvaccinated person demonstrates that you don't love Jesus, don't follow Jesus, you don't love your neighbor or your enemy, and for all intents and purposes, you might as well be stuffing the COVID droplets down their noses and killing them yourself.

She does this all while giving a distinct impression that she believes that if you choose not to get the vaccination right away, you are spiritually defective and are likewise failing to love your neighbor, serving as a walking and talking Russian roulette pistol, pulling the trigger with every encounter you have.

Looks like Beth Moore has discovered tHe ScIEncE and is now seeking to lay sin at the doorsteps of anyone who does not agree with her and her biblically, logically, and scientifically unsubstantiated assertions.

We told you Moore would behave this way, and this is only the first, small stutter-step.