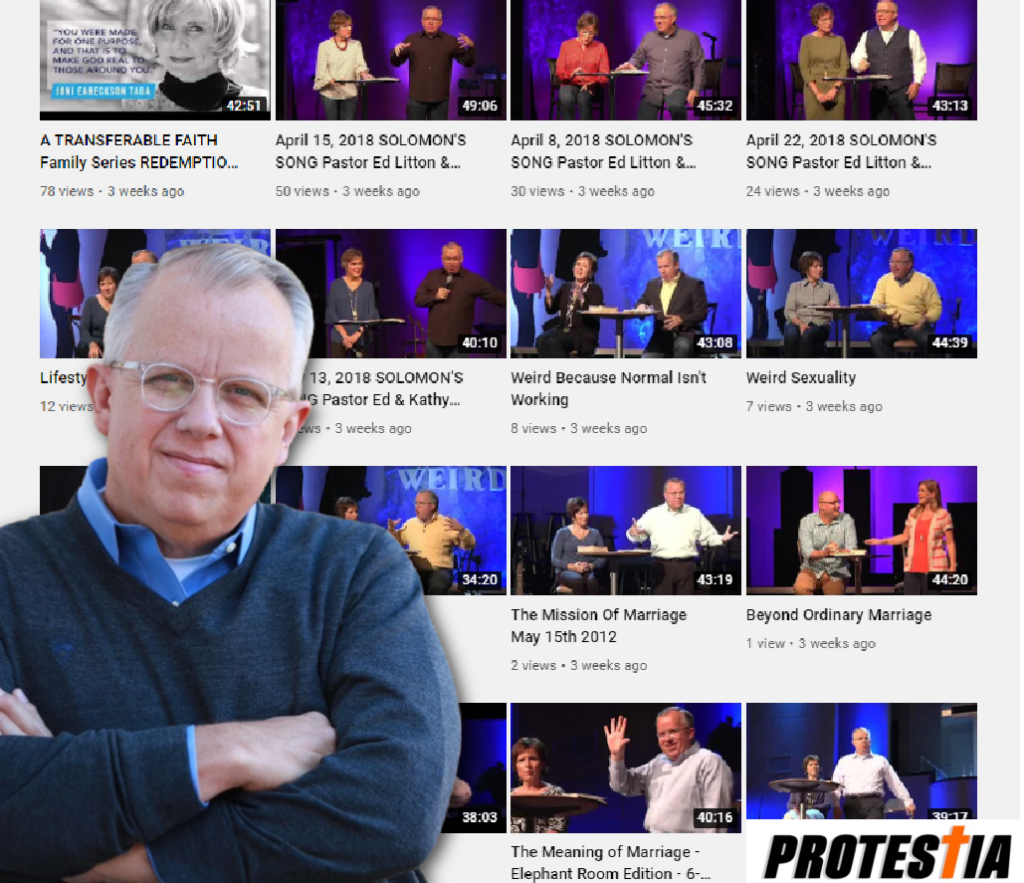 Videos continue to pour in documenting the fact that the embattled Southern Baptist President Ed Litton preached far more sermons with his wife than was originally thought, despite claiming that women do not preach from his pulpit.
At this point we have saved and documented at least 15 sermons, (courtesy of this guy) from both he and his wife Kathy, but also another couple named Justin and Trish took to the pulpit to preach between 2012 and 2018.

Said another way, between 5-8% of the sermons preached from Redemption Church in some of those years were by a woman.
In an interview with Alabama.com he justified his soft egalitarianism by explaining that he only preached sermons with his wife on marriage and family, as well that the BFM2000 doesn't always speak to them.
I'm a complementarian. I believe the roles that God gives us, I believe that the pastor, and this is right in line with the Baptist Faith and Message 2000, the elder of the church has to be a male, the primary teaching pastor. But I also believe in the autonomy of the local church. The truth is, the Baptist Faith and Message doesn't speak to my wife, with me, on a series on marriage, or a series talking about family…I don't contain all the wisdom in the world.

I believe the word of God does, but my wife is an apt teacher and she helps me communicate to our people. She also provides a voice that our people need to hear. So, I felt absolutely free, within my convictional status and the Baptist Faith and Message and the word of God, to invite my wife to come up. She is under my authority as her pastor. We did that together. I'm very proud of her. She did an outstanding job.
That's straight trash, of course, but as we've discovered with Ed Litton, who frequently bends or blows past the truth to fit his agenda, it's also a lie.

One of the sermon series he preached with his wife wasn't about that at all, but rather was as Capstone Report reveals, "a broader sermon series examining the Christian life, holiness, and overcoming worldliness. It is a similar title to the book and Bible Study by Craig Groeschel, WEIRD: Because Normal Isn't Working published in 2012…Sermons in the 2013 Weird series were: Weird: Because Normal Isn't Working, co-preached; Lifestyles of the Weird, co-preached; Weird Pleasures, co-preached; Playing Weird with the Truth, preached by Ed Litton; Weird Sexuality, co-preached."
In introducing the sermon series, Litton explained that "the ultimate purpose of this series is so that you and I will not only get comfortable with being weird but that we will embrace our weirdness and that we will encourage one another to be weird."

During his questionnaire for the Council of Biblical Manhood and Womanhood's Candidate forum, which he participated in order to win the presidency, he said that "The only ministry the Bible limits to God-called and qualified men is the office of pastor, which is rightly designated by the title of pastor and elder," he also specifically said that women do not preach from his pulpit: a revelation that is patently untrue.

Ed Litton is an unrepentant liar, and anyone wanting to learn more can watch this mini-documentary to learn more.