Antifa Attacks Street Preachers: Smashes Skateboard in Face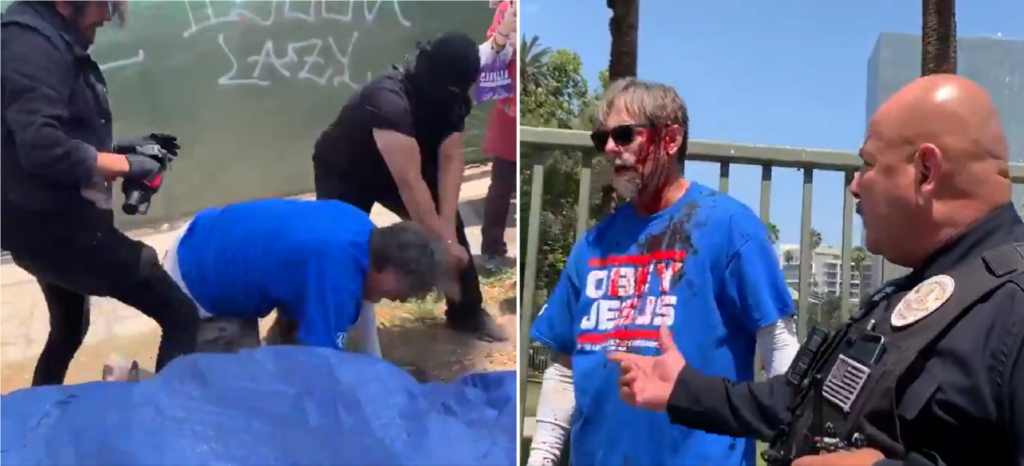 A group of street preachers* were attacked by a crowd of hostile protesters and Antifa agents, leaving at least one man bloodied and their property utterly destroyed in an act of intolerance and fascism that demonstrates the brazen hostility of the far-left movement.
The attacks took place neat the Wi Spa Saturday morning, where hundreds gathered in protest and counter-protest the storied salon after earlier in the week a woman's Instagram went viral after she complained about a naked man walking through the span and in the changeroom. She was seen on video asking the attendant behind the counter "It's ok for a man to go into the women's section, show his penis around the other women- young little girls, underage? Wi Spa condones that- is that what you're saying?" The attendant at Wi Spa confirmed that they did support it, on account of "transgender rights."

As a result, hundreds came out to show support for the spa, announcing to the world that they support sexual perversities being foisted upon young girls by creepy mentally deranged men.

These psychopaths encountered the street preachers, screaming at them, cursing at them, and then stealing and breaking their signs, feeling completely justified in their behavior. They further began pushing, shoving, punching and smashing eggs on their heads.

A man in an 'Obey Jesus' shirt pushed one of the women screaming and chasing away the preachers and their supporters, and he was quickly attacked by the crowd, with one degenerate smashing a skateboard in his face, leaving a gash in his forehead and blood pouring down his face. He was further kicked and beat until he was able to get behind a police officer, who finally arrived on the scene.
Antifa attack a group of street preachers in Los Angeles. One of the antifa smashes a skateboard on the face of a preacher. pic.twitter.com/EOPq3JzhnJ

— Andy Ngô (@MrAndyNgo) July 3, 2021
---
*We are aware of the highly problematic theology of men and women in these groups.