60 Pastors sign 'Open Letter' CONDEMNING Church doing Drive-in Services amid Lockdown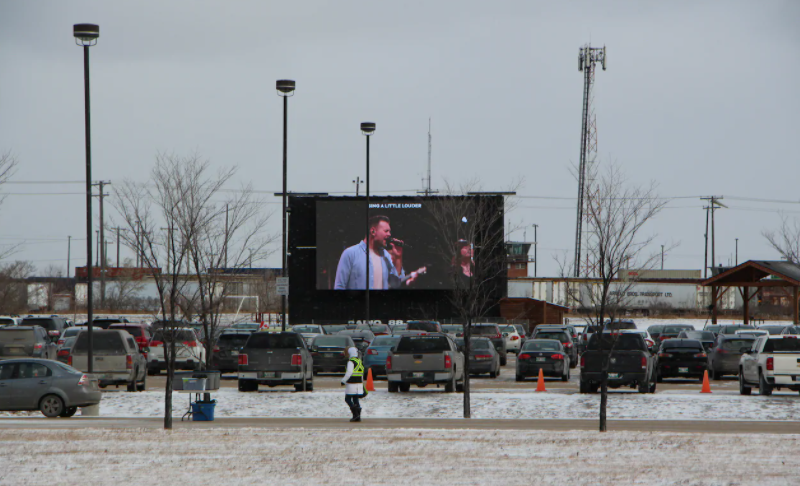 Springs Church in Manitoba, who finally went all-virtual this Sunday after being given out nearly $40,000 in fines for doing drive-in Church services, has been sent an open letter by other local pastors condemning the church, rebuking them for being open in the first place, and asking them not to take legal action against the province or fight for the right to stay open.

The letter, which is signed by over 34 local "pastors" and many from outside the province, comes in light of the province going into a nearly 100% lockdown and ordering churches to close. Despite the Church seeking to do drive-in services, where they don't even leave the car and have the sermon piped into the speaks via an FM transmitter, this has been deemed intolerable, with one church doing likewise harassed by police officers who showed up to block off entrance of the church and give $1286 fines.
The church took the province to court and lost their case on weekend. Church lawyers argued that their services were the same and no different than sitting in a drive-thru lineup or waiting in your car for curbside pickup. The Province countered that Springs had not shown that having church service in a car gathered together is "more beneficial" than a virtual service and the court ruled in their favor.

This whole fracas has caused a host of local clergy to rip off their masks and stab the church in the front, writing an open letter of rebuke, which is published in full below, and calls on them to apologize and repent for their great sin of having drive-in church.

A few salient points from the letter:
We find that your actions during the past days of encouraging Christians to disobey public health orders in the name of freedom are not an example of following Christ.

We find that your insistence on the right to worship is not in keeping with Christ's command to love our neighbour.
Given that the letter is signed by a bevy of pastrixes and effeminate men from progressive denominations, the church should counter, "I find your actions to hire an open lesbian who moonlights as an abortion clinic receptionist in her spare time to be the new worship pastor to be "'Not an example of following Christ' and 'not in keeping with Christ's command to love our neighbor.'"  We digress. [Editor's note: How can we not? Did you catch the language? "WE find…" instead of "The Scriptures say…"]
We find that your insistence on individual freedoms over collective responsibility are an affront to the many individuals, families, friends, community groups and other faith communities who are refraining from gathering for the sake of our neighbors.

We find that your focus on your own perceived loss (of not being able to gather for a short time) to be offensive to those 381 Manitoban families (as of December 5th) who have lost loved ones as a result of this pandemic.
What should the response of Springs church be, according to these folk?
That you repent of your actions and publicly apologize for putting your individual right to worship ahead of the good of our community.

That you publicly encourage your church members to remain at home and worship online while public health restrictions remain in place.

That you cease all legal action against the province and redirect those funds intended for legal costs towards a charity that truly helps Manitobans, such as Harvest Manitoba.
The author of the letter, not content to let the church go peacefully to on-line services, is still collecting signatures so that they can virtue-signal even more.

How perfectly vile of them.
---
AN OPEN LETTER TO PASTOR LEON FONTAINE AND SPRINGS CHURCH, WINNIPEG

Dear Pastor Leon and the members of Springs Church,

We are writing to you as clergy also serving faith communities in Manitoba and beyond.

During the past two weeks, Springs Church has garnered a lot of local media attention and sparked debate in our city and province regarding COVID-19 pandemic restrictions implemented by public health authorities. Springs Church has deliberately violated these restrictions in the name of religious freedom and subsequently lost a court challenge of these restrictions.

Much of the rhetoric coming from Springs church centres on the right of Christians to worship under the Canadian Charter of Rights and Freedoms. You have claimed that your drive-in services are safe and your right to gather in-person to worship outweighs the Province of Manitoba's right to restrict gatherings for the sake of public health.

Drive-in services may be relatively safe (but not as a safe as staying home) and the question of how the Charter of Rights and Freedoms is weighed against these public health orders has not been settled in court.

However, we are not writing to you regarding the epidemiology or legality of drive-in services.

We are writing to you as peers and siblings in Christ and as called and ordained ministers of Christ's Church.

We find that your actions during the past days of encouraging Christians to disobey public health orders in the name of freedom are not an example of following Christ.

We find that your insistence on the right to worship is not in keeping with Christ's command to love our neighbour.

We find that your actions disregard the dangers of COVID-19 in our community and that they only serve to create potential harm for our healthcare system and healthcare workers already pushed beyond capacity.

We find that your insistence on individual freedoms over collective responsibility are an affront to the many individuals, families, friends, community groups and other faith communities who are refraining from gathering for the sake of our neighbours.

We find that your focus on your own perceived loss (of not being able to gather for a short time) to be offensive to those 381 Manitoban families (as of December 5th) who have lost loved ones as a result of this pandemic.

Therefore we call on you to take the following actions:

That you repent of your actions and publicly apologize for putting your individual right to worship ahead of the good of our community.

That you publicly encourage your church members to remain at home and worship online while public health restrictions remain in place.

That you cease all legal action against the province and redirect those funds intended for legal costs towards a charity that truly helps Manitobans, such as Harvest Manitoba.

If and when these actions are undertaken, it would be our hope that they be a first step towards reconciliation between Springs and your sibling communities of faith in Manitoba.

Finally, knowing that we are not the first people of faith to live through a pandemic, we offer you the following quote from Martin Luther, written in 1527, about how Christians ought to respond to the Black Death:

Therefore I shall ask God mercifully to protect us. Then I shall fumigate, help purify the air, administer medicine, and take it. I shall avoid persons and places where my presence is not needed in order not to become contaminated and thus perchance infect and pollute others, and so cause their death as a result of my negligence. If God should wish to take me, he will surely find me, and I have done what he has expected of me and so I am not responsible for either my own death or the death of others.

*This letter also applies to any congregation refusing to follow public health orders under the guise of religious persecution including the Church of God Restoration South of Steinbach. *

Yours in Christ,

Manitoba Clergy:

The Rev. Erik Parker, Sherwood Park Lutheran Church, Winnipeg (Letter Author)

The Rev. Courtenay Reedman Parker, Messiah Lutheran Church, Winnipeg

Bishop Elaine Sauer, St Chad's Anglican Parish, Winnipeg

The Rev. Rick Sauer, St. Mark's Lutheran, Winnipeg.

The Rev. Ken Kuhn, retired (Evangelical Lutheran Church in Canada)

The Rev. Richard D. Schulz Pastor, Gimli Lutheran Church

The Rev. Nancy Walker, retired (Evangelical Lutheran Church in Canada)

The Reverend Theo Robinson, BTh, Incumbent St. Michael's Anglican Church, Victoria Beach & Pastor, Interlake Regional Shared Ministry, MNO Synod

The Rev. Don Engel, retired, (Evangelical Lutheran Church in Canada)

The Rev. Father Chad McCharles, Anglican Priest of the Diocese of Brandon, Incumbent of Neepawa United-Anglican Church

Jeraldine Bjornson, retired DLM, United Church of Canada

The Rev. Barton Coleman, Zion Lutheran Church Beausejour, Manitoba

The Rev. Kolleen Karlowsky-Clark, retired (Evangelical Lutheran Church In Canada)

Rev. Rachel Twigg, Saint Benedict's Table Anglican, Winnipeg

The Rev. Jennifer Marlor, Evangelical Lutheran Church in Canada, Winnipeg

Rev. Liz Carter-Morgan, St. Paul's United Church, Virden MB

The Rev. Canon Dr. Murray Still, Church of St Stephen and St Bede Anglican-Lutheran, Winnipeg

The Rev. Trudy Thorarinson, Grace-St.John's Anglican-Lutheran, Carman, MB

Rev. Matthew Brough, Prairie Presbyterian Church, Winnipeg

Paul Peters Derry, Ordained Minister, United Church of Canada (Retired), Postulate for Ordination, Anglican Church of Canada (Diocese of Rupert's Land)

Rev. Don Schau, Atlantic-Garden City United Church, Winnipeg

The Rev. Philip G. Read, St. Mary's Road United Church, Winnipeg

Reverend Barbara Roberts, ordained retired minister United Church of Canada

The Rev. John H. Giroux, St. Mary Anglican Church, Winnipeg

The Rev. Judith Whitmore Anglican, Belair, Manitoba

The Rev. Dr. Kara Mandryk Coordinator, Henry Budd College for Ministry, and Regional Dean, The Pas Deanery, Diocese of Brandon

Rev. Lynell Bergen, Hope Mennonite Church, Winnipeg

The Venerable Gordon Payne, retired, Priest of the Diocese of British Columbia. (But living and serving in Winnipeg)

Jamie Arpin-Ricci, Pastoral Leader Little Flowers Community (Mennonite Church Manitoba)

Kim Arpin-Ricci, Pastoral Leader, Little Flowers Community (Mennonite Church Manitoba)

Rev. Tyler Gingrich, Gloria Dei Lutheran Church, Winnipeg

Rev. Bonita E. Garrett, Retired, United Church of Canada

The Rev. Lynn Granke, retired (Evangelical Lutheran Church in Canada), Winnipeg

Michael Pahl, Lead Pastor, Morden Mennonite Church

Rev. Margrét Kristjansson, Rivers United Church, Rivers, MB

Rev. Donna J. Smalley, Retired [Evangelical Lutheran Church in Canada] Winnipeg

M.A.McCartney. Team Minister Oak Bank United Church, Oak Bank, MB

The Rev. Thomas J. Lurvey, retired (North American Lutheran Church), Winnipeg

Rev. Harold Peters-Fransen, Elim Mennonite Church, Grunthal, MB

Rev. Jim Vickers, retired, (Evangelical Lutheran Church in Canada) Waldersee, MB

Clergy outside of Manitoba:
The Rev. Matthew Diegel, Our Saviour's Lutheran Church, Thunder Bay, ON

The Ven. Wilma Woods, St Giles Anglican, Estevan, SK

The Rev. Brian Woods, St Giles Anglican, Estevan, SK

The Rev. Jerry Borkowsky, Assistant to the Bishop Saskatchewan Synod, Evangelical Lutheran Church in Canada

The Rev'd Robyn King, St Paul's Anglican, Leduc, AB

Rev. Fran Ota, United Church of Canada, Toronto, ON

Diaconal Minister Beth Kerr, Trinity and Atwood United Churches, North Perth, ON

The Rev. Arleen Berg Leishman, retired (Evangelical Lutheran Church in Canada) Thunder Bay, ON

The Rev. Murray Halvorson, New Hope Lutheran Church, Regina, SK

The Rev'd Justin Cheng, All Saints Anglican, Diocese of New Westminster, Burnaby, BC

Rev. Reg Berg, Prince of Faith Lutheran Church, Calgary, AB

The Rev. Lindsay Hognestad, Retired (Evangelical Lutheran Church in Canada) Regina, SK

The Rev'd Brandon Witwer, Christ Church Anglican, Calgary, AB

The Rev. Lyndon Sayers, Lutheran Church of the Cross, Victoria, BC

Bishop Cindy Halmarson, Retired (Evangelical Lutheran Church in Canada), Cobourg, Ontario

The Rev. Joseph McLellan, Bishop, Progressive Catholic Church of Canada

Rev. Sarah Bruer, Diaconal Minister (in search of call), North Perth Ontario.

Rev. Melany Cassidy-Wise, Ordained Minister, Rural United Ministry. Easton's Corners United Church, North Augusta Pastoral Charge, Bishop's Oxford Pastoral Charge, Maitland, Ontario

Rev. Wendy Molnar, Coronado Gibbons United Church, Sturgeon County, AB

Rev. Linda K. Douglas Grace Lutheran Church, Victoria, BC

Fr. Dick+ Kennedy, Palliser Parish, Anglican Diocese of Qu'Appelle.

The Reverend Boyd Drake, The United Church of Canada, Gatineau QC

Rev. Marie-Louise Ternier, priest in the Anglican Church of Canada, serving an Anglican-Lutheran Shared Ministry in Watrous, SK.

The Rev. Aneeta Saroop, Spirit of Life Lutheran Church, Vancouver, BC