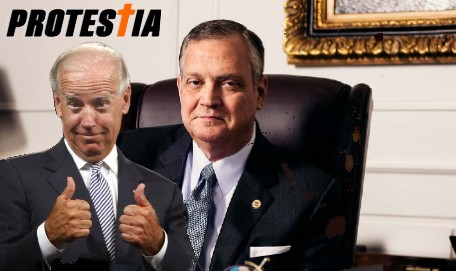 Much like Punxsutawney Phil, Albert Mohler emerged from his hole this morning to survey the political landscape and thus casting his wet, extended pinky to the wind, he guessed at which way the wind was blowing before stepping out to bravely provide his patronizing commentary to America's evangelical conservatives.
According to Albert Mohler, claims of voter fraud are dangerous.
No, voter fraud doesn't endanger our Republic according to Mohler…the accusations do.
Gosh, he's a terrible human. Just awful….Insufferable.
The president of Southern Baptist Theological Seminary, who often speaks out of both sides of his mouth on, well, pretty much everything, made the comments on The Briefing.
Mohler said, "Americans should be agreed that every single vote of every single citizen should be counted…"
Full stop. No. We should not be agreed on that. Rather, we should agree that every single eligible vote of every single eligible voter should be counted if was cast in an eligible place and in an eligible timeframe.
The devil is in the details (and so is Al Mohler most of the time). Mohler went on…

The seminary president, who has been breaking land-earth speed records hiring and promoting Critical Theorists, spoke out as though he were an election expert and rebuked POTUS for claiming there could be voter fraud.
Following the lead of his fascist Lilliputian apprentice Russell Moore, Mohler spoke with feigned authority on the subject as though he has some kind of esotetic knowledge of election security.
Mohler said, "President Trump has pointed to what he considers to be election irregularities but there is no serious credible concern [about voting irregularity] that is a matter of public record."
What the heck is Mohler talking about? There's tons of evidence of voter fraud.
One of the worst humans ever went on, "If there is any credible evidence that there was some effort to commit voter fraud on any widespread effort, then that needs to be identified and investigated, and if it does change the results of the election materially, America should deal with that."
Thanks, Al. We didn't know that until you said it. Thank you, oh great potentate and omniscient leader of the Latte Mafia and bowtie brigade.
If Albert Mohler could uselessly sit on the fence any harder he would defecate splinters. One can only imagine how Mohler and the soy boys will two-step to the right if things change significantly in the other direction.