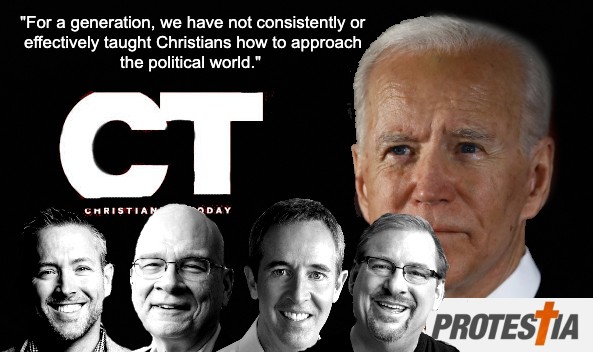 It's no secret that Christianity Today – the publication started by the Billy Graham Evangelistic Association – is working hard to get Joe Biden elected. They published an Op-Ed by then editor, Mark Gali, calling for Trump's impeachment last year. Galli has since left evangelicalism altogether, joining the Catholic Church because they have "five minute" sermons.
Christianity Today's editorial staff is notoriously liberal, featuring regulalry the "wokest" of writers including Ed Stetzer of Wheaton College and Karen Swallow Prior of Southeastern Baptist Theological Seminary. Two things are for certain; first, Christianity Today writers hate Donald Trump with the burning hatred of a thousand fiery suns, and secondly, they're trying as hard as possible to "create space" for a new kind of Christian orthodoxy that makes room for God-hating pagans, baby butcherers, thieves, racial agitators, feminists, and Marxists known as Democrats.
The National Association of Evangelicals is a team member in this effort to move evangelicals to the left, but this nothing new for the NAE. They were created as an ecumenical organization to serve as controlled opposition for the more liberal American Council of Churches, but soon broke left after their original founders – including Bob Jones and John Rice – were out of the picture. Its former president, Leith Anderson, bragged at his recent retirement that the organization has strived to be a "centrist voice" between liberals and conservatives (something that would have made its founders weep). Today, it's listed among organizations taking cash from George Soros' political money laundering organizations.
Along with American Awakening – a Dark Money-funded kumbaya organization that seeks to bring Christian Democrats and Republicans together – the organizations are launching a new program to either get Christians to vote Democrat or to be okay with those who do.
The First Principles Project has been launched for the purpose of convincing Christians that issues like baby-murder, sodomy, and theft are not big deals and shouldn't divide authentic believers from those who are alright with the Democratic platform.
The program has the cooperation of noted evangelical leftists including Tim Keller, Andy Stanley, Tony Evans, SBC President J.D. Greear, and Rick Warren, whose sermons will be used with their permission to help "broaden the tent" of evangelicalism to make room for progressive politicos.
The organization will brand itself as simply trying to help Christians be "civil" and be nice despite political differences, but is clearly purposed to convince evangelicals that the Bible doesn't have to be applied to their worldview.
Regarding this, Christianity Today editor, Timothy Dalrymple said, "Whatever policies or parties we support, we should all begin from shared commitments on why we engage in public life and how we do so in a manner that reflects the character of Christ."
Christ would beat Democrats within an inch of their life with a horse whip (if not tie a millstone around their neck and dump them in deep water) for supporting the wholesale slaughter of the unborn.
A press release from Christian newswire says that the above-mentioned leftists (Greear, Keller, Evans, Warren, Stanley, et al.) have "prepared easy-to-use original videos, transcripts, outlines, and discussion materials based on the best historic and contemporary thinking to encourage a biblical approach to [loving our neighbor].
A review of the material sent to Protestia demonstrates that the propaganda speaks of "justice" in broad terms and applies the concept to welfare, reparations, and immigration reform but not to the unborn.