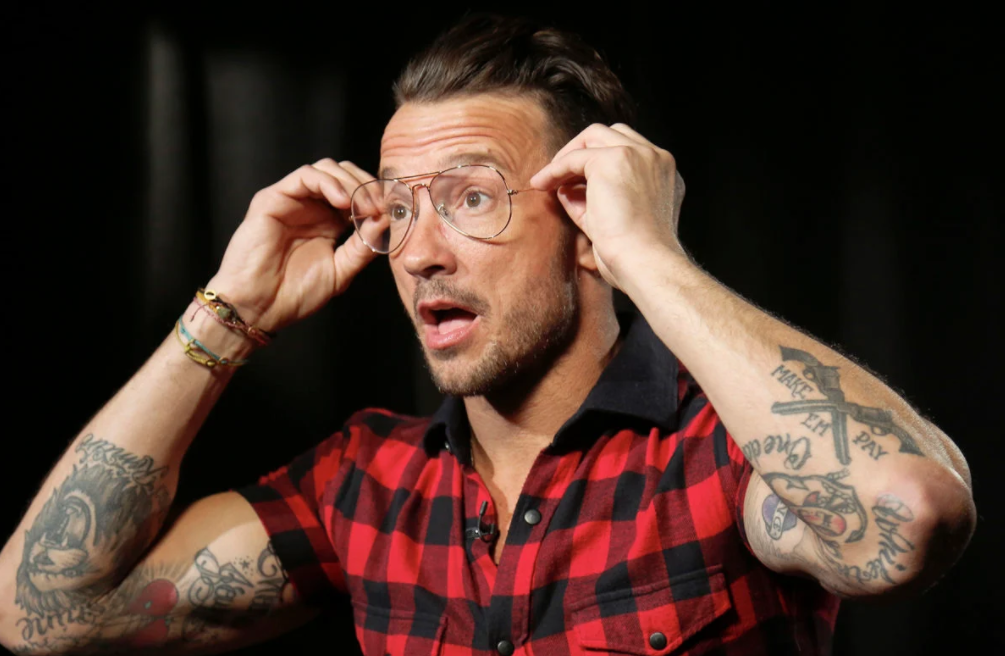 Carl Lentz continues to make clear that he doesn't understand what his role is as the so-called Pastor of Hillsong Church NYC, much to the great shame of all his congregants who keep on attending. We've known this for a while, of course. We knew it when he had an openly homosexual couple leading worship years ago.

We knew it a few months ago when he interviewed the infamous Trinity-denying heretic TD Jakes about racism and black lives matter, in lieu of a church service, fawning over him and encouraging his congregation to follow him. In fact, it was a little more than a month when Lentz said in an interview that Christian churches might be one of the biggest propagators of racist ideology in our country.
Now, in a recent interview with Logan Paul, Lentz set the context by sharing some false teachings with the assembled hosts, declaring that "religion" is terrible and that he doesn't believe in it. He tells them Christianity isn't about religion, but a relationship – taking a swing at Roman Catholics and spouting off other half-burnt theology you'd expect to come out of the mouth of a newly saved 11-year-old girl who just started reading the Message bible.

Because Lentz frames Christianity as a relationship and a two-way conversation, it prompts one of the hosts to ask: "Are you more of a facilitator than a church would you say?" Lentz replies:

So Catholicism for instance, their priests are really necessary. Right? The point of Christianity is for the leaders to not be as necessary. So my job is to teach you, or to encourage somebody else to know God so well, where I'm out of the picture. If anything, a pastor should be a bridge. But if you have a religious construct based on the people who are facilitating it, that's a problem, because you always need me.

So if I'm a pastor or a priest that wants to keep drawing people to me, I'm not going to tell you everything. I don't want you to be so good. I don't want you to be so free. I don't want you to be so free that you don't need me, so and I'm going to give you a little bit of guilt. I'm gonna preach something that's a little bit manipulative to keep you coming but we believe the opposite is true. If you preach the truth, people are going to want to keep finding that.

It should go without saying that the Bible is exceedingly clear that pastors and elders are a gift from God to the Church, that they are to exist until Christ comes back, and that they have a variety of purposes and roles. The idea the pastors exist to be a bridge for a time being and then disappear in a puff of vapor because the congregants are so knowledgeable and obedient that they don't need a shepherd anymore is certainly a new take – credit where credit is due.

His novel take is so deliciously awful and tragically misguided, it's almost enough to make one wonder if he's ever read the following 5 verses before, which lays out all those very things he denies and brings great clarity to a mind melted by biblical misapprehension.
He that descended is the same also that ascended up far above all heavens, that he might fill all things. And he gave some, apostles; and some, prophets; and some, evangelists; and some, pastors and teachers; For the perfecting of the saints, for the work of the ministry, for the edifying of the body of Christ:

Till we all come in the unity of the faith, and of the knowledge of the Son of God, unto a perfect man, unto the measure of the stature of the fulness of Christ: That we henceforth be no more children, tossed to and fro, and carried about with every wind of doctrine, by the sleight of men, and cunning craftiness, whereby they lie in wait to deceive; But speaking the truth in love, may grow up into him in all things, which is the head, even Christ: Ephesians 4: 10-15
This is not the last of wild things Lentz has said in this interview. The rest will be posted over the next few days.