Kroger Workers Fired for Refusing to Wear Aprons with 'LGBT logo' Sue Company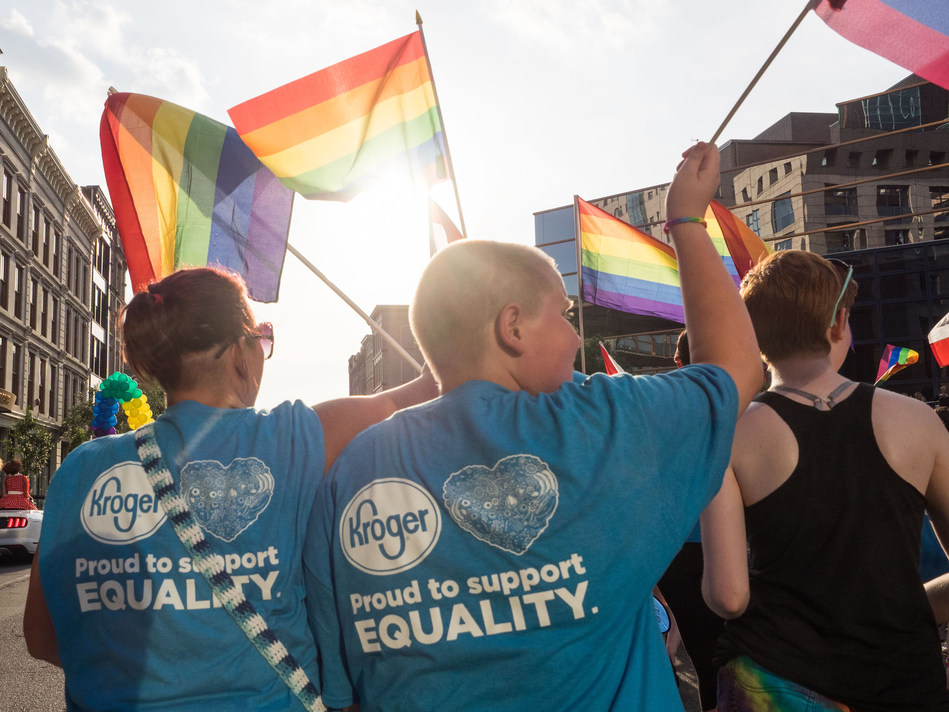 Grocery store giant Kroger, deemed one of the best places to work for LGBTQ equality in 2020 by the Human Rights Campaign, receiving a 100% score on the Corporate Equality Index and whose website says " we embrace diversity and inclusion as core values, and we ingrain these in everything we do" has been sued by two employees for violating the Civil Rights Act when it reportedly fired them for refusing to wear a store apron they say supports the LGBTQQIP2SAA community and cause. According to the Miami Herald:
"The Equal Employment Opportunity Commission, a federal agency tasked with enforcing anti-discrimination laws in the workplace, filed suit Monday in federal court against the Kroger Co. on behalf of two store employees in Arkansas, Brenda Lawson (Age 72) and Trudy Rickerd (Age 57), who say they believe homosexuality is a sin.

The Civil Rights Act of 1964 bars discriminatory employment practices on the basis of religion.

"(Kroger) refused to accommodate the religious beliefs of Lawson and Rickerd, and disciplined and terminated them because of their religious beliefs and in retaliation for requesting a religious accommodation," the EEOC said in the complaint."
The two employees who were both fired in 2019 had worked for Kroger for 8 years and 13 years respectfully. Believing homosexuality to be a sin and against their religious beliefs, they were aghast when Korger instituted a new employee dress code policy that required them to wear a new apron with a rainbow heart embroidered on it, which they believed to be supporting LGBTQQIP2SAA advocacy.

The two employees asked the store manager multiple times for accommodation or exception, such as wearing the name stage over the logo or wearing a different apron, but these were denied and the two eventually fired or refusing to abide by the dress code.

While the two are seeking " an injunction barring the grocery chain from future discriminatory practices, back pay, relocation and job search expenses, compensation for emotional pain and suffering, and punitive damages" they may not get their wish.

Critics have pointed out that the colorful heart symbol has nothing to do with LGBTQQIP2SAA advocacy, but rather part of the stores 'promise campaign.' They note that the tri-colored heart doesn't in any way represent or look similar to the rainbow flag that 'has long been recognized as a symbol of the Romans 1:26-27 community and is often flown in June to celebrate Pride Month', but rather has different coloring, design, and has never been communicated that it has anything to do with that advocacy and promotion.