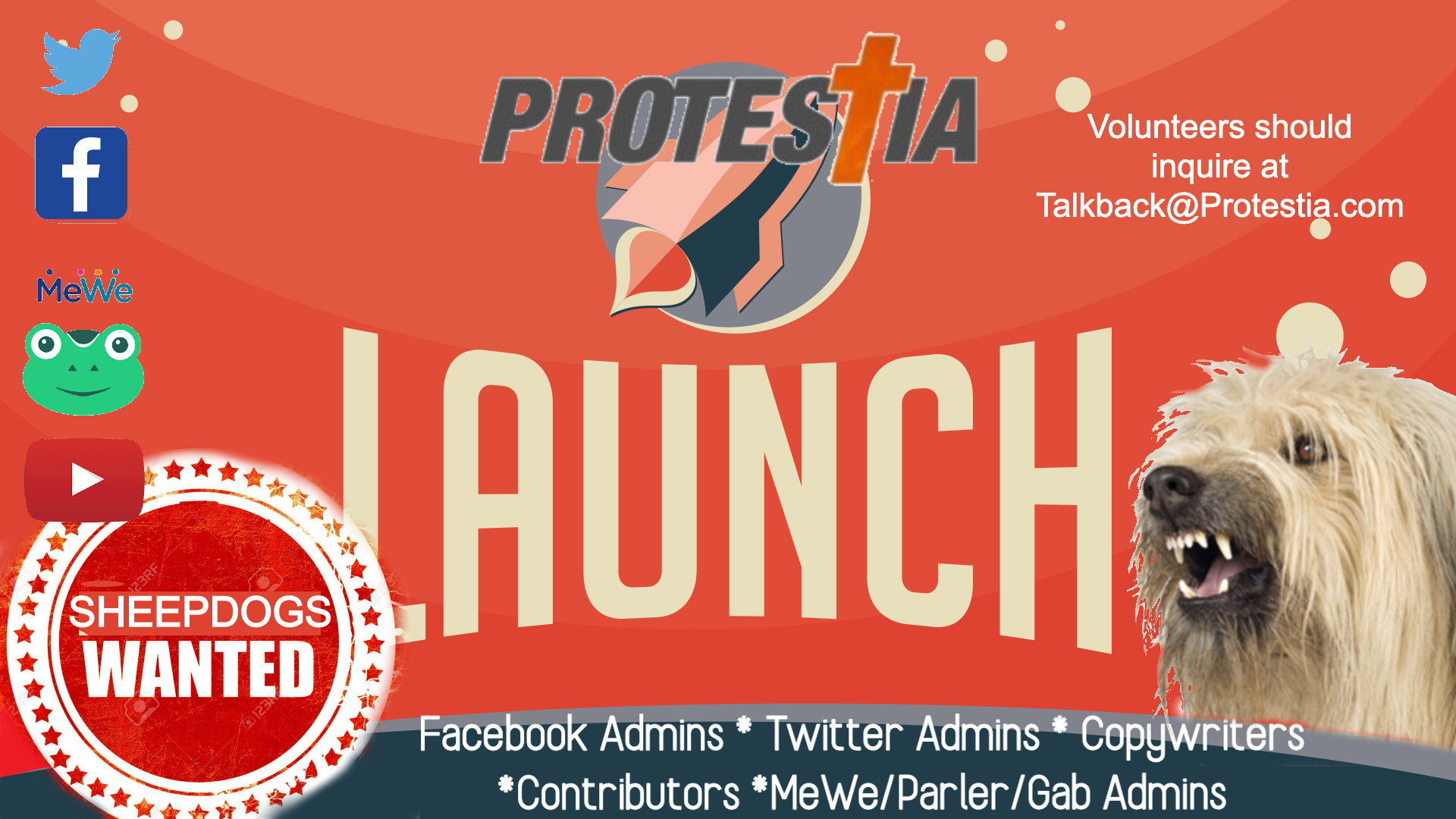 Christian discernment has a new home. Welcome to Protestia!
Yes, that's right, it's yet another Christian discernment site. Except, it's not just another one. It's brought to you by the team behind Pulpit & Pen. Accept no imitations, folks. We intend to use this website to build some things and break some things in the name of Jesus.

Here's what's going down with our flagship publication…
As we have chronicled in the article, How Our Exclusive Content Section Was Murdered by Big Tech Censorship, keeping our material disseminated in the wake of increasing censorship has been next to impossible. Facebook has been throttling us regularly for several years, but almost shut us off completely in February, with just a slow drip of access to our site from their platform. And then, a few days ago, the "6% Purge" began, with Facebook banhammering anyone writing about the CDC's stats on COVID-19 deaths and 'marking' their Facebook page in their blacklist. We received nearly a dozen strikes against us yesterday morning in the course of just a few short hours, flagging post after post after post and promising to do what they have already done…effectively shut us down.
But Facebook isn't merely putting a clamp on our Facebook pages, but blacklisting our URL, meaning that if you personally share our stuff, only a minimal amount of people will see it; it will not show up in their news feeds, they will have to type in your name and go look at your page (and what kind of weird creeper does that?).
That means, we have to leave behind the Rolex of Polemics Blogs on to a new URL. Enter…Protestia.
We have had the site up for a while, and it's has been our Plan B (or somewhere further down the Internet). But largely, it has collected cobwebs awaiting the day that we had to migrate there to avoid the Big Tech demigods who think they own the Internet. So, here we are.
Meanwhile, PNP has ten-plus years of world-class polemics resources and chronicles of the Modern Day Downgrade, and that site will be maintained by the Gideon Knox Group as a testimony to theological discernment and as a resource to help many thousands by the content that will remain there forever.
Our volunteers will also be updating PNP News with polemics content from other discernment ministries as a news aggregator. It may not be exclusive content, but we hope to hold a megaphone for those continuing to fight the fight against heretics and scoundrels. You should still check out what's new in the world of discernment because PNP News will be updated daily with all the links you need to stay up-to-date with the latest struggles, scandals, and scalawags.
Thankfully, the popular podcast, Polemics Report, is going nowhere as JD Hall continues to unleash fury upon 'the devil's foxes' twice a week and is available on Patreon, linked here at PNP News, or heard at the Bible Thumping Wingnut, Spotify, iTunes, Podbean, or your favorite podcatcher.
You can support and follow Polemics Report for all the latest episodes HERE.

Meanwhile, we need a lot of volunteers to pull this off. We are launching Protestia not only on Facebook and Twitter, but on social media alternatives including Parler, Gab, and MeWe. And to top it off, we have split our current team of admins in two. In other words, we need to replenish our human resources to make sure every Protestia platform has folks manning their stations, booting the bad guys, and doing the job admins do.

We also need additional proofreaders, copywriters, contributors, and support staff for our Protestia team.
If you can volunteer, send us an email at talkback@Protestia.com and someone with our team (probably Gerry or Tim) will be in touch with you. Please note, all volunteers must (1) hold to an orthodox Confession of Faith and (2) be a member in good standing of a Biblical local church.