Breaking! Ed Litton's Worship Team Changes Lyrics of 'Alas Did my Savior Bleed' to Include 'Mistakes'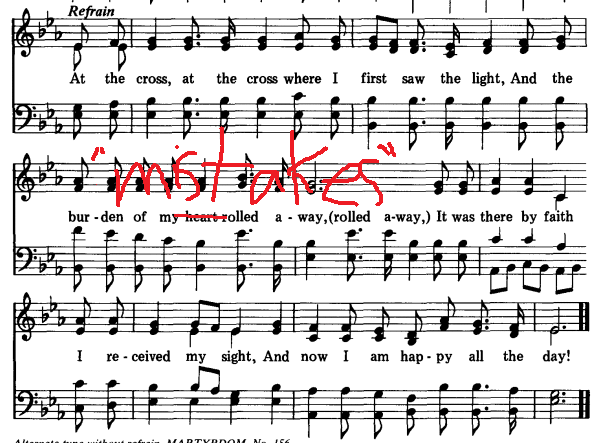 During the morning worship service at the 2022 SBC, Ed Litton's team changed the lyrics to a well known hymn, altering 'Alas did my Savior Bleed; to read something very different.

Instead of the correct lyrics
Alas, and did my Savior bleed?
And did my Sovereign die?
Would He devote that sacred head
For such a worm as I?

At the cross, at the cross where
I first saw the light,
And the burden of my heart rolled away,
It was there by faith I received my sight,
And now I am happy all the day!

This was changed to
Alas, and did my Savior bleed?
And did my Sovereign die?
Would He devote that sacred head
For such a worm as I?

At the cross, at the cross where
I first saw the light,
And the burden of my MISTAKES rolled away,
It was there by faith I received my sight,
And now I am happy all the day!

Progressive churches frequently change the word 'sin' with mistakes, but it is beyond us why they would do this, anymore than they'd sing "Amazing Grace how sweet the murmur that saved a wretch like me…" The burdens of our hearts as it pertains to the cross and salvation are sins, not mistakes. 'Mistakes' is what you hear in Joel Osteen's churches, along with "bad decisions" and "oopsies." It's like they're trying to be obstreperous.

According to the Dissenter:
One of the ways that these leftists attempt to get around the biblical teaching—and also around the Southern Baptist Convention's official statement—is to obfuscate the titles of women they place in pastoral positions within their churches.

An example of this would be to place a woman in a pastoral role but instead of giving her the title of "Pastor," they will instead give her the title of "Director" or worse, "Minister."

…This what Southern Baptist Convention president, Ed Litton's church has done. Litton's Redemption Church in Saraland, Alabama, has a woman, Abbie Maggio, who leads the Worship team. Her title, to try to subvert the biblical teaching on women in pastoral roles, is "Worship Arts Minister." Yet, this is a decidedly pastoral role in Evangelical churches. This isn't just singing in the choir—it's leading the church in worship.
How unsurprising.