Hillsong Global Senior Pastor Gives an Update on the Church, and There are Some Surprises( Such as the Lack of Volunteers)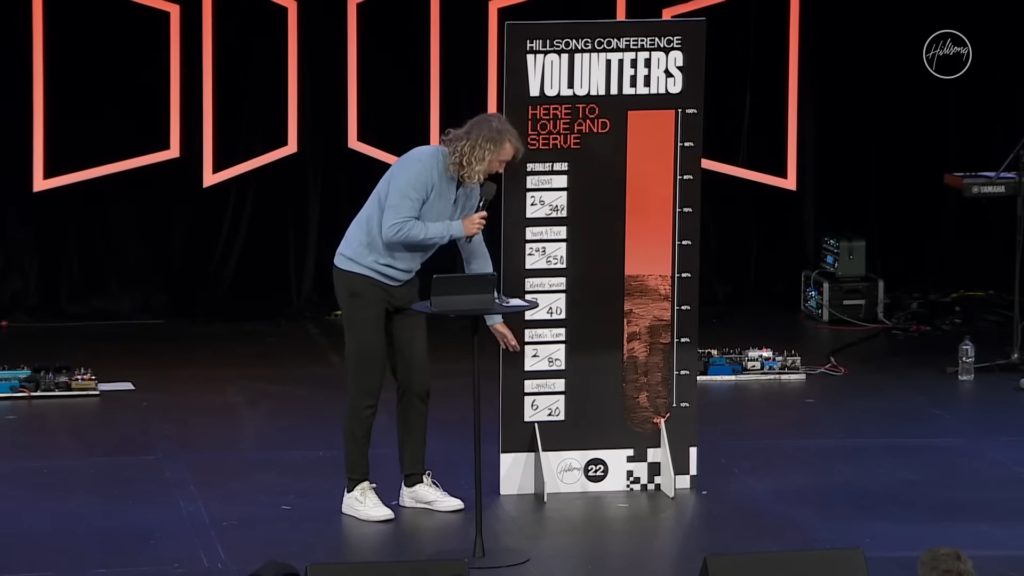 Global Senior Pastor Phil Dooley gave a state of the union to Hillsong congregants a few days ago, telling them "At the start of the year, we spoke about how we are believing that this year 2022 would be a year of the Lord's favor. I don't think any of us expected to see what we've seen in the year so far as a church."

That's an understatement if there ever was one. It's been a dreadful year for the Australian megacorp, on account of firing Brian Houston after some sexual impropriety was discovered, leading to the vast majority of his American church plants jumping ship and shutting down. Yet Dooley shares a few interesting things with the folk there, revealing:
-In the first quarter of the year, "5246, people have made a decision for Jesus (Editor's note. Whatever that is) just in Australia" with another 19,000 in the rest of the world, bringing their decisions for Jesus to 25,000 people.

-He reveals that he went on a trip and visited Orange County, California, to see a " potential facility" for a new church and for the college, as they're moving Hillsong College to California.

-He recounts a visit to Hillsong Church in Monterrey in Mexico. "They have three staff. They don't they don't have a location pastor right now, they've three staff, and on Sunday, they had almost 1000 people in church, and over 100 decisions for Jesus in the service." Hillsong chooses the location pastor for each church, functioning as the search committee, and frequently choosing someone who's not local, but who has put in their dues at other Hillsong locations.
-He shares that next week, they're launching a new church plant in a new country in Montevideo, in Uruguay
-Even Hillsong has trouble getting volunteers. For their big upcoming conference, they are in a bind, particularly for certain areas. For the KidSong section they need 348 people to volunteer and only have 26. For the Refreshment team, they needed 80 people and only have 2.
-Lastly, they are struggling financially. Though they are entering 2022 debt-free, attendance is down and that has played a major role on several projects, such as the decision to have multiple conferences and their need to freeze hiring, as well as lay off some staff. Hillsong's last budget was for 2020 and was $83 million dollars, down from $93 million the year before. In 2022, giving overall is down 20%.
"Really, practically, though, our giving his down. You know, attendance is down- you'd notice that on a weekend, and our giving has been affected as well. Tithes and offerings themselves are down 18%, on this time last year, and our foundation is down 22%. And on large budgets, that's a lot of money. And so, we are looking at that now, and how do we respond to that…but to answer your question, how are we going financially, we're in a strong position, but we need to react and respond properly to the season we're in.